Wondering what to do in the next few days? Feeling bored and you have no plans yet?
Here you
GO
!!
In the next few days, there'll be happenings in a series of days(
24th - 26th Sept 2008
) in
Subang
.
Something BIG!! Something BIG for a GOOD CAUSE.

xD


On the first day itself, there'll be performance, workshops, carnival, exhibition and etc.
The performance will be a street theatre performance with a topic on
Violence Against Women
. A
Date rape workshop
conducted by
AWAM
with an educational purpose on date rape like
what is a date rape, how it happens and what you can do about it
.
*AWAM - an independent feminist organization is conducting an interactive session for people who wants to help make a change in the crime pattern in society.
There'll be this thing call "
GO

ssip to a Friend
" with
a purpose of encouraging, helping and caring
. You can be part of the people who wants to
make a difference in the lives of people who have been abused and victimised
by just a little action from you.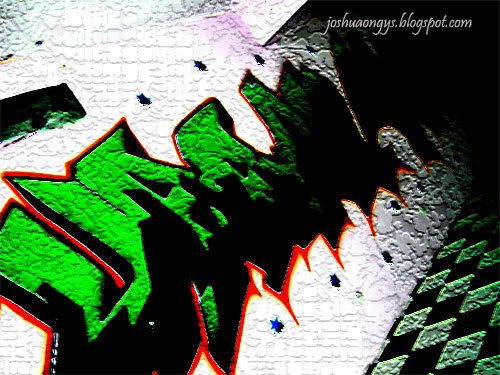 A
street Graffiti Challenge
will be happening as well!!
Not to mention, there'll be this really interesting workshop on
Fitness Pole-Dancing 101
which will be conducted by
Viva Vertical
, the group that is largely involved in the
Clorets Amateur Pole Dancing Competition event
that happened just last month. This workshop will enable you to have a different perspective on
Pole Dancing
and you'll never look at it the same way again(
pole dancing-Erotic
)
the stuffs i've mentioned above is just one of a few items that's going on on the first day.
and....
THAT
is
ONLY
the first day itself where there'll be many more interesting stuffs and happenings on the 2nd and 3th day itself!!!
here's the schedule for the first day - 24th Sept 08

24 Sept Wednesday, Day 1
(GO away)
9.00am-7.00pm
Youth Carnival (Asia Cafe)
Durexponsible exhibition (Asia Cafe) *FREE*
NGOs exhibition (Taylors Business School, Mezzanine) *FREE*
12.00pm-1.30pm
Date Rape workshop by AWAM *FREE*
1.00pm-2.00pm
MyFM & GOssip Cruisers: "GOssip to a Friend"*FREE*,
GOssip Games with CLEO & Cosmopolitan
2.00pm-3.00pm
Street performance on VIOLENCE AGAINST WOMEN *FREE*
1.30pm-5.00pm
Strictly Street Graffiti Challenge (Taylors University College, carpark)
4.00pm-6.00pm
Fitness Pole Dancing 101 by Viva Vertical *FREE*
Its an exciting event itself and as you can see, there's this poster below....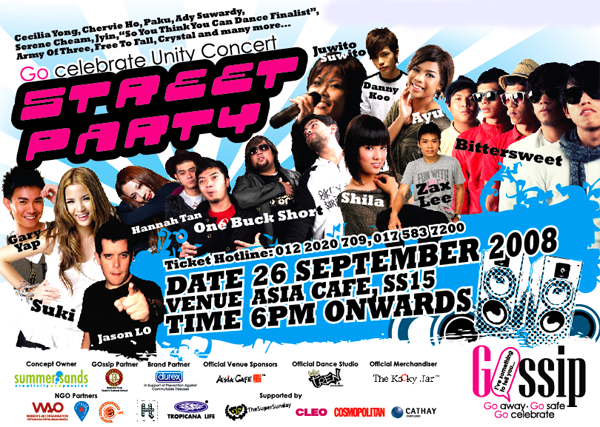 This is the street party which is happening on the 3rd day itself -
26th of Sept 2008.
If you read the schedule above properly, you can see that there's a free word behind the events indicating that its free but for the street party in this picture above, you have to pay to get the tickets.
Of course, in
Malaysia
where everyone loves free stuffs, there are ways that you can get the tickets for free!!