Yet another weekend and i had my second testing on my final year project. Not as bad as i've expected. Next meeting will be on the 4th of
March
. Awesome!
I'm like a walking zombie now
having not enough sleep but yet still insist on sitting in front of the computer moving my hands and fingers around my keyboard and mouse typing browsing while listening to some songs.
Anyways, here's something for you. Some picture taken for quite some time already.

Event : Cat Got Your Tongue
Date : 3 weeks ago
Time : Night
Venue : Palate Palatte
The same date and day and venue as the
touch touch post
pictures were taken on. Touch was not enough for them. So they kissed.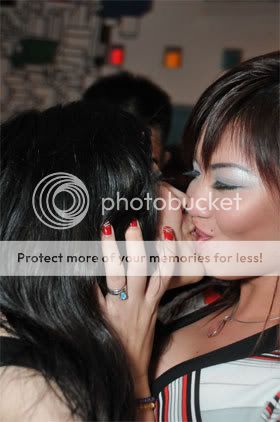 Nope they're not lesbians. OH and yea if you are interested, they both owns a blog. =)
So yea, this is the picture of the day, with
Zoe
looking shocked.
1 Girl
LookLook
2 Girls
KissKiss
.
GTG.
=D