This year's CNY RAWKS TO THE MAX!!!
Woooohoooooooooo
xD
Heeeeeeee!!!
Seriously i never had so much fun in a
CNY
for quite some time already. I can say that this year is the best in the past 5 years. Not to mention,
i had Exams during CNY
as well and that adds more to the "exciting" part of this year's
Chinese New Year
.
Haha
.
Before
CNY
started officially,
i was out with 3 lifeless people
counting down to
CNY
in
Cheras
Macdonalds
. A pretty good kickstart to an awesome CNY lolx.
Then, on the 1st day of
CNY
, i went out on visitation with my family. A somewhat yearly thing to do during
Chinese New Year
.
then, on the 2nd day of
CNY
, i was really happy as this is prolly the first time this happened. It was one of the day that i will remember in the years to come as it is a very very special day. She came back from hometown and had dinner at my house.
Yes, that alone is pretty memorable for me already
. and this very day played a very important part in making this year's CNY special. Nuff Said.
=D
The 3rd day was spent with some of the
DGMB-ians
@
Pavilion
. As we don't really get to see
Sheon
much often, so while he was in
KL
for the week, we had a meet up with him. Having our lunch at
Nando's
and doing a few rounds of window shopping in
Pavilion
...
and we ended up in
Starbucks
in the later afternoon of the day. Playing a few rounds of cards at Starbucks was pretty fun and it was a whole session with lotsa fun. Well being with these peeps is always fun! The others proceeded to
Nigel
's house while i went on to find my girl. Lolx
The later night was spent with
Chee Hwa
at a nearby Cyber Cafe. Gosh. It was really tiring....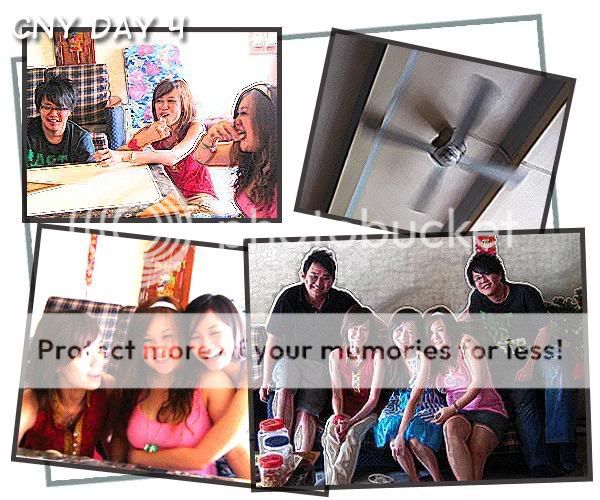 Why it was tiring, because we played games at the CyberCafe the whole night where we will have our small little secondary school friends gathering. Didn't really get much sleep and woke up all excited because we don't really go out as often as last time already.
First stop was at
YuetMun
's house where as usual was spent doing nothing much except for talking and laughing here and there.
We didn't stay long at her house as we were pretty hungry, so we headed to McD BSD for lunch and met up with
ChinKent
over there. Though there were less people compared to the previous years + we don't really meet that often already, we still managed to make a lot of noise there.
Furthermore, there was this kid which was with his family sitting at a table outside of the McD entrance and for a couple of minutes, he entertained us making us laughing and people around us was already looking at us weirdly. Lolx
After the lunch, we headed to
ChinKent
's place where we were welcomed by his dog. A very very well trained dog who can climb wall! See one of the picture above as proof!!
HAHA
. As usual,
ChinKent
showed us what his dog can do and we still get amazed with it
AGAIN
eventhough we saw it before in the previous years. The girls was impress as usual and they played with the dog as well.
Rounds of
Blackjack
and
Rami
were played till it's time to go to the next house.
Next, we headed to
Melissa
's house and we enjoyed looking at the photos we had back in secondary school last time. We were all so different from that time and we recalled back a few memories we had together. Gah, signs of becoming older already.
Darn
.
Yoke May
's house was the last stop where we stayed there for quite long. Playing the same stuffs,
Rami
and
BlackJack
wasting our time waiting for dinner time to come. Had steamboat for dinner and it was a pretty full session. Buffet Steamboat.
xD
The later night was spent chatting and talking and discussing with
YokeMay
&
YuetMun
about lots of lots of stuffs from East to West and Heaven to Earth. Yea not Hell.
It was a really really great fellowship!
The next night(
Friday
), i headed down to
Sg Buloh
to
Steven
's house and was shocked finding around 16 people there. 2 sides, one
BlackJack
session, one
Mahjong
session.
It was a crazy night that where i witness some friends being like one of the Football Club's manager
, getting extremely happy(
winning money
) and extremely sad(
losing lotsa money
) multiple times within half an hour time. Played basketball the next morning!! Awesome. Haha.
then....
From
CNY
day 6 till 9 which is 31th
Jan
- 5th
Feb
, i didn't really go out as i forced myself to stay at home to study for exams which is on the 3rd and 5th of
Feb
. This short period of time was really "
exciting
".
An Awesome time
.
Straight after my last paper, i headed to
Hartamas SOULed OUT
for this
CHAP GOH MEI
celebration they had there with 5 other bloggers. The later night was spent with
6 guys in a Karaoke session
.
NO
i'm not a gay wtf. Lolx
Slept till like 5PM
Friday
on 6th
Feb
2009. Had dinner with my girl and sent her to the bus station as she's heading back to her hometown and i spent the whole night playing
NFS Undercover & Dota
lmao. Played basketball after that without sleeping.
T_T
Attended the birthday party of this cute little girl,
Zoe
with lots of other bloggers. Went to
Cat Got Your Tongue
4 at
Palate Palette
later in the night.
GAHAHAHAHAHAHA
.
Finally got to sleep when i'm back from
CGYT
which was like erm....
VERY VERY LATE
.
=X
The next day was the best!! Had a visitation session with some of the
DGMB-ians
which include a few places like
Gombak, Cheras, Kepong, Klang and Ara Damansara
. A pretty crazy trip where we had
Home Made Spaghetti
for lunch,
Klang Bak Kut Teh
for dinner, had lotsa gambling sessions and the whole thing lasted from 2pm++ till 2am++.
Lolx
.
and i can't believe it just happened like just now...
Heeee
!!!
xD
The very last day of
CNY
is here already. Was out with 2 college mates
ChinYen
and
YewJoe
in the early hours just now spending time at a nearby mamak stall. The original plan was to have
DimSum
at
Jln Ipoh
but both the
DimSum
place was on holiday.
Gah
.
Amazing aite?

So you tell me, HOW CAN THIS YEAR's CNY SUCKS?
xD
SURE RAWKS TO THE MAX LA!!!!!!

Prolly the best
CNY
i had ever haha. Alright that's too exaggerating lolx. Hehe. Well I do hope that many of you out there had an awesome
CNY
.
=)
Oh and yea, i'll be making a more detail post on
SOULed OUT Chap Goh Mei, Zoe's Birthday Party, Cat Got Your Tongue 4 as well as the DGMB CNY Visitation trip!!
Till then

, HAPPY CHAP GOH MEI!!!

xD