Tomorrow
Later in the night there'll be a special screening for
Nuffnang Bloggers
on the movie Mamma Mia @ 1 Utama, so for those who are going, i was wondering if you want to gather at a place for dinner/a few bites/drinks/fellowship/gathering and etc or not.
Time :
6.30PM - 8.20PM
Location :
MacDonalds-G49
1 UTAMA - BurgerKing S348 or A&W S345
-Both in Second Floor(in case one venue is full)
(might subject to change, please refer this post again before u head to 1 Utama)
(confirmed)
I'm just trying this out and i have no idea who will turn up. So far there's only a few confirmed ones which includes me,
Yatz
,
Thomas
,
Sherry
,
OhMeGod
,
danielctw
,
andrew
,
andrewWong
,
waiseng
,
Auyong
,
Karena
.There'll be some other bloggers who will be joining but not watching the movie.=D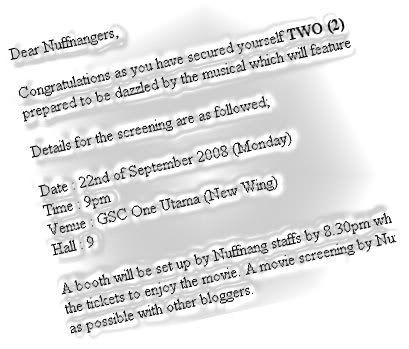 So, yea if you want, then do come and join us. Don't be shy shy,
Nuffnang
Bloggers esp those frequent chatters on
Innit
talk about Sex/Porn all the time wan! so there's no such thing as shy shy wan ok?
See You There!! I Hope. xD
*Last Updated 3.44PM