Yet another food sampling review session. A very big thanks to the person in charge of this session and of course, thanks to
Sidney
as well.
=D
It was a very nice place. Located in
Desa Sri Hartamas
, the place isn't a strange name to the locals here. In fact, it is quite a venue where many people would choose as a hang out place.
Just last
Monday
, a bunch of us bloggers attended this food sampling review at
SOULed OUT
,
Desa Sri Hartamas
and it awesome!
Rather than making you bored with my lousy
English
, I think i shall go straight to the point on the dishes served that night.
We were actually welcomed with lots of vegetables and i meant
ALOT
of vegetables. A total of 4 different types of Salad Dishes.
=D
Caesar Salad -
RM 16
Choice of roast beef (or chicken), on a bed of crispy romaine, croutons & egg.
Alright Caesar Salad, the common type of salad dish you get to see in most restaurants/cafe and eating places.
=D
Mango Prawn Salad -
RM 18
Succulent prawns, plump mangoes, creamy avocado cubes in a zesty dressing.
its pretty fine. well i do love prawns and mango.
=)
Sakura Denbu Salad -
RM18
Sakura denbu, katshuoboshi, nori and dragonfruit on a bed of mixed leaves, drizzled with japanese style vinaigrette
I don't fancy dragon fruit so up till now i'm still with
Mango Prawn Salad
=D
Summertime Salad -
RM 16
Grilled seafood, segmented oranges, alfalfa sprouts drizzled with homemade vinaigrette.
This is the one Salad dish i prefer among all. Maybe because of the grilled seafood.
xD
The reason i don't have much to write about the Salad Dishes above is because you know, salad is full of vegetables and erm... the vegetables will be the same and they taste the same as well.
But one thing i can assure that at least the vegetables used in these dishes are fresh ones and the other ingredients are pretty fine too. This is one important thing as some hardcore salad eater will be totally pissed off if the vegetables used are like "duh".
=D
Next up we had these!

Deep Fried Calamari-
RM 18
Crispy and crunchy squid rings in a secret batter recipe.
and i must tell that this
Deep Fried Calamari
is
REALLY GOOD
, one of the best i've tried so far. It is a must order side dish if you happen to visit
SOULed OUT
!! I'm pretty sure i'll order one the next time i go there.
=D
The upcoming dishes are really interesting i would say, at least to me it is. Hehe. Read on and hold your saliva please.
Sake San 8inch-
RM 25
11inch-
RM 32
Salmon slivers, roe, cherry tomatoes, Japanese mayonnaise, lolorosso and a hint of wasabi.
The idea of having a japanese style pizza is pretty brilliant, but still, i prefer eating sushi if you ask me. Wait till i try more japanese food then maybe i would love this specific pizza.
=D
Beefed Out Pizza 8inch-
RM 23
11inch-RM 28
Beef pepperoni, beef bacon, beef ribs….all beefed out!
On the other hand, this pizza is
REALLY NICE
, nice until i nearly didn't get my share of it. =(
Seriously, though there're only a handful of us there on that table, everyone took their share of
Beefed Out Pizza
pretty fast. A must order dish for pizza lovers.
In my opinion, the pizzas served in
SOULed OUT
are one of my favourites in town after trying the 2 ones above.
The one main reason i said so is because the layer of bread on each pizza is pretty thin and you can feel the crisp when you take a bite on it.
I
DO
prefer a thinner layer of bread if i'm taking a pizza. A thick layer of bread below really "
shooo
" me off. Of course, to some other people its better if the layer is thicker as you can be a bit more full.
We were taken to
Bollywood
after that!!!! wheeeee
Gosht Colapuri-
RM 14
Mutton cubes braised in black pepper, onions, fresh tomatoes and chilli.
Though not exactly the "
Kari Kambing
" you can get at mamak stalls.
This is a pretty special dish. Hee.
Butter Chicken -
RM 22
Boneless chicken cooked in a creamy, tangy butter sauce.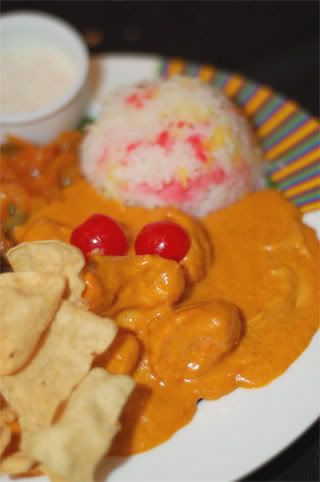 Alright how many must order dish already ar? The
Fried Calamari
and the
Beefed Out Pizza
. Lolx. and
FYI
, this dish above is another must order dish as well!! I'm sure you know that there're certain sauce that will go extremely good with rice and the sauce of this
Butter Chicken
dish above -
VERY NICE!!
xD
After that
Bollywood
trip, we came back to
Kuala Lumpur
and had these...
Sang Har Mein -
RM 28
Wanton noodles with large fresh water prawns, deep fried and doused with egg gravy.
Its a pretty fine dish i would say and with the large fresh water prawns, it's good to eat.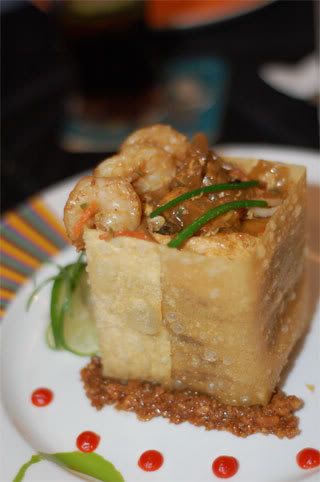 Spicy Square Fried Noodles
RM 14
Bean sheet noodles fried with chicken, prawns and bean sprouts.
Having "
Fu Chuk
" as the square thingy around the Fried "
Kueh Teow
", we actually did not touch the
fu chuk
and took the noodles from the middle and they asked us why we did not tear the
fu chuk
apart.... Moments of embarassment. Ha. It's a nice normal dish,
Malaysian
dish.
and
THAT
's not the end yet but its nearly the end already.
=)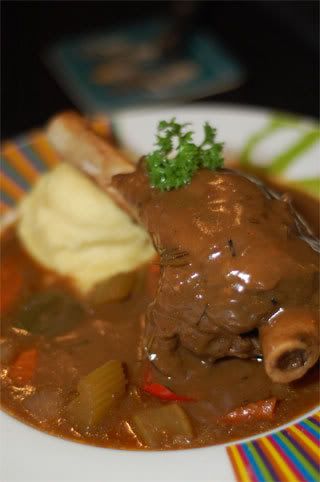 Lamb Shank -
RM 33
Slow cooked to perfection. Surrounded by mashed potato and chunky vegetables.
I likey this very much!! and funny enough, i actually love the mashed potato more than the lamb. lolx

Jerk Style Snapper -
RM 25
Spicy snapper fillet coated with jerk spices. Served with mixed sautéed greens, chips and Creole sauce.
Alright, this is the last must order dish. kekekekke...
I do not know how to describe it. I just like it.
=)
Now, Cocktails!!

1. Green Peace -
RM 35
Limber up to the taste of white rum, Midory, dry orange curacao, sugar cane juice and pandan flavoured syrup
2. Souled Out Shooters S.O.S -
RM 60
10 Margarita Test Tubes
Choice of flavours(max 2 flavours)
classic/blue/green/strawberry
3. Malibu Sunrise -
RM 50
A Blend of Alsolut Vanilla, Malibu, Cointreau, pineapple juice grenadine, lime juice, cranberry juice, orange & lime slices
4. Lemon Lychee Martini -
RM20
Vodka, Lychee liquer, fresh lemon juice, lychee syrup
5. Soul Sensation -
RM23
Combining Vodka, triple sec jasmine syrup, brown sugar, red chili, fresh ginger and lime.
My fav among all 5?
There's 2 actually,
Green Peace
and
Lemon Lychee Martini
.
=D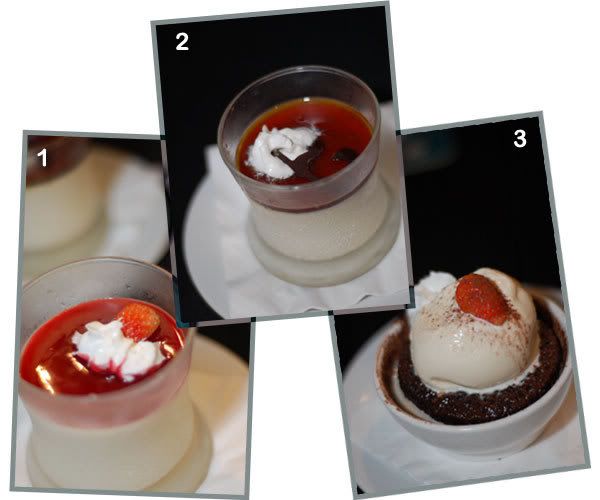 Pannacotta
RM 10
Italian style cream mousse infused
with vanilla beans.
Choice of topping:
1. Raspberry / 2. Caramel
3. Lava Cake
RM 12
Warm moist chocolate cake in praline
sauce and cashew nuts, topped with
Haagen-Dazs vanilla ice cream.
Here, I loved the
Lava Cake
pretty much. I don't know how to describe it, you just gotta try it!! It's normally sold off at the end of the day, some hot popular desert i suppose.
=)
That's like the end of our adventure for food drinks and desert. There's some certain time that they will serve some specific dishes mentioned above so if you are really interested you can go to
SOULed OUT
website to check out their menu there(
link at the end of the post
).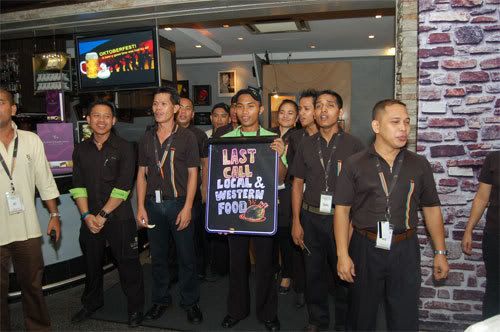 For me i had quite a great time fellowshiping with new/old friends.
Have been chatting with Jason for quite some time and didn't expect to see him there though.
Lolx
May is the new friend i made that night, an extremely friendly person that is smiling all the time.
HAHA
In short, the session was great!! and again, Thanks to
Sidney
.
xD
SOULed OUT Kuala Lumpur
No 20, Jalan 30/70A
Desa Sri Hartamas
50480
Kuala Lumpur
Tel :
03-23001955 (
Reservations
)
General :
03 - 23001929
Fax :
03 - 23001989
Bloggers List :
Sidney/Sunny -
http://bigboysoven.blogspot.com
May -
http://foodylicious.blogspot.com/
Sue -
http://suemeifyoucan.blogspot.com
Kelvin -
http://wetwetwater.blogspot.com
Andrew -
http://drewnity.com
Jason -
http://jasonmumbles.com
Other links :
SOULed OUT Website
SOULed OUT Menu PDF file
*pictures credits to Andrew.