It was a shitty day with lots of shitty stuffs and i even skipped dinner because of that and when it got worst in the middle of the night, i was invited to a chatroom all of a sudden.
=D
by my fellow college mates. One girl all guys in the chatroom.
They are a bunch of people who are funny in their way at times and these are the ones who is in the same tutorial group as i am for the past few semester.
Yesh i'm in a different tutorial group currently thanks to the idiotic people in
TARC
who loves doing stupid things esp in my very last semester and i was changed to a different group along with other people because of our names.
Last time they compile the name lists according to the first name in your IC and mine is
JOSHUA
so start with J and now they compile the name lists according to the sur name and mine is
ONG
so start with O. That's why. Zzz.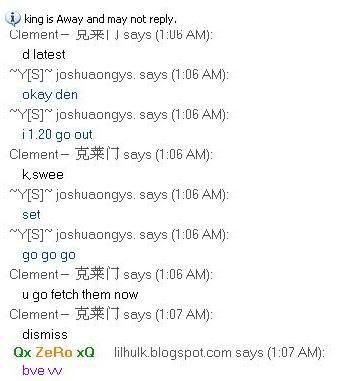 Anyway, a random
YumCha
session was called and a few of us came out.
Went to this "
romantic
" mamak place in
Jalan Ipoh, Uma Rani
and we had a good time together.
Though not in the same tutorial group anymore, i still enjoy their company.
Kind of made me feel better after what happened.
=)