Have you watch Episode 18 of MDG S1??
i just watched it and the girls were sharing about their opinions, thoughts and etc in it.

Obviously, the girls don't really like Cindy, we all know it since the "drama" happen in the house.
and true enough, Cindy really owe us bloggers an "appreciation" for making her FAMOUS, In Episode 18 of MDG S1, she thanked those people/bloggers who commented on her whether it was a bad or a good comment.
I was one of the blogger that made her FAMOUS in the process.
When there's just a few episodes, i was finding blogs of the finalists as i thought that people would want to go to their blogs and read about them. Other than
Ringo
that was already a popular blogger that time, i found
Cindy's blog
through some links here and there.(
somehow i cant find blogs belonging to other finalists-maybe i'm not good at it
)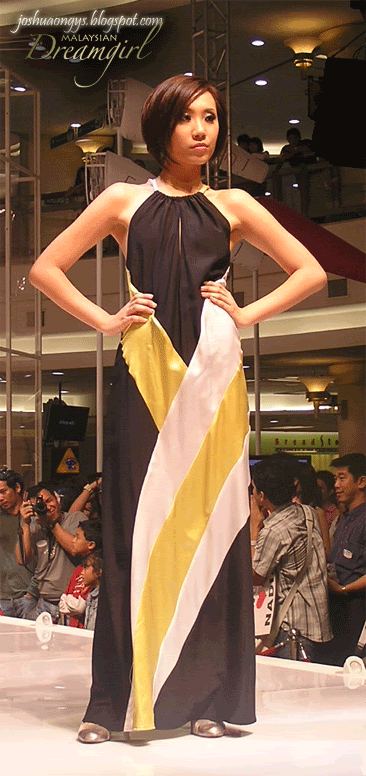 I did not really critic about her and i did not call her a bitch either. But
doing this alone
is more than enough to drive traffic to her blog hence making her more FAMOUS especially when the whole world is criticizing her after watching the episodes.
What i did?? I just placed her blog link on my blog thats all!!! I didn't quite see HER ROAD TO CHAMPION that time you know. Surprisingly, the only blog i found that belongs to one of the
MDG
finalist(
other than Ringo
) was Cindy's blog.
I DIDN'T KNOW THAT CINDY WOULD CAUSE SO MUCH "DRAMA" IN THE EPISODES AS WELL AS WINNING THE MDG TITLE.

till people kept finding more about her through the internet....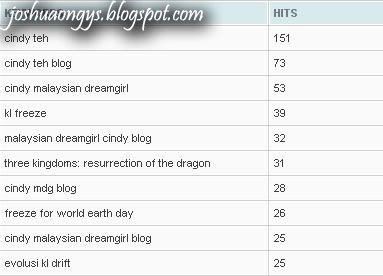 here you'll see keywords into my blog - you see Cindy here Cindy there... O.O
Obviously, by "promoting" her blog, i get the traffics as well, thanks to CINDY!
even up till today, i still have people coming in with her name as keyword. hahaha

This is something TOTALLY Unexpectedly for me, but i'm glad with it. Which Blogger DON'T LIKE traffic?? lolx
and yeah, actually ITS CINDY
TEY
not CINDY
TEH
!!
she came in and corrected me(
link
)
Cindy's Blog