Hours ago, i was still considering on going out to watch the match between
Manchester United
and
Chelsea
.
Now, I DIDN'T REGRET WATCHING THE MATCH!!
Those who have watched the match till the end will know what i'm saying!!
Basicly, the whole 90 minutes of match was quite crappy to me.

United
created more chances in the 1st half with 70+% of possession but only managed to score 1 goal with
Ronaldo
's header. They missed several REALLY GOOD chance in the first half.
Chelsea
managed to equalised by
Lampard
just before the 1st half ended.
The game was stupid, many fouls were exchanged here and the referees were like ignoring fouls from
Manchester United
as well as
Chelsea
's ones. Some fouls that were committed by
ManUtd
players was ignored by the referee and i really feel sad for Chelsea fans.
The whole match tied at 1-1 till the end of the 90minutes game and it went into 30minutes extra time.
The interesting part comes in here. Players from both teams can be seen trying their best to attack and defend at the same time and we can see that most of them are tired(
except for those who have been substituted in
)
Later on in 116minutes,
Drogba
was sent off. It was ugly, players from both teams gathered together and they were exchanging words with each other and all of a sudden,
Drogba slapped Vidic and there he goes, SENT OFF!
That serves him right, no matter what happen, a football player shouldn't act like that. Thus, Chelsea was left with 10 players. The score was still 1-1 and eventually, there's a penalty Kick-Out.
HERE COMES THE MOST INTERESTING PART!!
Both sides scored in the penalty till the 3rd shot
Ronaldo
comes in and missed his penalty shot
.
Everyone kept quiet and continue watching and when
Lampard
scored, we had a feeling that
Chelsea
is going to win.
The remaining players continued to score and soon
Terry
came in to take the 5th penalty shot of
Chelsea
. One shot in from
Terry
and
Chelsea
will be the KINGS OF EUROPE. We opened our eyes real big and.....
Terry
misses his shot. And at last
Van der Sar
managed to save
Anelka's
shot.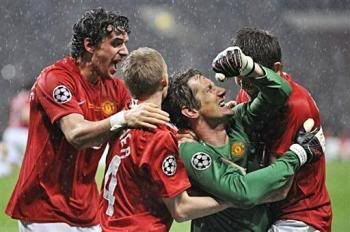 Manager Sir Alex Ferguson :
"That's the first penalty shoot-out I've ever won.

So, who should be the one to be blame??
---
Information On the Match:
Teams
Man Utd
:
Van der Sar, Brown (Anderson 120), Ferdinand (C), Vidic, Evra, Hargreaves, Carrick, Scholes (Giggs 86), Rooney (Nani 101), Tevez, Ronaldo
Chelsea
:
Cech, Essien, Terry (C), Carvalho, A.Cole, Makelele (Belletti 120), Ballack, Lampard, J.Cole (Anelka 98), Malouda (Kalou 90), Drogba
Goals
Ronaldo
(M) – 26'
Lampard
(C) – 45'
Penalty Shooutout
Tevez
(M) - Scored
Ballack
(C) - Scored
Carrick
(M) - Scored
Belletti
(C) - Scored
Ronaldo
(M) -
Saved
Lampard
(C) - Scored
Hargreaves
(M) - Scored
Cole
(C) - Scored
Nani
(M) - Scored
Terry
(C) –
Hit Post
Anderson
(M) - Scored
Kalou
(C) - Scored
Giggs
(M) – Scored
Anelka
(C) -
Saved