Do you have the following?
a. An Entrecard Account
b. A Technoratti Account
c. A RSS Feed for your blog
If you have the 3 things above, then you're invited to join this very project started by
PinayMommyOnline
.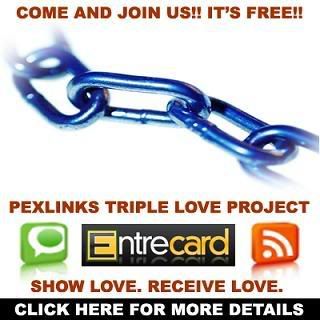 You are wondering, what is this all about?
This project is about :
1.

To have a lot of technorati fans.


2.

To have a high technorati authority.


3.

To have a lot of RSS subscribers. (if we can't visit all blogs, we can always check what's new in just one click if you use a rss reader)


4.

To have regular entrecarders to drop cards on your site.


5.

To increase your site traffic.


6.

To get your blog exposed to others (The stuffs you post needs attention!!).
and most importantly,


7.

To have more friends in the blogosphere ALL OVER THE WORLD!!!
Its a very interesting project to me, to gain more friends in the blogosphere globally =)
After all, its free!!
So what are you waiting for???
=====================
PEXLINKS TRIPLE LOVE PARTICIPANTS
=====================
JOIN NOW!