Dang i just came up from bed... i did not have a proper long nice sleep for a few months i guess
Finally!!! hahaha i guess
PamSong
's love story is a good bedtime story for me =P
Anyway its a Saturday today, i shall just do this tag from
Stella
bah =)
---
Name 5 people you can think of right off the top of your head.
Don't read the questions underneath until you write the names of all 5people.
This is a lot funnier if you actually randomly list the names first...NO CHEATING!
1. sJ
2. Mao
3. Chee Hwa
4. Steven
5. 10zai
DON'T LOOK AHEAD UNLESS YOU FILLED UP THE TOP!
1. How do you meet number 1?
[sJ] In secondary school, i guess in some basketball games... cant recall back..
2. On a scale of 1 -10 how would u rate your friendship with 1?
[sJ] there is no such need for a scale to rate something like friendship..
3. How long have you known 4?
[Steven] long enuf to become a couple but mine me i'm not GAY
4. How do you know number 3?
[CheeHwa] we were in the same class in secondary school..
5. Where's 5?
[10zai] working now i guess.. in the Gardens
6. A fact about number 1?
[sJ] He's freaking tall, 194cm and PamSong LOOK like a... ok Shhhh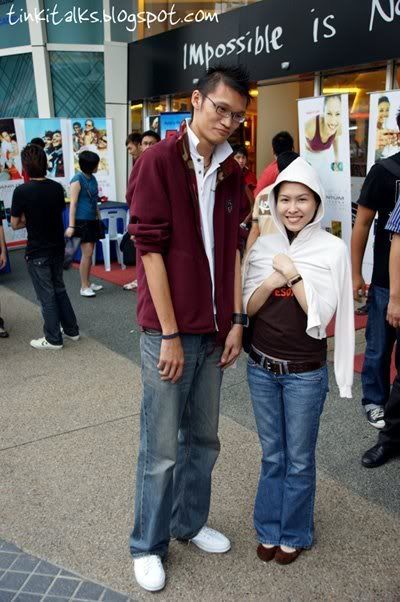 7. Who is 4 going out with?
[Steven] i have no idea...
8. What does 1 do for a living?
[sJ] he erm... he's still studying??
9. Would you live with number 3?
[CheeHwa] erm that sounds gay man.. i wouldn't say anything about that..
10. What do you like about number 2?
[Mao] Chubby?? buahahahhahaaahahahahahaha
11. Do you miss number 5?
[10zai] yes i miss him hahahhaa he hardly appear as he's busy..
12. Would you make out with number 4?
[Steven] all 5 person above is guys hahaha so well..
13. What's your opinion of number 2?
[Mao] stilll Chubby.... roflmao
14. What's your favorite memory with number 5?
[10zai] wth.... have no idea
15. What would you do if number 1 and 2 were going out?
[sJ and Mao] i'll wish them all the best!!!! =)
16. Ever had a long conversation with 5?
[10zai] er... no
17. Have you ever slept at 2's house?
[Mao] YES!! and i would never want to do so anymore!!!
18. Do you hang out with 3 a lot?
[CheeHwa] Used to.. now seldom... everyone became busier..
19. Who have you known the longest?
ermm... all around the same time so..
20. How often do you talk to 1?
[sJ] erm... i don't know... we don't keep track of conversation between guys and guys...
21. What about 2?
[Mao] this is stupid and i've answered it already...
22. Have you ever thought 3 more than a friend?
[CheeHwa] Good friend you mean?? yes then
23. Would you go out for a date with 5?
[10zai] we all love 10zai, he's a cute dude and for sure i'll go out with him hahahaha
24. Do you dream about 2?
[Mao] er.... i hardly dream nowadays....
25. What did no 4 did to you that you can never forget?
[Steven ] did to me... he didn't do anything on me...
26. What have you done for 1 that the person never forget?
[sJ] erm... nothing?
27. What's 3 hobby?
[CheeHwa] hobby?? taking up his hp and calling girls everywhere every now and then
28. Tag 5 people :
lolx
sJ, Mao, Nigel, Queenie, WendyTer
---
This is the 2nd Tag.. by Stella as well.. but i've done this tag before so, just go there and read about it!!