Being Number 1 in INNIT top 10??!!!
SO WHAT?? NO BIG DEAL!!!

Some of you might be thinking so, yes i know that. Just that i was shocked that
the specific post
will go up till
THAT
high.... i was just aiming to go into Top10...
i knew some bloggers such as
ShaolinTiger
,
KY
and etc have been to Num1 spot in
INNIT
.
So, there's no need to make so much noise about it...
Well, I'm not boasting about it here, i'm just sharing about it with you guys.... Thank you for supporting me on that specific post. I made that post to let people know about this guy/lecturer in
TARC
and how he is doing his job but i didn't expect that much amount of response.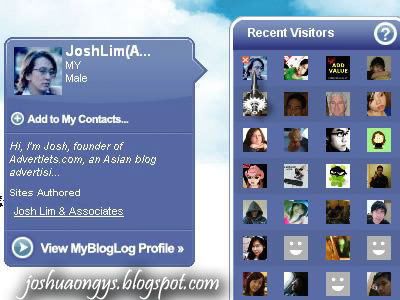 yes this screenshot was taken on the day itself 30 April 2008
Even Josh Lim himself, Founder of Advertlets.com came in!!
(I guess my title attracted him- Intern INTO "NuffNang")

No i'm not scared that HE will come in and read about this,
ITS EVEN BETTER IF HE READ THIS
!!!! I even asked one of my friend who is under his supervision for his
Final Year Project
to take a photo of him so i can post it up here in my blog, i added that he can go on and tell his
FYP
supervisor(that guy) that i made a blog post about
HIM
.
Thanks to the

NANGS

made, more people know about this guy in

TARC

.
However, I'm pretty sure many of you peeps didn't really go through the whole post as there were still some people congratulating me for getting into

NUFFNANG

O.O
so, let me make it clear again....

I DIDN'T GET INTO NUFFNANG!!
thats because College rejected my Appeal and the main reason is because of the industrial training supervisor -
_ E _ _ _ + L _ _ + _ O _ + _ H_ _
that is in charge of my industrial training. Read the whole incident again
here
.

and again, i would like to clarify about it,
I'm fine
with the outcome and
THANKS
to
Boss Tim/Boss Stewie/Timothy Tiah
again for giving me a chance on the matter.
to end this post, i hope that more new faces/bloggers can get into Number 1 spot in
INNIT
, not the
regular ones

please
. They always get to Number1 but on the other hand have their own fan base with a fair amount of readers, so they don't quite need the publicity already. i want to see new faces conquering that spot in a specific 24 hours.