Around half month time from this day. There'll be this event by
Nuffnang
and
Nokia
, a party where you'll get the shock of your life.
xD
Nuffnang
+
Nokia
presents you a quiet and peaceful night of....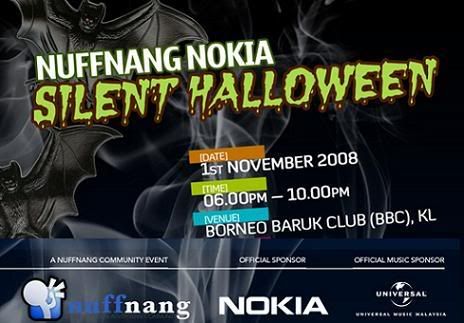 Silent Halloween.
and actually, for your information
Nokia
have 2 main official phones for this event itself. The
Nokia 5320 XpressMusic
and the
Nokia 5220 XpressMusic
. Don't believe me??
Nokia
are giving out free phones which is these 2 models mentioned above.
Refer Here
.
and you know that actually other than the
Nseries
phones, the
XpressMusic
series by
Nokia
are one of the best phones around.
The Nokia 5320 XpressMusic
, with a standby time of 300 hours plus the 2.0" QVGA screen with up to 16 million colors, a secondary camera where you could camwhore as well as making video calls....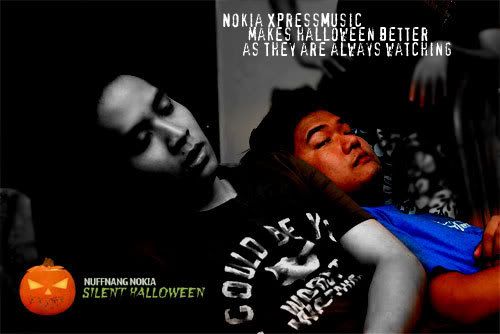 Not only you can watch other people
Xpressing
themselves through the phone, you could even
Xpress
yourself letting people watching at you this very halloween, camwhoring all the way and sharing your pictures!!
The Nokia 5220 XpressMusic
, with the 30MB of internal memory and can support up to 8GB memory with a memory card, able to store up to 2000 entries in the phonebook....
you don't have to worry about running out of space storing the songs to dance during this
Halloween
party. Interested in knowing some
Nuffnang
Hunks/Chicks?? No worries in insufficient space to store their handphone numbers and ended up going home with a bunch of new made friends!!
well, the
XpressMusic
series phones have too many advantages to talk about and if i were to state it all here one by one,
i'll make you fall alseep, and even if you fail in falling asleep, you would not believe me on how good is it right?
so let me tell you,
Nokia
and
Nuffnang
have their very own spokesperson to represent the products and tell the world that
XpressMusic
Rawks!! They might actually convince you!!
A total number of 8
Nuffnangers
were carefully handpicked.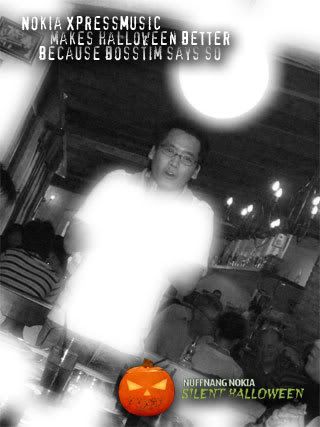 By The boss of
Nuffnang Malaysia
himself,
Timothy Tiah
.
xD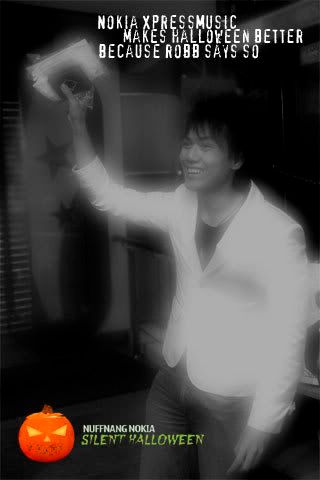 1.
Robb
of
robbyaoi.blogspot.com
who actually represents the many nuffies working in
Nuffnang
.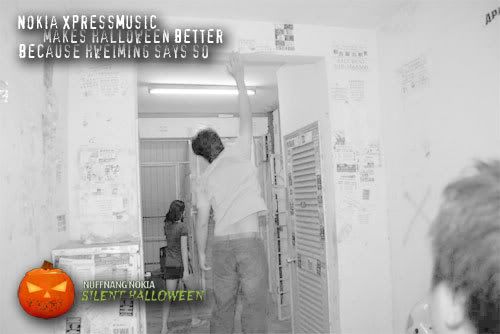 2.
HweiMing
of
hweiming.com
who is in a very very far place from
Malaysia
and is staying in the same city as the
Red Devils
.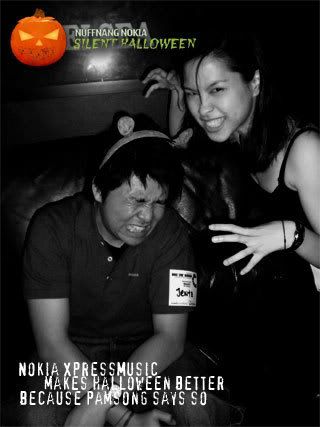 3.
PamSong
of
tinkitalks.blogspot.com
the
TinkiTalker
who attracts a large amount of visitors by "
talking
" non-stop on her blog.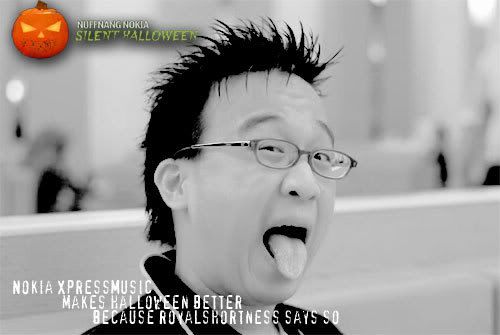 4.
DavidCheong
of
royalshortness.blogspot.com
the royalty who remains mysterious and anonymous with an unknown gender even up till now.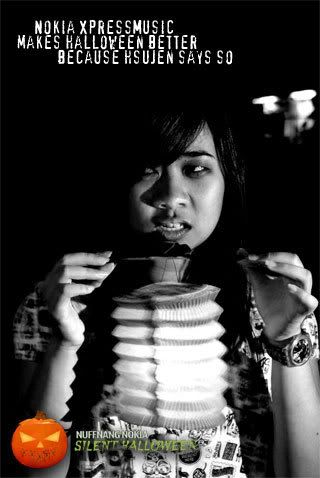 5.
HsuJen
of
serpentinegal.blogspot.com
, the faithful servant of royalshortness who loves swinging for
God
knows what reason.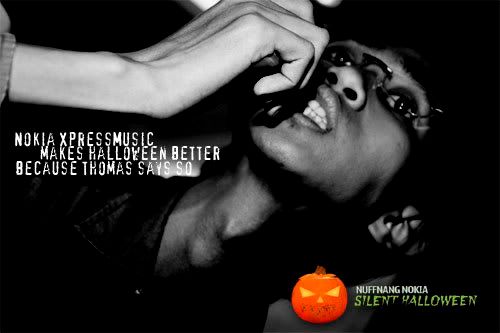 6.
ThomasYap
of
yapthomas.com
, the much rumoured
Super Star
in making with hidden talents and abilities, with a mission to save the cheerleader & save the world.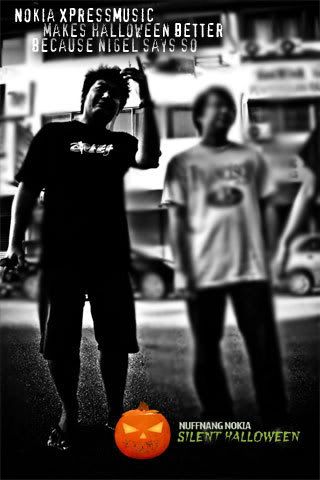 7.
NigelSia
of
nigelais.blogspot.com
, the official videographer of the mysterious group
D
on't
G
rab
M
y
B
alls.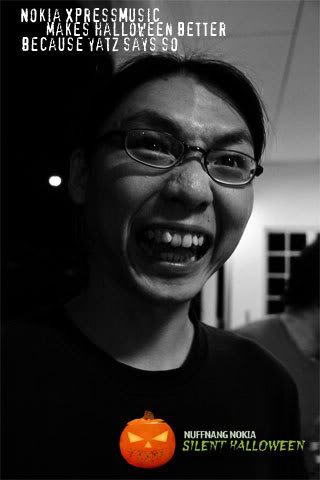 8.
Yatz
of
jenkinyat.com
, the yat and only
Pan Mee King
of
Nuffnang
, nuff said!
With the likes of Nuffnangers like
Robb, HweiMing, PamSong, DavidCheong, HsuJen, ThomasYap, NigelSia and Yatz
.


By YOUR POWERS COMBINE, I am Captain Planet

XpressMusic
makes Halloween better, because we say so.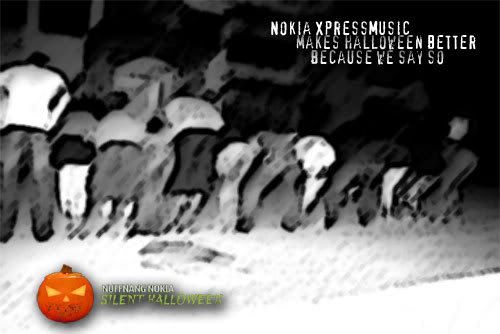 Okay la, i know everything above is lame and this post was made in such a way because i want something very badly....
Sorry
lah..
so
...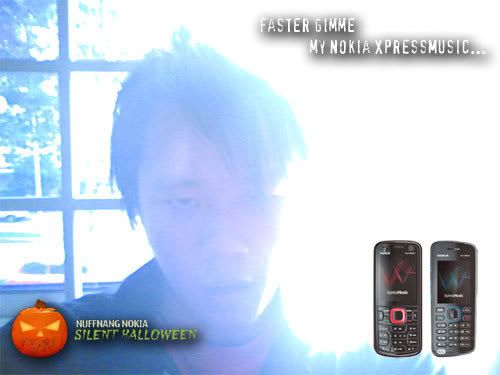 PLEASE? Can ma??
yes, that person in the picture is me myself.
=X
Alright, i had enough fun already.
These are the details of the Halloween Party that is going to be the most happenning event on the 1st of November(Saturday).
Time – 6.00pm to 10.00pm
Venue – Borneo Baruk Club, KL
Dress code – Halloween Celebrities.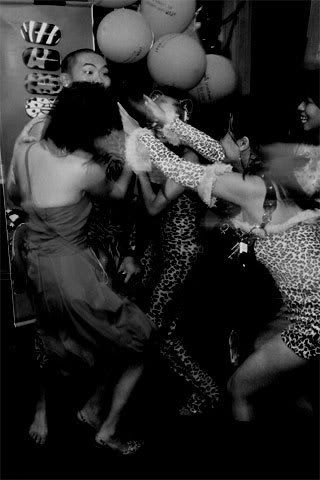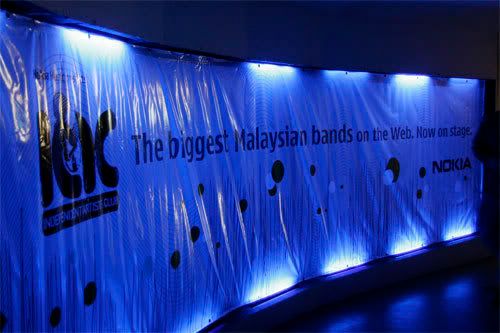 Nokia IAC
bands will be there. Interesting. Yes? No?
Oh and lemme tell you peeps something about one of the competition in winning the phones, for those who aims at winning
THE I-DANCE-TO-MY-OWN-TUNE-AWARD
.
FORGET ABOUT IT!!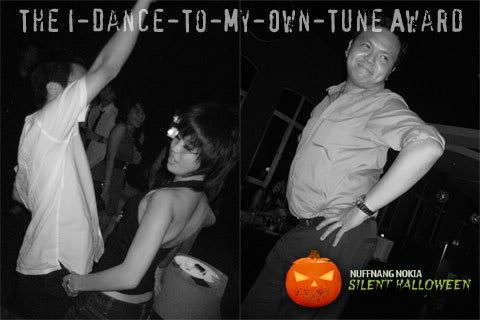 because
These 2 guys above will win the phones.
xD
*laughs*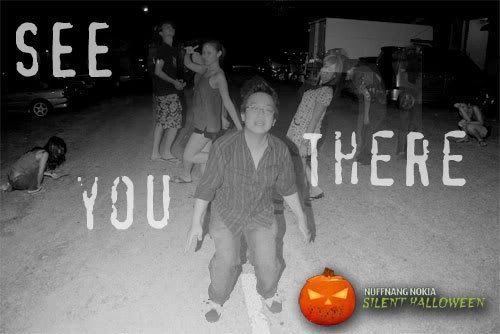 a l r i g h t t h a t s a l l,
s e e y o u t h e r e
. . . . . . . . . . . . . . . . .