I don't know why, but someone came into my blog early this month and left a comment on one of my post complaining about
Advertlets.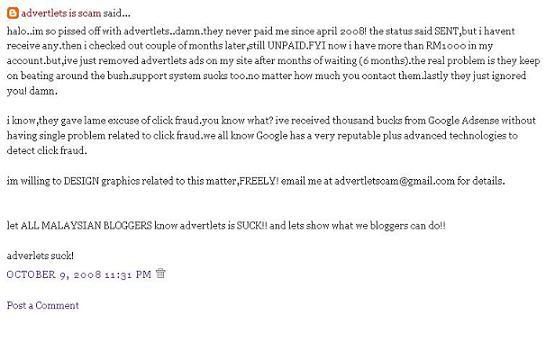 Screenshot of the complaint. Refer below for the whole complaint.
I assume that this specific person really hates
Adverlets
very very much.
Personally i've heard many many negative comments and stories about Advertlets and the founder Josh Lim as well
. But i myself haven get into a situation where i
HATE
advertlets as much as these people, so i am in no position to judge/tell how
BAD/GOOD
is advertlets.
The one thing i know leh which is very true is
when one person tells about a story, maybe nobody will believe. But when 10, 20, 50, 100 people tells about the same related story, people will eventually believe it
and they will refer the story back to themselves and overexaggerate it.
Personally, i have no idea whether people did exaggerate and add oil/salt/cili padi on their complaints or not and i don't care because i have too many other stuffs to care about.
=)
-complaint start-





halo..im so pissed off with advertlets..damn.they never paid me since april 2008! the status said SENT,but i havent receive any.then i checked out couple of months later,still UNPAID.FYI now i have more than RM1000 in my account.but,ive just removed advertlets ads on my site after months of waiting (6 months).the real problem is they keep on beating around the bush.support system sucks too.no matter how much you contact them.lastly they just ignored you! damn.





i know,they gave lame excuse of click fraud.you know what? ive received thousand bucks from Google Adsense without having single problem related to click fraud.we all know Google has a very reputable plus advanced technologies to detect click fraud.





im willing to DESIGN graphics related to this matter,FREELY! email me at advertletscam@gmail.com for details.





let ALL MALAYSIAN BLOGGERS know advertlets is SUCK!! and lets show what we bloggers can do!!





adverlets suck!




-complaint end-

willing to design graphics related to this matter some more whoa...

O.O
So this complaint above will just be a reference for you.
Believe it or not its up to you.
=)
*i still wonder why this person left this comment on my blog...