Just a few days before 22nd of
October
2008,
BBO
contacted me and asked me out for this food review at
Enju Japanese Restaurant in Prince Hotel Kuala Lumpur
, without further thoughts, i agreed immediately.
You know, just like a small kid wanting to eat sweet and when people offer sweets, that's what happened. Of course i don't simply take sweets from people alright Haha. Was assigned into the same group with
BBO
in
the 40 bloggers project
somewhere mid this year and so
BBO
isnt a stranger to me since then.
=D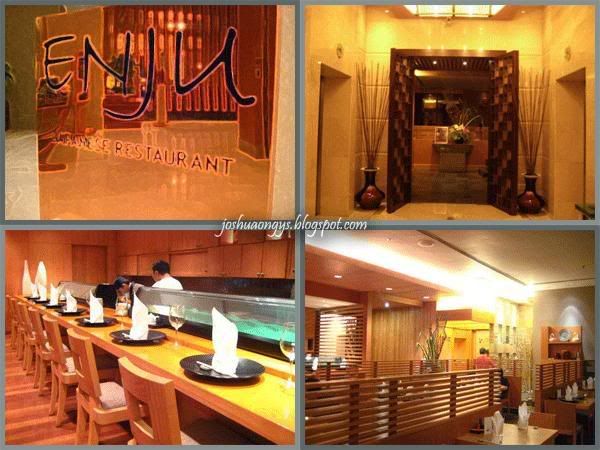 Anyway, cut the crap, straight to the point. Along with me on this review were
KY
,
Teckiee
,
Kelvin
and of course
Sidney
and
Sunny
of
BBO
.
and the main content of this post, the food.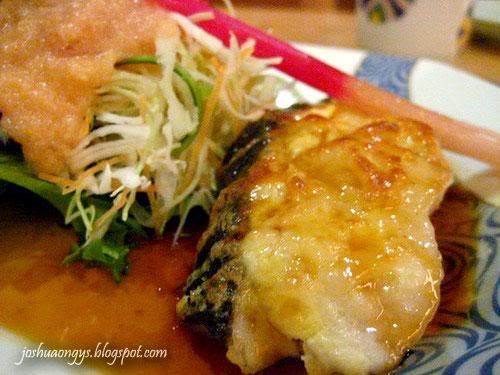 Gindara Tamagoyaki - Alaskan Black Cod grilled with egg yolk and cream cheese
RM52
Due to my upside down sleeping hours and unhealthy eating habit, i have not taste fish cooked in such a way or in a similar way for a very very very long time already. This appetizer came in at the right time and it was just the opening of the various dishes served that session.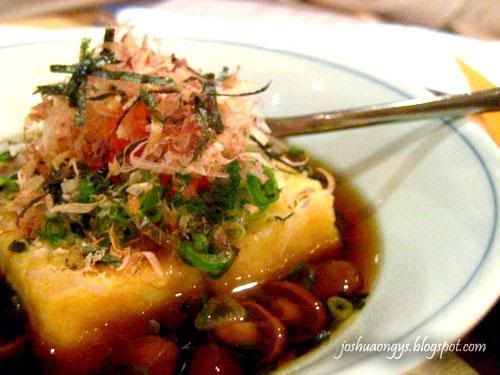 Shirako Dofu Cod fish roe tofu topped with nori, bonito flakes, wasabi and light shoyu
RM28
The second dish we had was this one which i don't know how to describe. I love tofu all this while be it fried or steamed or etc and so i was pretty delighted when i saw this dish coming.
=)
The food came in quite fast. Below are the dishes that came in after that.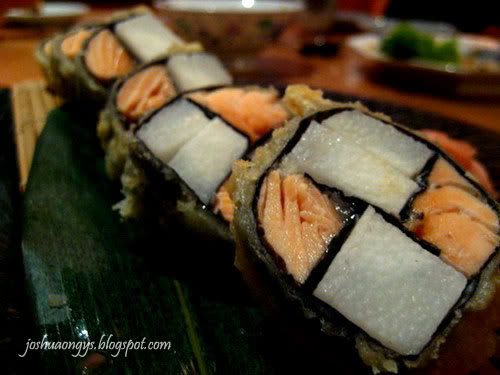 Crispy tempura salmon, mountain yam and nori roll with wasabi shoyu
RM28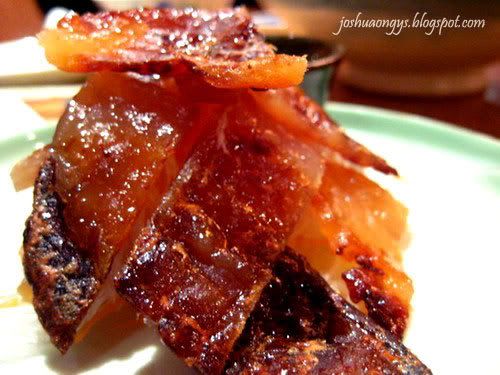 Fugu Mirin Boshi Sweet Vinegar Grilled Puffer Fish
RM28
this one taste like "
yuk gon
" erm how do you call it in
English
. Dried Meat? You know those kinda meat you get to see everywhere you go when it reaches Chinese New Year. That one. How does it looks like, just like in the picture above. Heee. Not bad.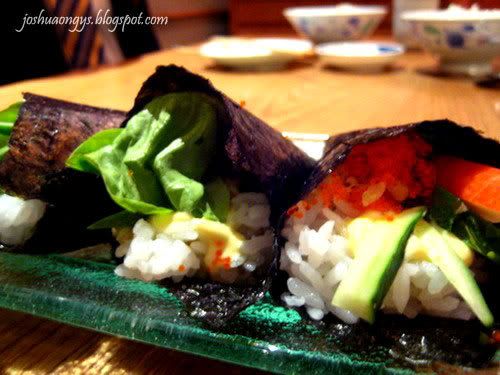 California roll - starts from
RM25
(
base on your selection of fillings
)
California roll. One of the most common ones among
Japanese
food. I think i don't have to ellaborate on that don't i.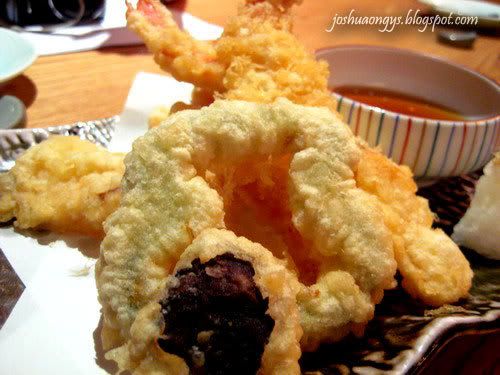 Tempura Moriawase - Assorted fried seafood and vegetables
RM32
Erm. Tempura you know hahahaha this is one of the dishes i like among the
Japanese
food. I don't know why but i just like it. Its simple and nice.
xD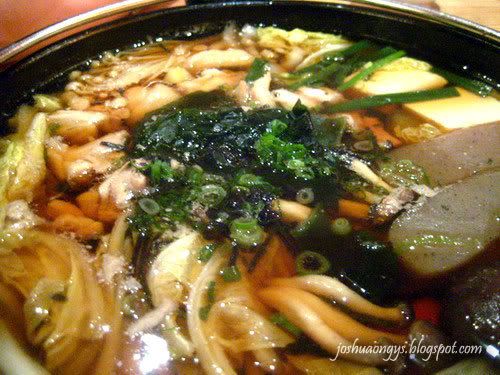 Sukiyaki (beef
RM65
) (chicken
RM45
)
Just like what you see in the picture. There were vegetables, meat, tofu and erm did you see the sausage slice alike thing on the right hand side of the picture above, that's
Japanese
yam. Taste like jelly. Haha. This dish appears to be a little too sweet for me.
=)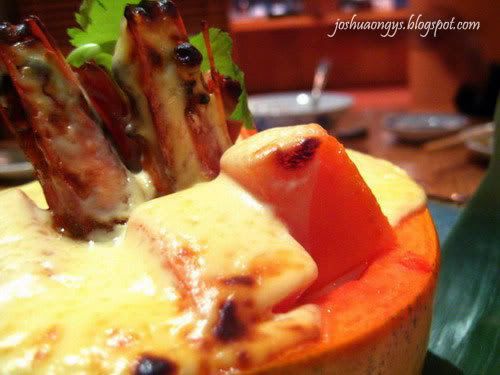 Papaya Bakingyaki - Baked Hawaiian papaya filled with seafood, cream cheese and mushrooms.
RM34
Uh Oh, this is the special one, just read the description above. I told a few friends about it and straight away they told me they cant imagine and said that it would surely be disgusting, you know, papaya and cheese.... They just don't go together.
But let me tell you, this dish is the dish that gave me the best impression among all dishes during the whole session
. Its pretty new to me. Sorry for my jakun-ness. I liked it though.
=D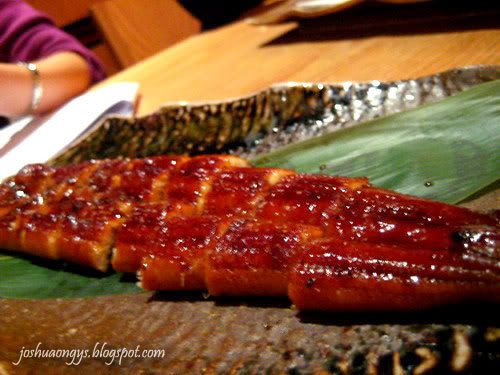 Unagi
I've always wanted to eat Unagi when i dine on japanese food outside but i dare not order as its expensive to me, well i'm a student so yea. I was satisfied hahaha to have eat quite a lot of this.
Lastly, this is a must to most Japanese Food Lovers. Sushi and Sashimi.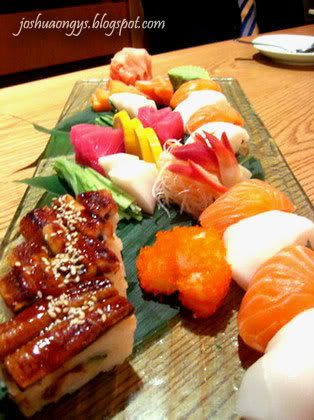 Sushi Moriawase Take - 8 handmade sushi and 4 sushi rolls
RM125
Sashimi Fuji - Assorted sashimi, 10 pieces
RM95
The picture taken above is a combination of Sushi Moriawase Take and Sashimi Fuji. Nice.
The food review session ended with this wonderful ice cream.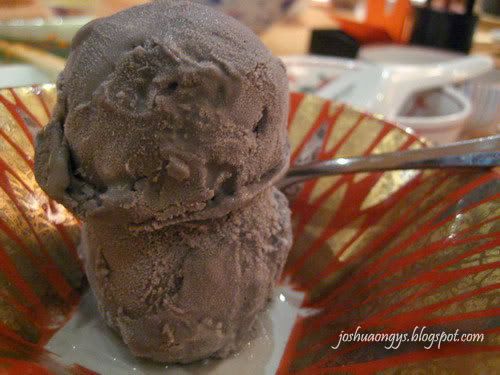 Goma Ice Cream Rich Black Sesame Ice cream
RM20
BLACK SESAME OKAY! DONT PLAY PLAY!
xD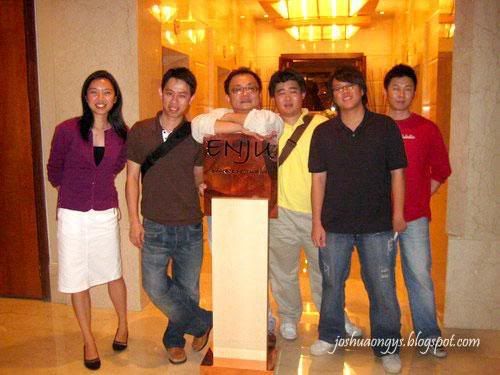 An interesting session i would say. We exchanged laughters and left the place with a full stomach. Personally, though i like sushi, tempura and etc, i seldom have the chance to eat food like this, as in
Japanese
,
Korean
,
Vietnam
food and etc and to me this meal is a very rewarding one as i get to know a bit more about Japanese Food and its ingredients and of course some of the
Japanese
names.
Interesting
.
Am thankful for it. Thanks to
Sidney and Sunny of BBO
for the invitation.
=D