With so many fruitcakes in the event that night, its Amazing. We
Malaysians
are a bunch of crazy people i'm sure. In just one day,
268 Passion Blog
have been flooded with comments and at the moment i'm typing this, there're 400 comments on that post itself. O.O

Haha. Let me start writing on this post with 70++ Pics [2mb] yea.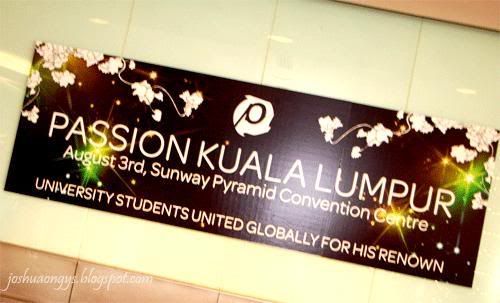 It was really a complicated afternoon, after
Sunday
service + lunch, i was rushing trying to find ways to get to
Sunway
.
Thanks to
ChrisTock
who gave me a ride. Along with
Chris
was
Ringo
and
Carol
and i didn't expect that haha but i'm glad with it. =) Nice meeting
Ringo
again and nice meeting
Carol
.
They were attending a function @
Nikko
Hotel.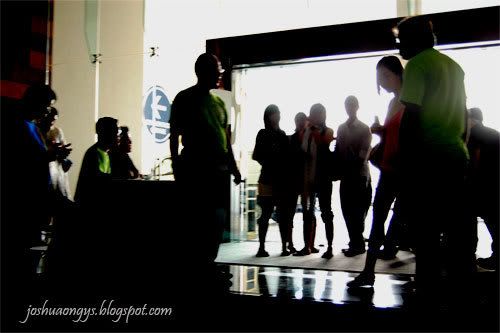 We reached there in time i can say, and went in the place through the CarPark entrance. It was hard getting an actual car park space, so
Chris
went for illegal parking. HAHA.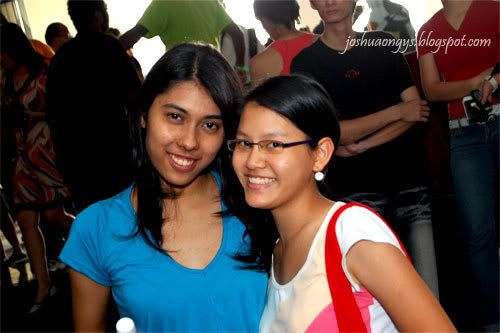 The first few person i saw when i reached there was Phoebe and Michel. Haven seen this 2 girls for quite some time already... ahh Kenrick as well.
=X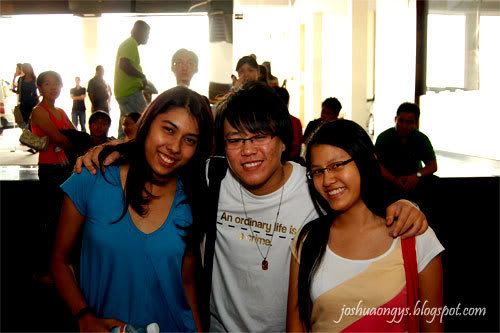 It was nice seeing them again. Fellow PKs. The ones that i'm happy seeing whenever wherever. HAHA. I met other PKs as well. Read On.
=)
There was a booth outside the hall. Selling
PASSION
related items.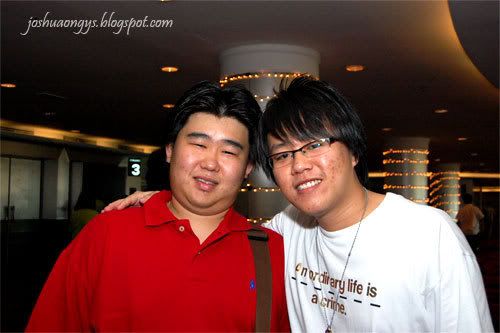 Met up with
Kelvin
whom i know through blogging.
Michel Ong,
OngKayJin
, MichaelOng, Me la joshua ONG.
The ONGs!! hahahaha
We got in the hall soon after that. Gosh its nice going to such events where they have nice big stage filled with nice settings, lighting and etc.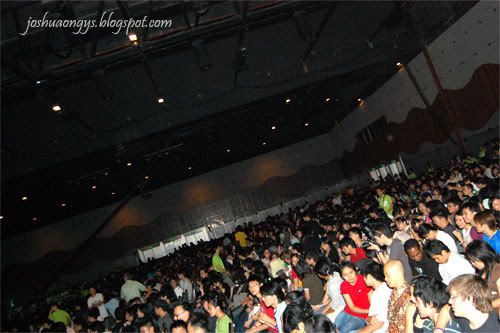 Just look at the "
Young
" people there!! Although i've been to
Planet Shakers Conference
and
Hillsong United Concert
, they were almost the same, i was excited as well.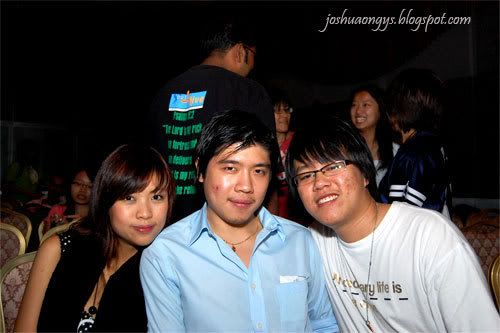 Ringo, ChrisTock, Me
Took a picture with Ringo and Chris and soon the event started.
=)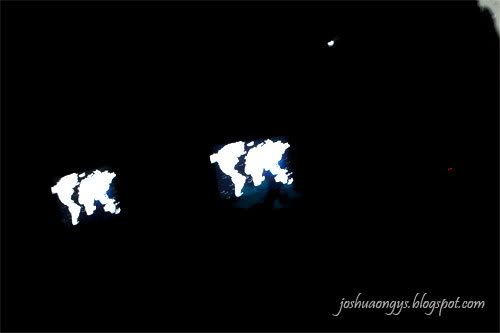 They showed a short video clip which i thought was SO VERY THE nice.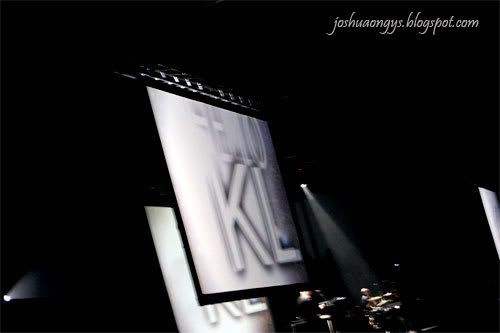 Hello KL !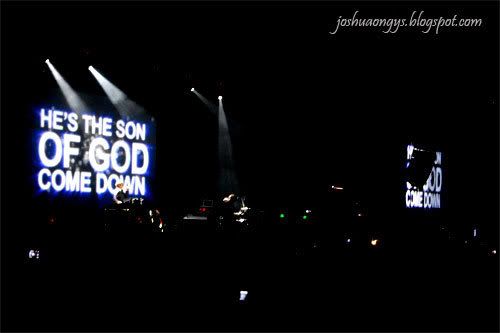 He's the
SON OF GOD
come down.....
and the worship team came in and took over the crowd with their gifted skills from God. It was a really nice opening i would say.
Chris Tomlin
was the first worship leader to lead us into worship.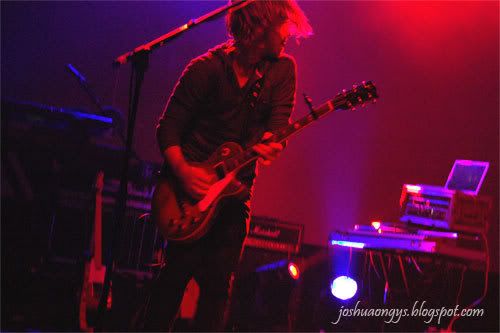 I can only take pictures of the guitarist from the place i was standing. So no pictures of the drummer, keyboardist, drummer ya sorry.
=X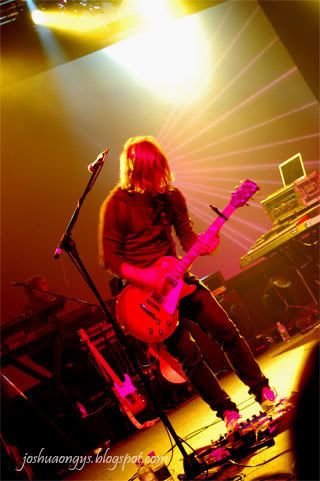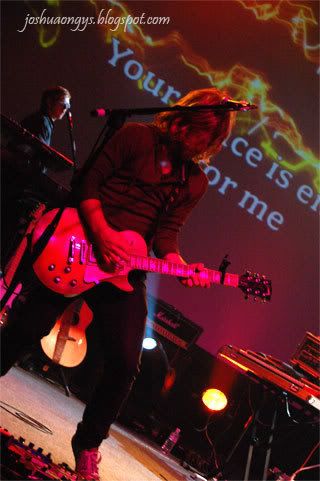 The worship lead by
Chris Tomlin
was good and i wished it was forever.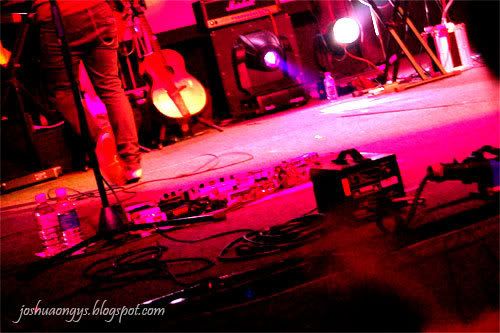 Ps Louie
from the
PASSION
team came out after that and share with us a couple of stuffs and even showed us a video of the crazy people in
PASSION Manila
,
Philippines
.
Although its quite short, but i can see that the people at
Manila
were really fruitcakes LOLx.
Ps Louie
even shared with us on the origin of the song
God Of This City
.
then,
Ps Louie
requested prayers all over the hall, prayers for the people in
Jakarta
. For
PASSION Jakarta
which will be happening later. And other prayers.
Charlie Hall
took over the worship later on with another band.
The guitarist.
The keyboardist (
i'm wondering what are the equipments over there..
)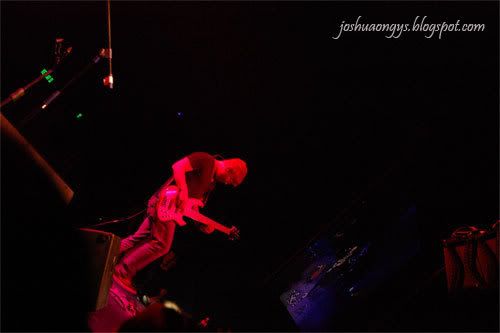 The Bassist from far away.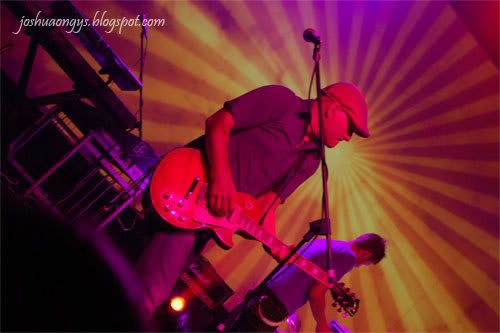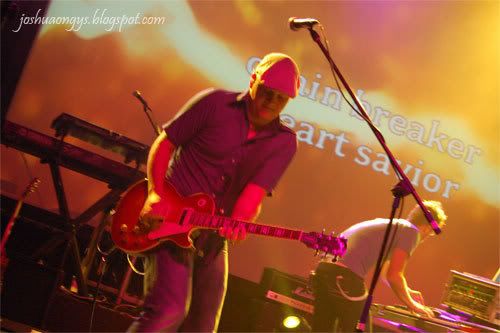 The guitarist again as i was the nearest there.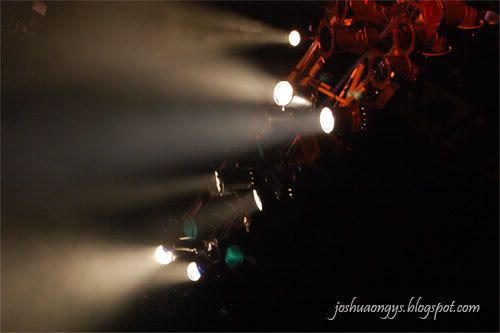 Seriously, both
Chris Tomlin
and
Charlie Hall
was great, a servant of
GOD
, with a great voice and talent, they both served the
Lord
humbly and it seems that they are just having fun and spending time with
God
privately.
I was attracted just like that.
Not to say i idolize them, like what i saw in
Guy Sebastian
with the
Planet Shakers
team years ago, like what i saw in
Hillsong United band that came to Malaysia 3 months ago
, i was really amazed by how they can really be a someone who helped serving
God
in wondrous ways,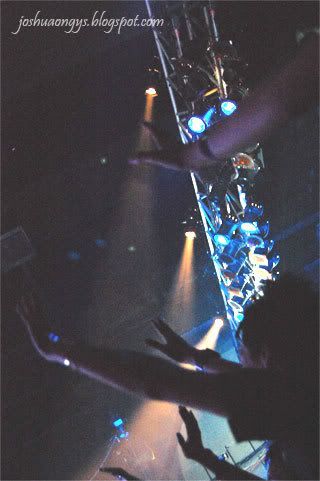 they are famous people/christian artist/christian bands around the world and they are really humble and down to earth. Its just
JESUS
and
GOD
alone in their eyes, mind, and hearts.
and i guess that's why they succeeded in making
JESUS
famous in our generation. Attracting millions of young people in our generation, making an impact in millions of lives and preaching the gospel all over the world.
It was an awesome worship session.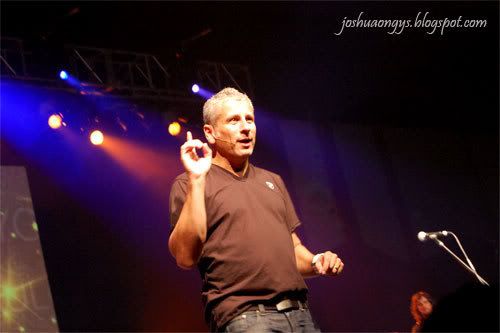 After the worship,
Ps Louie
came out and shared about the word of
GOD
.
"


King James Bible - 2 Corinthians 5:15


And that he died for all, that they which live should not henceforth live unto themselves, but unto him which died for them, and rose again.



He shared about how Great is our God. Other than that, he also shared the story about a girl
Ashley Akinns
.
She was a hardcore party goer who thought that she's a screwed up girl herself
, living with her boyfriend where she had a 2 years relationship with only to find out that her boyfriend cheated on her. She moved out and found a new place to stay and found out that her housemate is a crazy person. At least
Ashley
think she is.
*i was wrong here, the other girl moved in to ashley's apartment and not ashley moving into the "crazy person's" apartment. =)
The story went on and
Ps Louie
told the crowd about
how she came to accept
GOD
, turned a new leaf and you wouldnt want to know what happen next.
Just 3 months after accepting
GOD
into her life,
there's this tragic accident which took away
Ashley
's life
. Read the related links below on
Ashley
's life.
Throughout the whole time when
Ps Louie
was telling the story,
we were laughing and cheering as he was reading directly from Ashley's journal
. We laugh because there are some funny stuffs she wrote in her journal,
we cheered when we heard the part of her accepting GOD.
and the whole place went silent
IMMEDIATELY
after he talked about the part where she passed away.
I was holding my tears actually and my friend heard some people cried. It was sad.
Ps Louie
ended his message around that time and the worship team took over once again.
Chris Tomlin
was leading the worship again.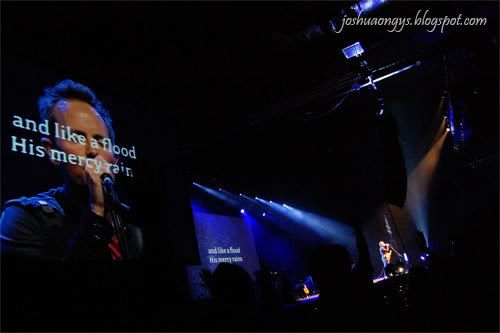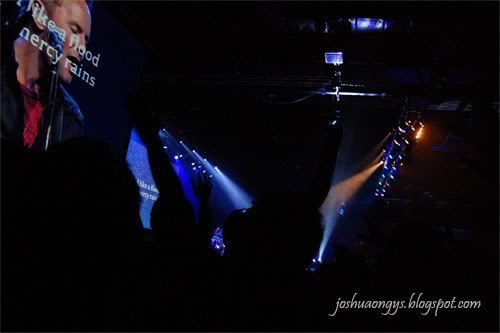 As usual, the songs were simple, with simple lyrics and melody,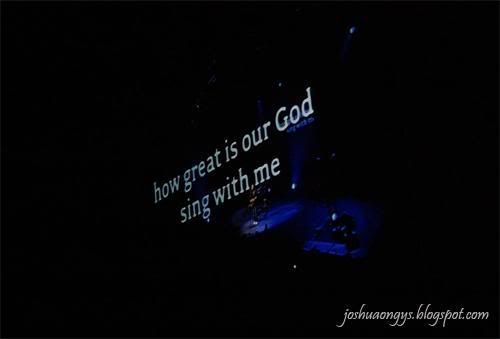 but
POWERFUL
as it is, i could feel
GOD
moving in the presence.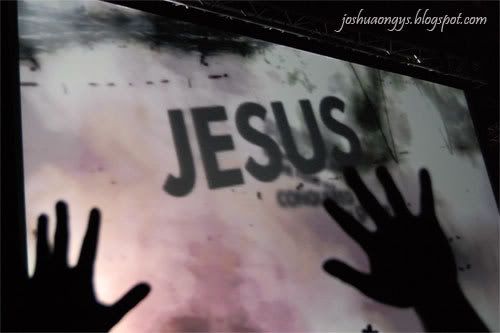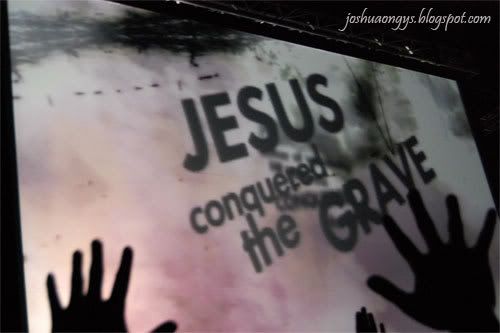 I have been to various camps, concerts, conference and
Christian
youth events in the past and i am really excited and happy when i see such stuffs happening.
The crowd worshiping
GOD
whole heartedly.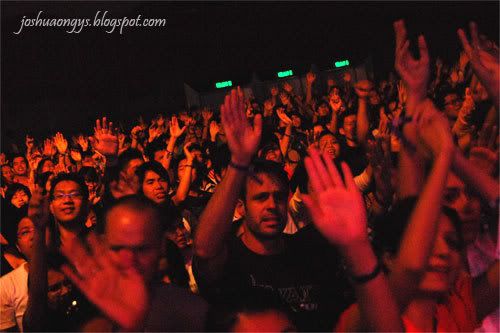 Thier hunger for
GOD
.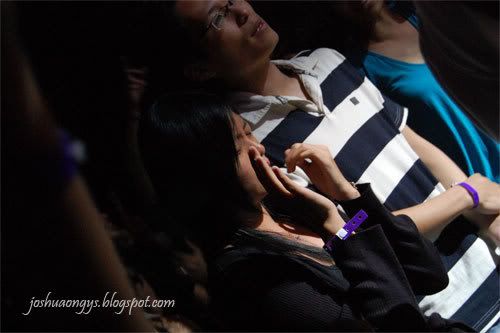 The tears shed.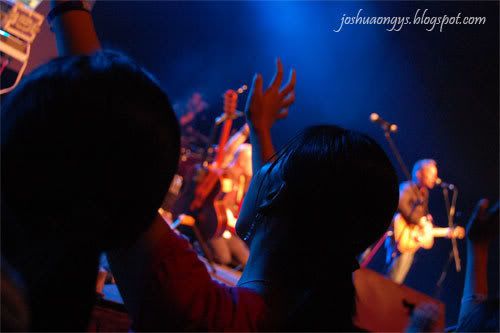 The worship warriors.
and the band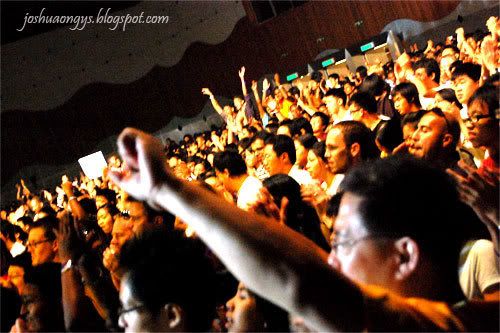 It was just GREAT.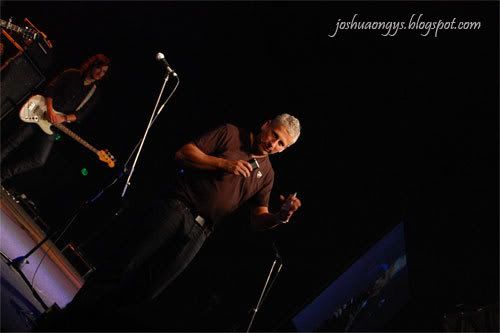 Oh yea, did i mention that
Ps Louie
did a podcast? HAHA with us
Malaysians
shouting like psycho only.
I stopped attending such functions for quite some time actually and only started attending again 3 months ago in
GTPJ
for
Hillsong Concert
. Some people think that going to such events can make their
Christian
Life a little bit more perfect and such events can make them
"burning"
more for
JESUS
.
But actually, in order to continue "
burning
" for
GOD
, its the relationship between you and
GOD
that matters. Not these kinda events.
Many people do have the wrong mindset that they must go to such events, its happening, people go, so i go
. Thats a very wrong mindset.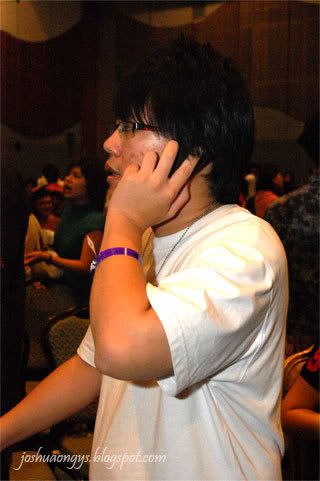 Me on a call on meeting with friends.

Anyway, lets not talk about that. Maybe i will talk about it the next time.
For me, one of the reason of me going to such events is to meet up with old friends. Very very old friends. There is no need for planning and we'll eventually meet.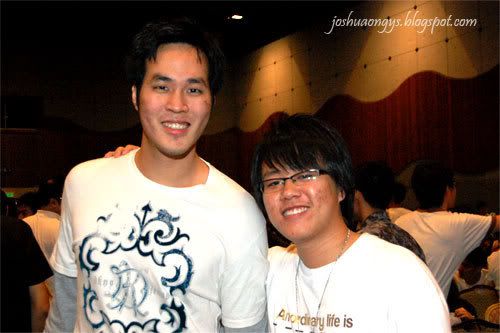 Derrick
and i
Danny
, Me,
Levi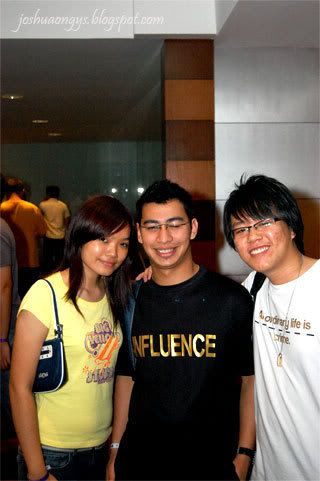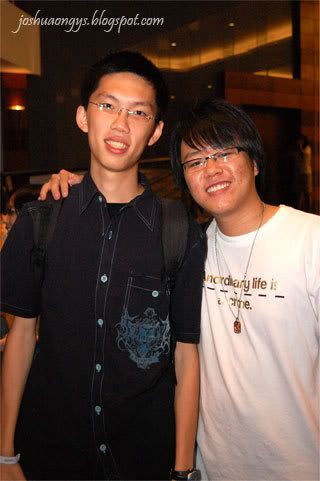 Left Picture -
June
,
Levi
, Me
Right Picture -
Joel
, Me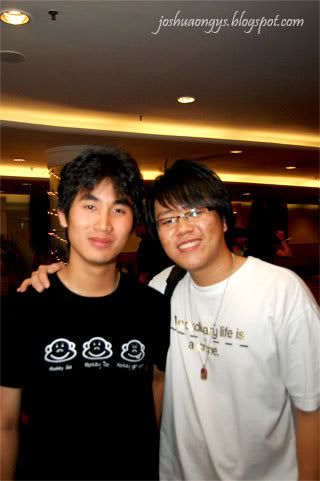 Left Picture -
TeeJuan
, Me
Right Picture -
Anna
, Me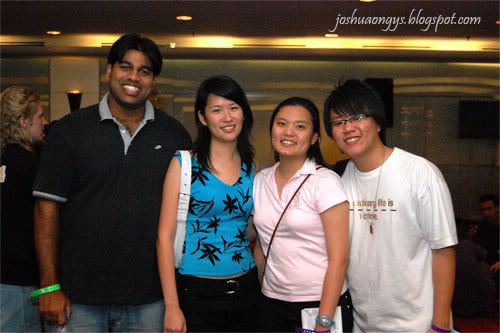 Edrian
,
YongMay
(
finally i met you!!
),
Anna
, Me
The people i came with to this event.-
ChrisTock, Ringo, Carol,
Me
There're some other people who were there but i didn't managed to take a picture with them.
Cassie
,
Sandra
, Sher-Lynn,
Isaac
,
SiewVern
, PhoebeTan and
AbishuaTan
and etc.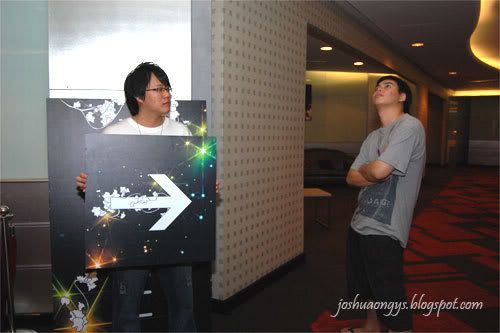 Some random stupid stuffs PKs does.
=p
Michel
and
Kenrick
Thanks to
Kenrick
who gave me a ride, i joined
Michel
and
Michael
along with their church mates who came all the way from
Kuantan
for supper.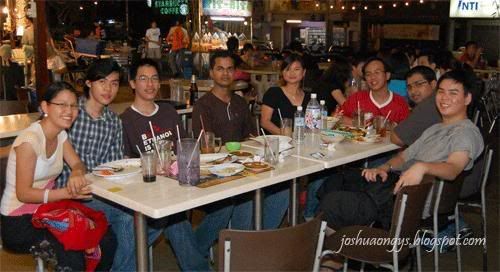 Michel, Philip, Michael, David, Angela, Jeremy, Raynor, Kenrick
It was a very tiring day for me, but i was happy.
=P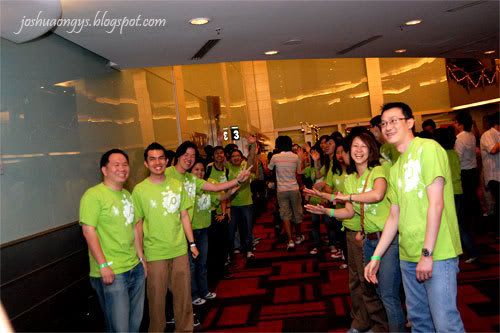 Thanks to the crew who made this event a successful one.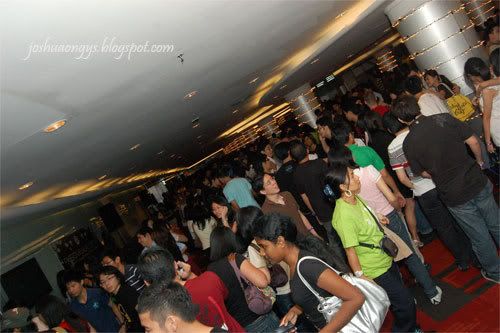 The crowd after the event.
Thanks to
ChrisTock
,
Kenrick
and
Jeremy
who gave me a ride.
Thanks to Kelvin who taught me how to use the DSLR.
Thanks to
Andrew
who borrowed me his DSLR, D40 to take the pictures in the event.
and at last thank
GOD
for making all these possible,
I first attended a big christian youth event back in 1999,
JamWithTheLamb
99.
This will not be the last one. Thank
GOD
for everything he made possible for me.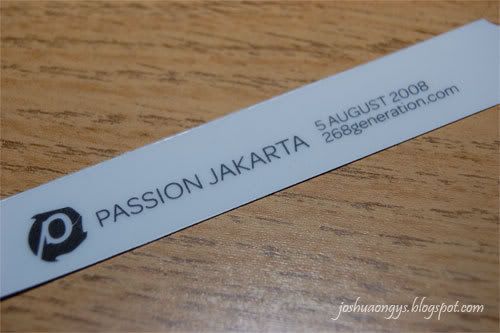 and now,

Passion Jakarta
which is going to happen in a couple of hours. I'm sure it will be a blast!
=)
Related Links :
268 Blog Updated- Passion World Tour @ Sunway Convention Centre, Kuala Lumpur 2008.
[Must Read]
268 Blog Jan2007 Ashley's Letter to Ps Louie
[Must Read]
268 Blog May2007 After Ashley Passed Away
[Must Read]
268 Blog April 2008 Ashley Akinns - The Day Unending Life Began.
[Must Read]
Passion World Tour Website
Passion World Tour Kuala Lumpur
Passion World Tour KL Facebook
Passion Conferences Blog
*i know the pictures above are a bit sucky.. sorry.. i'm a noob DSLR user... =X