+ Approx. 2 days before actual shooting day +
"


Nigel :

Hey. Joshua, I'm gonna shoot an experimental video and I was thinking of having you in the first clip is it ok?




Me

:

er... me in the clip?? *idonotknowhowtoact*




Nigel

:

and Sheng Mae will be your gf in the clip....




Me

:

Ok! AWESOME! *wtf*



+
On the shooting day itself
+
Day
:
Saturday
Date
:
21st June 2008
Time
:
7am onwards
Bloggers
:
Nigel, Kelli, Sheng Mae, Aaron, Me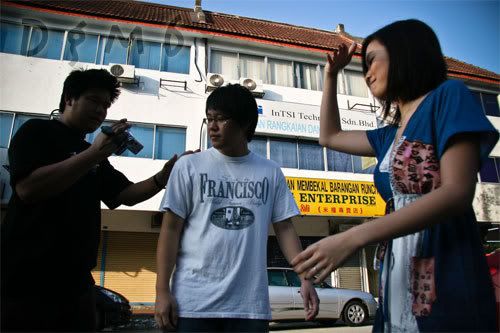 The weather was good, the place was quiet, everything was nice except for the obvious fatigues written all over our face. It was too early for us bloggers who usually sleep
VERY
late at night. Furthermore it was a
SATURDAY
where we were suppose to be under the blanket till noon.
Anyway, although we laughed again and again during the whole time. We were really enjoying ourselves there. The 5 of us.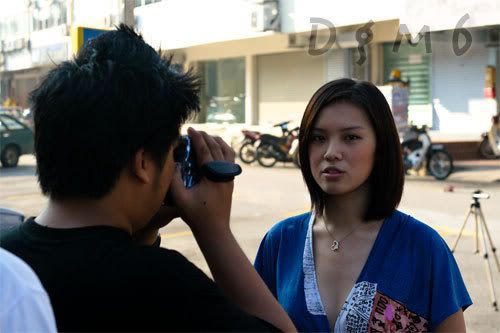 Furthermore, we were quite professional(
not me
). I meant
Sheng Mae
. LOLx
Just look at how professional she is!!!
*i figured out that i do not want to post so many pictures of myself, i looked like a zombie..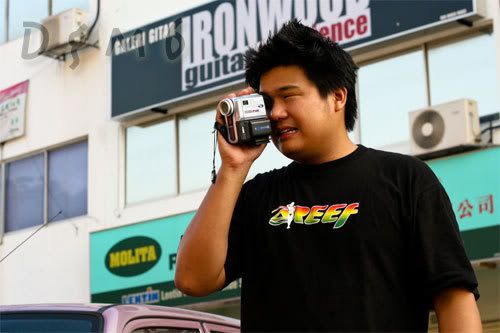 The overall shooting process didn't really take much of our time. With the
award
5k winning director
shooting the video, the whole process went real smooth.
We even have Kelli as our helper that day as well as Aaron as the photographer.

After the shoot, we had a great time
gossiping
chatting in a nearby mamak.
A short scene of the video.
So how did this video came out. Hmm, actually, Nigel have this little plan of his own to shoot some videos that is based on a theme that any Malaysian can relate to.
Read more about the interview with Nigel on NST here
.
and this specific video with the title
Just A Thought
actually came to mind when
Nigel read one of PamSong's post
on her blog.