A Karaoke Session it is. I have been to
RedBox
/
Neway
/
GreenBox
for such sessions in the pass and all these while, everytime i go "
sing k
" with my friends, the songs will be mostly in
Chinese
/
Cantonese
. This time, its different.
=X
Its all English, English and only English songs.

A Noob Singer - Me, along with a bunch of award winning singers with negative copies of albums..

We rocked
the Curve
with our voices!!
=P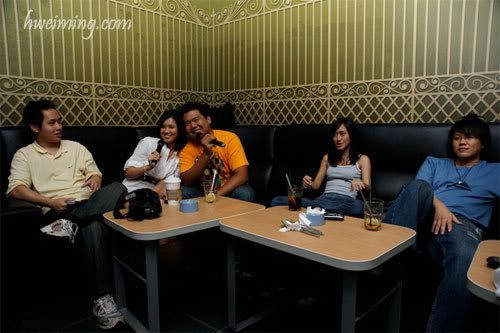 We were there since morning, going there in hungry mode, my stomach kept growling and the freaking
RedBox
in
Curve
have
SO LITTLE CHOICE
of food to choose from the menu they provided....
O.O
Anyway, we started the session with a few old songs. Actually lots of old songs erm which i don't really remember the songs/artists.
*i'm bad in memorizing song names and the artists. =p
Everything went well till we found out that
Pam
......
i shall let that part about
Pam
stop there
=)
Practically, she was late because of some stuffs......
*hugs*
Hehe, that wasn't important anyway, she reached at last!!
=)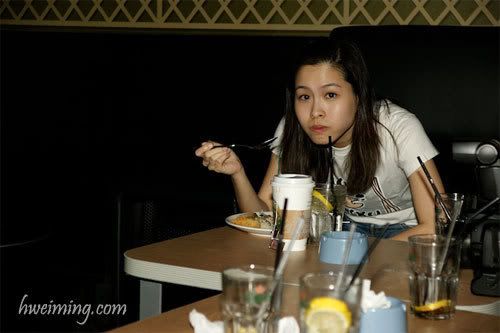 finishing her food with the speed of lightning..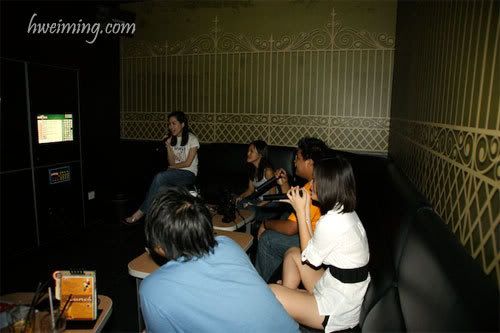 she quickly snatched one of the mic and joined in the singing!!
HAHA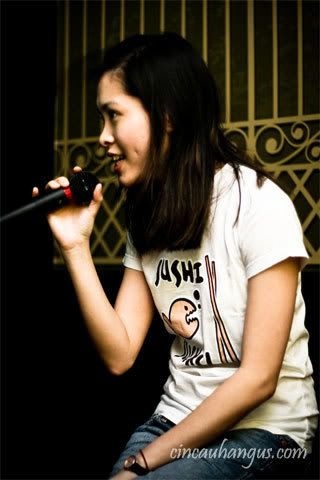 just look at how concentrate she was at that moment, with 200% focus on the songs..
she sang so wonderfully till...

Kelli
joined her in singing and they both were like
Mariah Carey
+
Whitney Houston
wtf....
=X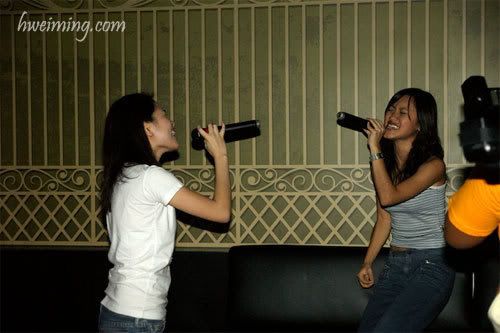 fuuhhhhhh.... the glass nearly shattered on the spot itself...
o.O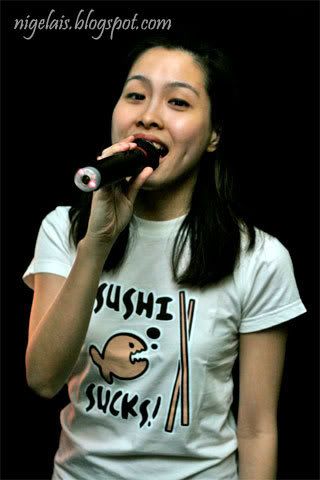 At one point,
Pam
was singing like this looking at
Nigel
...
*previously, pam snatched the mic from nigel
and you must see how
Nigel
looked like that time..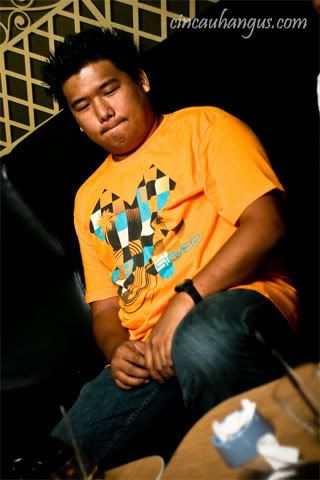 he was so down.... because he cant sing with all the mics unavailable esp
pam
looking at him like that some more...
till....
Someone actually pass the mic to
Nigel
..
and
Nigel
grab the mic unwillingly(
just like the picture above
) and sing as though as people were forcing him to sing....
lets skip him for the time being and let me continue the story to another person...

there were 7 of us there with only 3 mics, so for sure not all people can sing at the same time,
just like what i said about
Nigel
above....
=p
HweiMing
was one of the victim as well.. he was acting like that (
as in the picture above
) the whole time and looked even worst during the part
Kelli
and
Pam
sang together...
We could feel the aura coming out of him as though as he is going to kill someone with spoon and fork
..
Immediately, we let
HweiMing
solo on a specific song and... Good Thing he didn't take the mic unwillingly and do you want to know how good did
HweiMing
performed?
He's a future star, what more can i say?? lolx
On the other hand, i noticed someone who was one of the victim as well, he didn't really sing...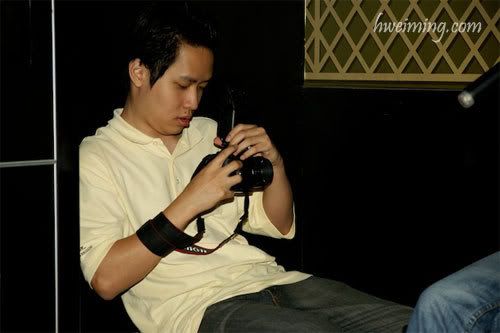 Instead, he was fooling/flirting with his darling "
wife
"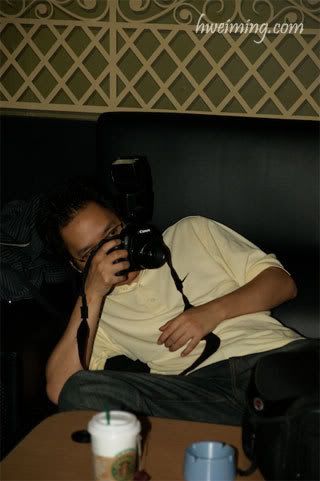 Snapping pictures here and there, up down left right center back front everywhere...
and so, i decided to accompany him doing stupid stuffs other than him playing with his "
wife
" snapping pictures...
So, we..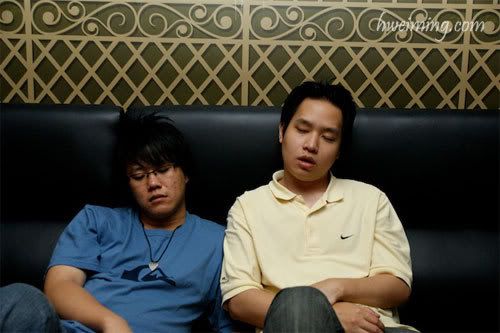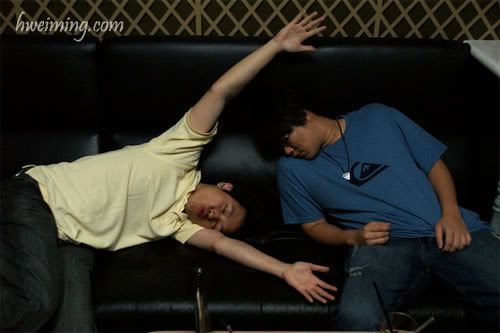 erm... acted as though we're sleeping.. and erm....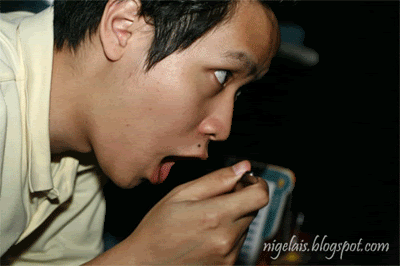 he figured out that it was quite "
wuliao/boliao
" dumping me aside and proceeded in taking his food....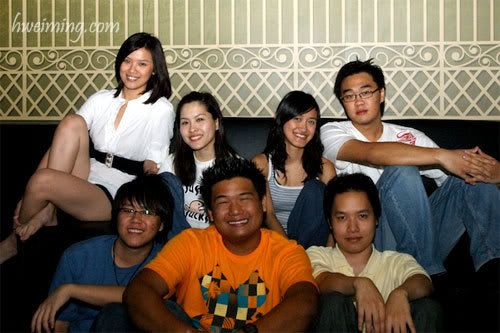 there goes my first time singing k with 100% english songs...
=)
*Actually, i twisted some part of the storyline here and there.. hehe
**Aaron&Hweiming was the official photographer
*** it was an enjoyable k session with them... 2nd round perhaps??
**** i didn't really featured
ShengMae
above because she was shy wtf... lolx
***** ALL THE GIRLS +
NIGEL
CAN SING VERY WELL, JEALOUS....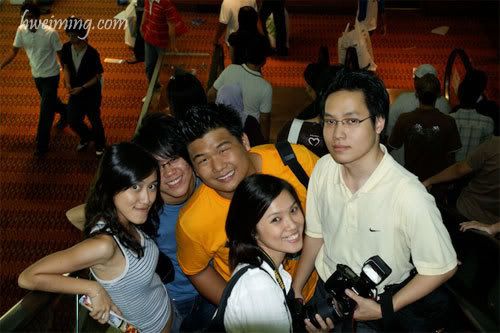 The day didn't end there,
Pam
went back after that with us heading to
KLCC
for
PC FAIR
.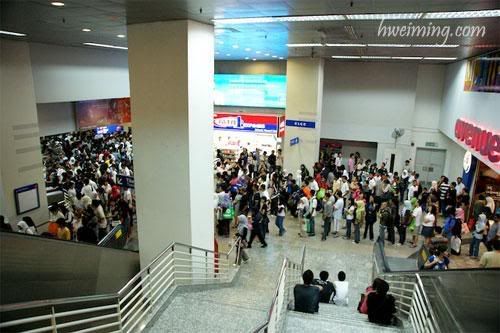 As expected, there were many many people there. Nuff said.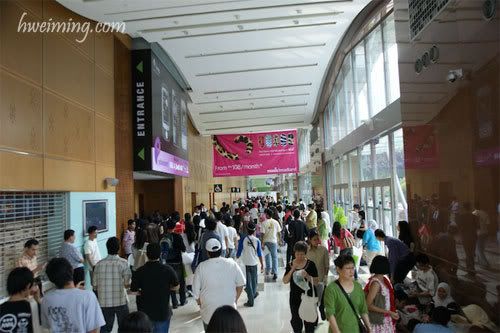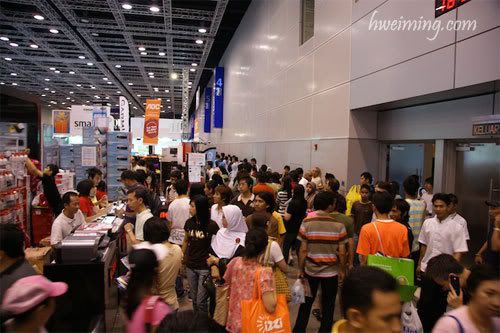 we were there to look look see see while
Aaron
hunt for some stuffs there..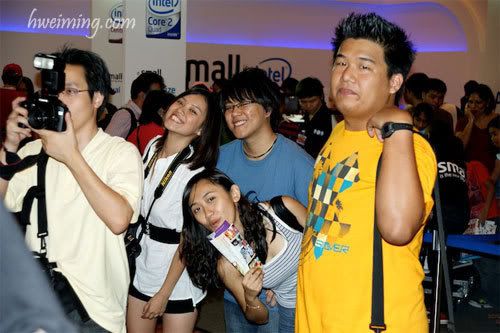 Meanwhile, we took alot of pictures together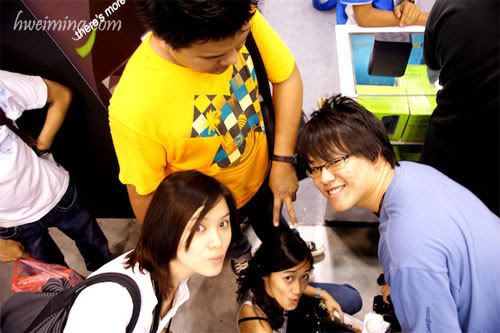 lolx... we left the scene with my girl joining us and headed to dinner + YumCha and we finally call it a day @ around 10pm++. I was exhausted at the end of the day, i mean
REALLY REALLY
exhausted... and of course, it was fun going out the whole day with these whackos....
Can't Wait for this
Saturday
.
HeHe
.