Italiannies
have been operating around in
Malaysia
for quite some time. Their varieties of
Italian
food have serve us well throughout the years where some bloggers did some really interesting reviews on some of the outlets.
and yesterday, Italiannies 1 Utama was kind enough to open up places for up to 20+ bloggers to dine -
a sharing session among bloggers by Nuffnang & Italiannies
.
Robb
and
Yeehou
were there to welcome us bloggers at the so called "
registration table
".
=)
Soon, we were all seated with the
Nuffies
that consist of
Timothy Tiah
, the boss himself and
Nicholas
, Robb, Yeehou &
Pinky
. Of course,
Ringo
and
Cindy
were there as well.
=)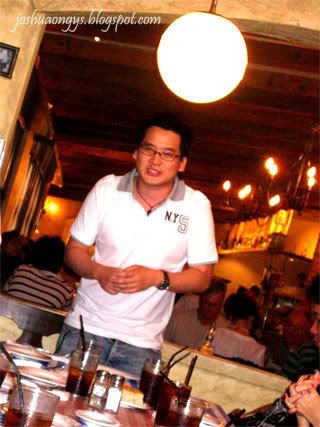 The session started with
Timothy Tiah
coming out giving a short
little prayer(right picture above)
note on this sharing session and explaining some stuffs.
Soon the food were served to us. Gosh what can i say? We do not need to pay and yet we were spoilt by the various food served there.

of course we didn't forget to take pictures every time the food was served.
=P
pictures were taken among bloggers as well. Snapping pictures here and there where the other customer could see the flashlights coming from our direction. Ha.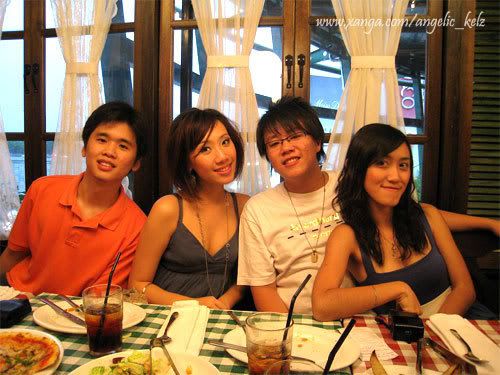 YeeHou.Cindy.Me.
Kelli
Most of us bloggers there chatted with the people around us, left,right&front. Introducing ourselves, when we started blogging, what do we blogged about and then proceed to some private chats perhaps.
Then just before the desserts came out, Cindy and Ringo came out where it was open up for us to ask questions, they shared their experience on how they fell in love.
Particularly during and after the extremely twisted so called 1st Online Reality Show in Malaysia
. The
Malaysian Dream Girl
.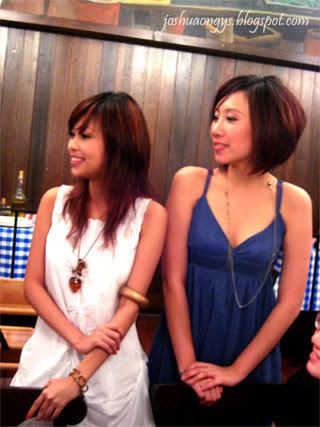 They look at each with love each time they answer a question haha its ok if i write this right Cindy&Ringo?? lolx
They shared about some stupid rules the show have, the environment, the experience where they were kept out from the world outside without a mobile phone, an internet connection as well as a television. The days and nights sleeping with people they just got to know.
and everyone was paying attention on what they say. Maybe some are just purely admiring the beauties in front of them idontknow.
=P
while some others were snapping pictures/recording videos to cover this sharing session.
They shared some advice as well for girls who would want to join the competition in the future. A simple advice from them is just 2 words.
Don't Join
.HAHA.SERIOUS!
=P
Robb asked the last question closing up the "
interview session
". But the sharing session didn't just end there. We had something installed for someone who's having her special day that day.
It was her birthday and words were passed from mouth to mouth before the dinner start.
We gave her a surprise singing a birthday song to her which kept her smiling like a small kid like that lolx.

she was a happy birthday girl that night.
=)
HAPPY BIRTHDAY KATE!!!
so while other people is having their spoon on the desserts served, some other bloggers starting going from one end of the table to the other end to take pictures a.k.a camwhore.
Kate.Zoe.David.Robb.Sherry.
Of course, the MDG girls was the hot ones where everyone wanting to take pictures with them!!
Pinky.Ringo.Sherry.Zoe.
Of course, I took pictures as well!!
Zoe.Me.Sherry
Cassie
.Me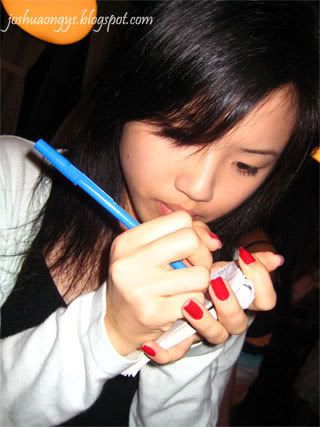 Some other people were busy doing other stuffs at the same moment. Like getting each others BlogURL, some getting MSN and Mobilephone numbers.
O.O
and gosh i was shocked to meet an old friend there... my secondary class mate, ah fo.
HAHA.
Ah Fo
, faster come out YC lor!
Sherry.Zoe.Kate.
Sara
Sara.Cindy.Ringo.Shery.Zoe.Kate
MDGS1 Contestant with some Possible future MDG contestant
. Who knows?
=)
and yes, that pretty sums up this whole sharing session.
Free food, making new friends and meeting old friends, of course meeting the MDG girls in person and the nuffies etc
.