Though i didn't really blog about it stating my views and stuffs on the recent drama of
XX and DY
, i still follow the story from time to time.....
Call me busybody or whatsoever, even if i don't follow there'll be someone coming up to me and tell me about it so i better go do some readings myself....
*OKAY LA I'M KEPOH la i admit...

Anyways, i still won't state my views here on the drama itself.
Its just like any
TVB Dramas
i've watched in the past few years and there is no need for me to say anything about it bah, so many and i mean
SO MANY
bloggers have stated their
OH SOOO NEUTRAL
views already so i don't have to do so.
and so when i grew quite bored of this girl fight already, almost immediately, i came across another story book...
i just like read a few thousand words on the XX and DY matter and finally, i got tired of it and you tell me there's more to come on another
NEW
story book?
What is this you tell me,
Star Wars - Return of the Jedi
or
LOTR - Fellowship Of The Ring??


Alright ignore the movie titles peeps, its totally unrelated.
I think i should restrict myself from all these bedtime stories already, they are killing my sleeping time,
VERY VERY MUCH OF IT!
HotShot
篮球火 - The latest Taiwan Series
Maybe i should watch back some series/drama i used to watch last time, those with scripts, actors, directors and all like the one above.

Sigh...

On the other hand, after so many
WEEKS
part of us
DGMB
-ians have a chatroom session
AGAIN
early tonight.... with lots of spamming involved.
=)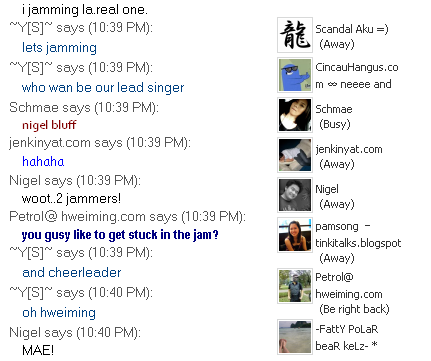 It has been quite some time since
the last time we had a mass chatroom session
.
That time, everyone imitating Pamsong that is.
and uh uhhh, there's a latest update on the latest bedtime story. Juicy as it seems?
One Word. Fugly.
I really do hope that there won't be such stories among us
DGMB
peeps in the future.
Humans, bloggers and the blogosphere. *
shakes head
*
*yes i'm a human a blogger and i'm in the blogosphere.
=X