If i tell you that 60%+ of the internet users in
Malaysia
are still on dial up speed which is just 56kBps, do you believe it?
Ask me how i knew that? it is a long story. There is a few months,
i was going either from house to house or company to company, pitching to the people on Streamyx
.
YES,
i was once a Streamyx reseller
, so i have some statistics of the internet services in
Malaysia
. Thats it, case close on my past.
Well thats the rough statistics 2 years ago.
I have no idea whats the statistic in the past few months but i'm pretty sure that many more have converted to broadband users
. Just look at how the opposition won in the general election early this year and if you notice and do some fact finding research, the opposition used the internet as their weapon and they were very clever of doing so.
---
Okay, enough of the crapping. What i'm gonna say here in this post is about
WiMAX
.
All these while
TM have been monopolizing the Malaysian market on internet usage
. I'm sure you have heard the
thousand
complaints on
Streamyx
a couple of times before and many
Streamyx
users were pissed off but they cant do anything with it because
TMNET is the BIG player on internet in Malaysia
.
"


The Associated Press report said a WiMAX license each went to Green Packet, REDtone International, YTL E-Solutions and Asiaspace Dotcom, the Malaysian Communications and Multimedia Commission said in a statement.
The companies beat out 13 other applicants, including Malaysia 's main telecommunications heavyweights Maxis Communications,

Telekom Malaysia

, and DiGi.Com, the report said.

and FINALLY,
early this year
, it was set that
WiMAX is making its way into Malaysia
.
Believe me, many other people who have been following the news of
WiMAX
in
Malaysia
will be laughing at
TM
like the
Joker
.
WHY SO SERIOUS??
For your information..

WiMAX
is a
BIG
project from the government, a real big project i would say! The government have thrown in
Millions
for this
WiMAX
project.
Alright so what's WiMAX?? It must be something big right??
Thats why so many companies including the BIG ONES like MAXIS, DiGI, and TM are fighting for it previously
.
I myself was quite a stranger towards
WiMAX
as well and i was pretty interested in it so i did a small little research. I hope i'm not wrong as i've come across many technical stuffs.
So i shall make this simple as possible!!!

WiMAX
is
a type of broadband internet technology
but the technology is different from

WiFi

,

Streamyx 3G

,

EDGE

and etc.
...
Blur? Alright...

Most of the people around uses and know what is
WiFi
and
3G
right?? I shall assume that you know. Look at the diagram posted below.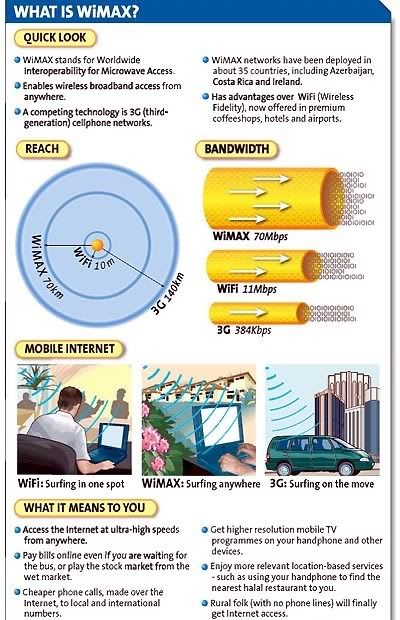 As you can see, there's this comparison between
3G
,
WiFi
and
WiMAX
where
WiMAX
outshine both
3G
and
WiFi
.
Why i say
WiMAX
outshine both 3G and
WiFi
3G - 140KM with 384Kbps = 0.3MBps
WiFi - 10M with Max 11Mbps = 1.375MBps
WiMAX - 70KM with 70Mbps = 8.75MBps
now you might think that the coverage area of
WiMAX
is not as wide as 3G,
so how?
Here's another diagram on how
WiMAX
works..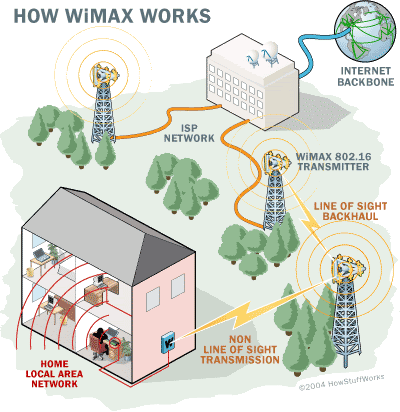 and so
YES
, just like the wireless broadband service out there
-
Maxis
Broadband,
Celcom
Broadband,
Izzinet
and etc... There'll be "
connection points
" build to transmit the frequency to users.
Now, imagine
WiMAX
"
connection points
"stations build all around in
KL
area.....
woooooooottttttt!!!

EVERYONE GET TO USE the internet connected through
WiMAX
connection points!! and the best thing is the speed can go up to 8MBps.
HIGH SPEED INTERNET
FOR
EVERYONE
TO USE
EVERYWHERE
!!
How Cool is that???
I shall say that not only its cool, its a good start!!!
A GOOD START TO STOP THE MONOPOLIZING OF TMNUT IN MALAYSIA!!
CHEERS!!
lolx
=)