Its quite funny how blogging could change a thing, make a difference.
Especially
in Malaysia, blogging really made an impact
. I am lazy to elaborate on that point i've made in the previous sentence, if you get it then GOOD and if you don't then too BAD bah.
=)
Anyway, i guess some of you peeps know about the blogs of some politicians. Even the blog of our ex-pm (
Mahathir
) -
CheDet
came out and
Malaysians
flooded the site within hours of "launching".
Back to our very own TOP BLOGGER in
Malaysia
,
kennysia
.
Everyone knows that his blog have high traffic
, top blogger marh hahaha.
If you have been reading his blog from time to time, you'll come to a post where he write that
Tony Fernandes reads his blog
.
*if you have no idea who is Tony Fernandes and you're a Malaysian, GO BANG YOUR HEAD ON THE WALL!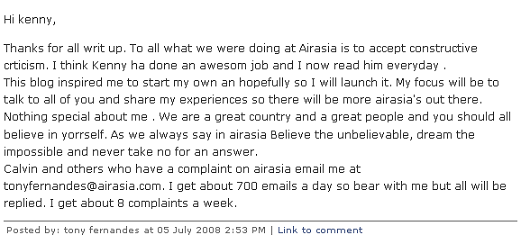 Tony Fernandes
commented back on that post
and then... there're some readers of
KennySia
who commented on that post and
started complaining about
AirAsia
and stuffs related to
AirAsia
. NOT just a few, but
alot
!! Some are short complaints, some,
LONG ONES
.
just like this...


He,
Tony Fernandes
actually replied to the complaints
well, i won't be surprise of him doing that.
Why so..
Cause Our Ex-PM started his own blog already and what more can happen in the blogging world of
Malaysia
with
a newly emerged blogger in the blogosphere that have 1mil traffic within 1 month?
For many more
Malaysians
out there, this is still a whole new thing. Try going out in the heart of
KUALA LUMPUR
and ask people
Who IS KennySia
, most of them know nuts about
KennySia
and will shake their heads.
Blogs and Blogging is still a whole new thing.
Yes,
bloggers have made an impact
, start their movement and
made some of their voices heard in the public
, but many people still have a wrong conception on blogging.
People around who are new to blogging, who just started their own blog....
all of them thought that blogs, blogging is the FAST route to gain fame, money and even meet & interact with famous individuals
...
and i can tell you that this whole thinking is just sooo wrong
and you shouldnt think that way...
Those who got the fame and big bucks are the ones who really spend real much time combining a few skills together and really did "many" stuffs as well as doing "something" with their blogs. Most of us bloggers don't do so, we'll just write some stupid posts and expect for
SO MANY
stuffs.
So..... fellow bloggers...
WAKE UP
will ya?