I don't know about you, but for me, i'll check the source of people coming into my blog from time to time. The links that brought them here.
and just a few days ago, i was viewing the analytics of my blog through
Nuffnang
and gosh i saw this....

i was thinking what wrong did i do till someone posted my link and attract so many people.....
*open eyes bigbig
okay fine, i know bloggers like
KennySia
get that kind of hits in just like one minute but to me its
ALOT OKAY!!!
i went to my blog and check on my live traffic statistics and i saw this...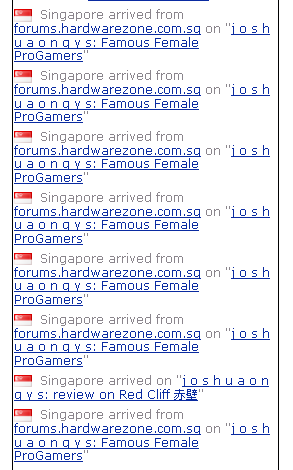 without a second thought i click on the referral link in
Nuffnang
analytics page..
and so i found out that on the first site-
starfeeder.gameriot.com
, someone posted about a female
Starcraft
gamer and added my link there as i've posted a post before with the title
Famous Female Progamers
end of last year.
The site happen to be a site with high traffic i guess and althought not many people commented on that post,
MANY
people came to that specific post of mine through that link.
Then,
i think
, i think bah, someone who read that post on
starfeeder.gameriot.com
reposted my link in a
Singapore
Forum site -
forums.hardwarezone.com.sg
.
and then suddenly, i have
MANY
people coming to my blog through both sources.
wahlao....

i am really amazed by the "
pahwer"
of a post in a forum. So now i know la...
Those regular-forums-lurker who appears to be a blogger as well
SURE
have high traffic wan
!!!
and yes, for the first time, i get more visitors from
Singapore
compare to
Malaysia
.
Great huh??

You can see that the specific post only have one comment only. Made a long post and posted so many "
lengluis
" and spent quite some time finding facts on their gaming history and only have one
FREAKING
comment that time.
Sad Case.
Even now that i have many people reading that post, still no one commented.
=(
One comment only..........
Well, whatever it is, i still thank the 2 peeps who posted my blog link in 2 different place. I really used quite some time doing that specific post on female progamers.