dis morning before me go to college to have me presentation and me CCNA3 skill based accessment...
me online a while and open
INNIT
website to check out how many nangs me have for me last post
at that time me only have 2 nangs for that post..
oh fine nvm, 2 nangs is better than 1 nang right??
and then me afk for like 1-2 seconds and suddenly
O.O
me came back to me computer immediately
becourse hor, me notice something veli intelesting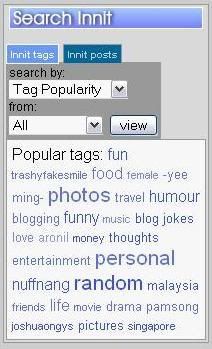 joshuaongys!!!!
me saw me name among popular tags in
INNIT
walaoeh, me so happy at the start of the day...
so HAPPY!!!
yala i know that's no big deal for some bloggers who are dem femes oledi wan, buthen it is something for me marh... me not femes marh.... harharhar.... me so excited...
nyway hor, it just lasted for like half a day oni, i came back from college and then me check again and me cant see me name in it oledi lolx...
anyhow,
Nuffnang + Innit made my day today!!