If you've been going to INNIT since early this year, i'm sure that you know INNIT have been "attacked" by various bloggers in last month, most with the headlines PP-Pajama Party
well that event was BIG.... there were over 300 Bloggers there in the event...
with that amount of bloggers, you can easily spot a post on PP in the
Top10 of INNIT
that few days... you can see PP post everywhere....
that was the very 1st "Attack" launched and it was not a plan
"attack"
....
this time, after a bloggers movie day out... which is quite a random gathering with only 17 Bloggers, one of them, Yatz proposed that we should launch an
"
attack"
on INNIT!!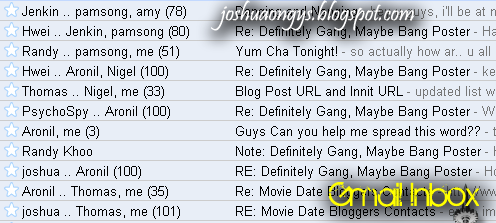 there're more in my hotmail inbox before i requested them to change to my Gmail inbox
more than 600 mails that is related to the "attack" sent
Originally, the attack was supposed to be on Tuesday 22/04/08 night @ 10PM, but most of us haven get our weapons photos from our suppliers photographers, so we postponed it to Thursday24/04/08

3
relics
post captured in INNIT Top10
the "attack" started as early as 6pm as we have chosen a few time slots to launch the attack in a few phase...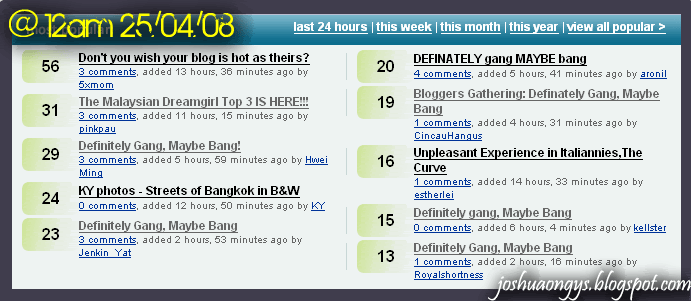 by 12am we almost deny 2/3 majority by securing 6
seats
post in INNIT top10
unlike during the national election where i checked non stop about the election results @ MalaysiaKini till early 5am

i went to sleep after knowing that we already secured 6 post.... =)


yes, although the reign of our "DGMB Clan" lasted for a few hours only, but we really did enjoy ourselves... in other words/other eyes, we
sedang
SYIOK SENDIRI!!


but think about it again, other bloggers in INNIT enjoy reading some of our posts also marh!! so we not totally

SYIOK SENDIRI

right??

some of our post are really interesting wan lorhhh..... don't believe?? click here!!

saw any comic strip that came out because of a bloggers gathering?? u didn't click the link above?? GO CLICK LARH!!!!

----> http://nigelais.blogspot.com/2008/04/dgmb-bloggers-movie-meet.html

yes, i love the comic strip so much.. not because i'm in it.. its because its nice! i'm sure the other 16 bloggers love the comic strip as well, RIGHT?? =)
well,

this shall be an inspiring story for all bloggers out there, the moral of this story is...
the Unity of Bloggers in Malaysia =)
with only a
SMALL
group of 17 Bloggers, we made a small little gathering of us
BIG
!!
and ya.. we owe
Charlie
an Apology.... we were late, so he missed the gathering....
anyhow, Hope to see you the next gathering ya!! =)
*if like this post and you happen to be a Gliteratti Nuffnang-er,
NANG
this post ya =)