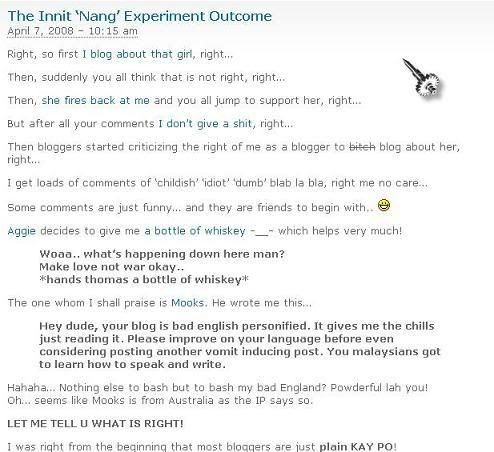 Nadia of
narymama.com
and ThomasYap of
yapthomas.com
had a conversation and came up with this wicked plan...
INNIT
well, soon enough, her post was nang-ed by 60 nuffnangers and everyone seem to buy their wicked plan..
INCLUDING ME!! HMPF NADIA U PLAYED MY FEELINGS!!

so in short, they succeeded in going on with their plan and Congrats to them... and they left us innocent nuffnangers out there looking like idiots...
*luckily i didn't leave any comments to criticize Thomas lolx..
well i have a chat with Nadia personally and.....
Narymama :
you think ppl stil wan read my blog anot?
~Y[S]~ ™ :
lol
Narymama :
after this whole drama thing
Narymama :
i scared they think im always gona lie
~Y[S]~ ™ :
hmm i will at least hahaha
~Y[S]~ ™ :
ppl will read lar
Narymama :
lol
Narymama :
but u find it funny anot?
Narymama :
whole thing is to make ppl laugh at it wan
Narymama :
i didnt know ppl will take it so seriously
Narymama :
actually when i got 60 nangs...i was like...oh shit.....sure very hard to end this
~Y[S]~ ™ :
hehehhehehehe
~Y[S]~ ™ :
i dont find it funny.. didnt campur tangan also haha
~Y[S]~ ™ :
jz nang and den left msg in ur blog dats all
Narymama :
LOL
Narymama :
apa la u
Narymama :
everyone in innit shud flame each other
Narymama :
create innit war!!!!!!!!!
~Y[S]~ ™ :
I'M GONNA POST BOUT U!!
and so, how did Nadia got in the top 5 in
INNIT
??
SHE CHEATED HER WAY IN!!
lolx
oh ya btw i checked Narymama.com on
The Blog Readability Test website