i was browsing
Nuffnang.com.my
and i saw this suddenly... being a fan of Death Note + i'm not sure that i got accompanies or not if i were to watch it next week, i decided to try and sent an email to get the invitation to the press screening of L - change the world.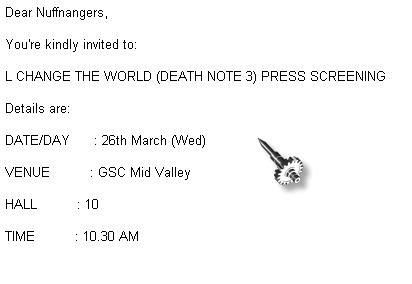 soon enough i receive the invitation to the press screening, oh my i was so excited!!
press screening only marh, so what???
I'VE NEVER BEEN TO A PRESS SCREENING LORH!! so i was like a small kid getting a present liddat, so happy haaa!!


the problem is, i don't know anyone wor... i'm going there alone....
i very shy shy de, so i a bit scare scare lor, somemore watch movie alone lidat like very pathetic de...
but NVM larh, i wanted to watch the movie since i know its existence + ITS PRESS SCREENING WOR!!!
sounds so stupid only me...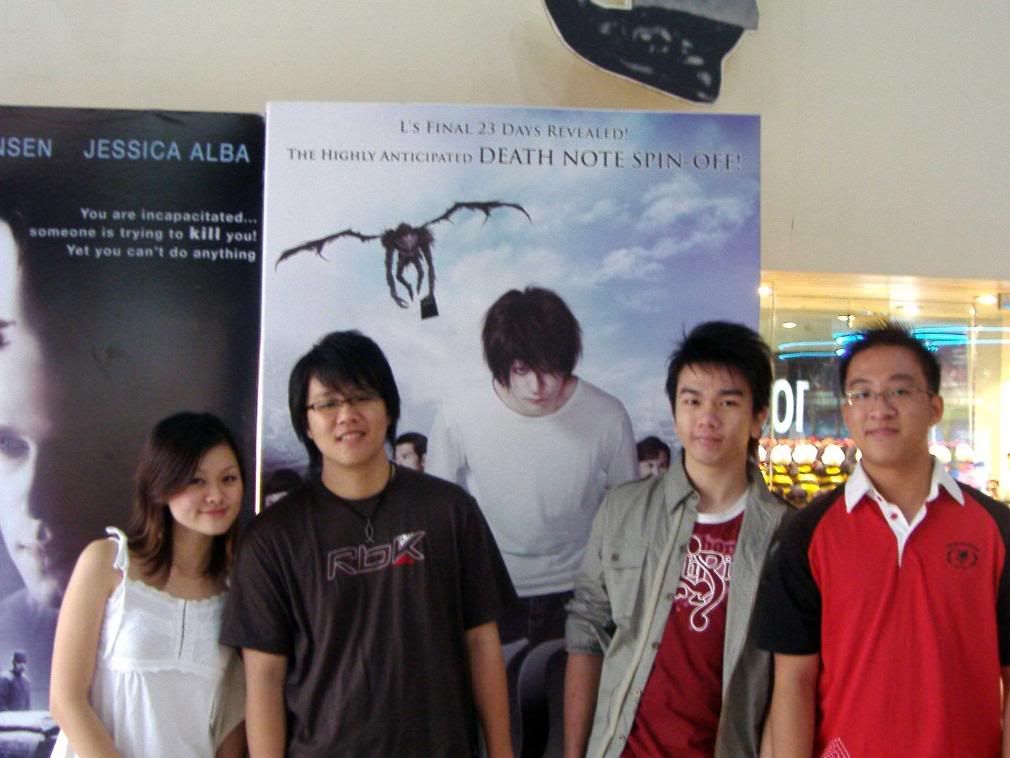 michelle, me, kenny and shaun
Anyway, i went there and the first 2 person i talked with is
Michelle
from
Nuffnang
and
Shaun
then
Kenny Choo
+ Jeffrey arrived after that
Robb
came as well and we proceed in the cinema
with one poster, a CD press kit, one drink and popcorn + the movie
.. all for free
i so HAPPY lorh, receive so many free things wor..
the movie was good and i love it, click
her
e
for my review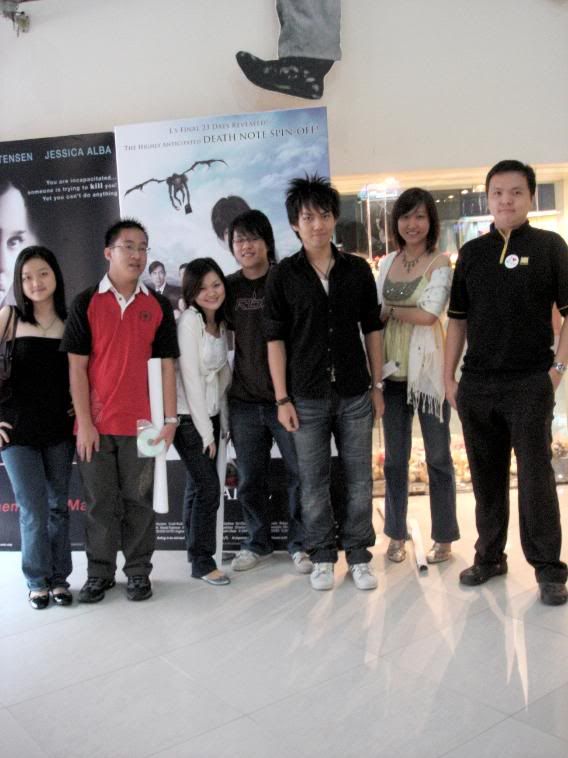 and so we came out and we have ourselves a small little camwhore session
and another stupid picture, from left to right
Sasha
,
Shaun
,
Michelle
, Me,
Robb
,
Charity
and
Simon
a few of us including me left earlier=(
i have to rush to college because i have a final online exam on CCNA3
anyhow, its nice meeting you peeps, enjoyed the movie, enjoyed the short talk with you all!!
and yea, know what,
Simon
stayed in MidValley for another movie wtf lolx and he BUMPED into 3 girls from
Malaysian DreamGirl
lolx.. interesting
and so, to sum this up,

i had my first time going to a

WITH 7 STRANGERS- 4 guys 3 girls

i have new friends, free movie to watch + free drinks and popcorn!!

THANKS TO Nuffnang!!!!



WHAT WERE YOU THINKING???
*to Charity a.k.a Kutucat, you have a nice name lolx.. my smaller sister have the same name as yours!!
**thanks to Charity + Kenny for the pictures!!