For those who don't take meats, they are vegetarians.
So erm for those who only take meat and hates vegetables, what do you call them?
Carnivores???
Hmm well, i don't really hear people using that word very much but anyway, this is a day i became a "
carnivore
". From Omnivore to Carnivore. lmao. Totally bad application of
English
words.
=D
*read on and you'll know why i said so... =)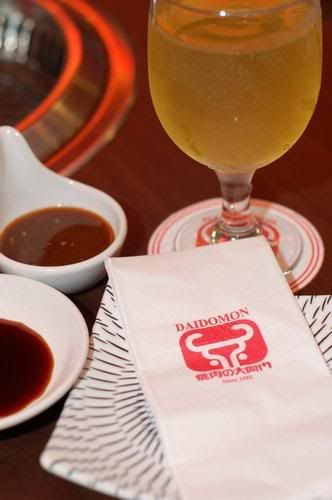 On the 28th of
November
2008, i attended this specific food review session @
Great Eastern Mall, Ampang, Kuala Lumpur.
When people talk about BBQ restaurant in
Malaysia
, people will eventually think of
Korean
BBQ as there are more and more
Korean
BBQ restaurant surfacing in the
Malaysian
market.
But anyway, the one i went to is
DAIDOMON
, an authentic
Japanese
BBQ Restaurant.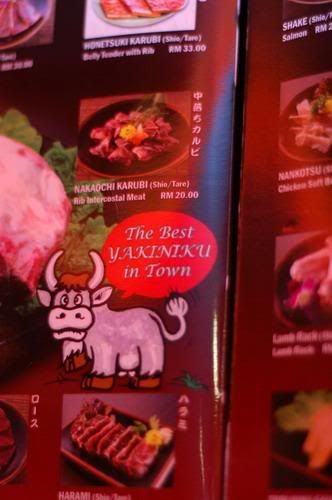 and according to their menu, they serve the best
Yakiniku
in town!
FYI
[
yaki-BBQ || niku - Meats
]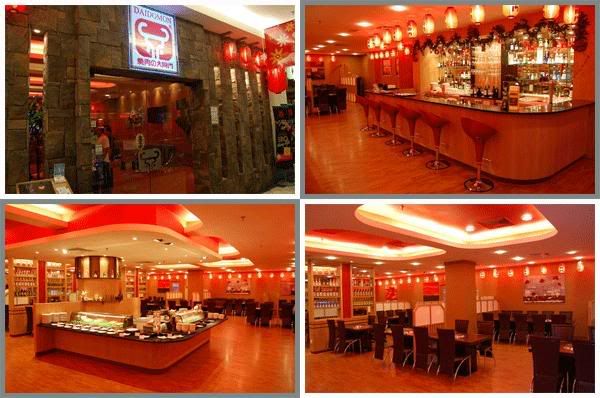 and so yea, in an extremely nice and clean place....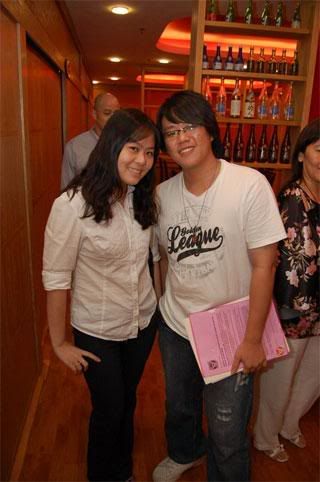 and
Melissa
was there!!!
hehehehe, alright..
The first item we had, the appetizers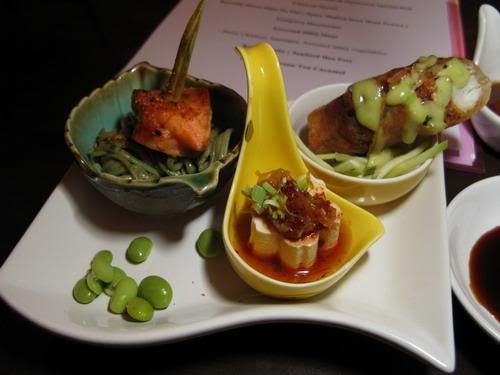 From Left to Right
Lemon Grass Skewered Salmon With Green-Tea Noodles - 4.5/5
Jelly Fish Tofu - 3/4
Soft Shell Spring Roll With Mango Salsa - 4/5
the appetizers were pretty special for me, well i don't really have the chance to go to such places to eat in the past so yea... hehehehe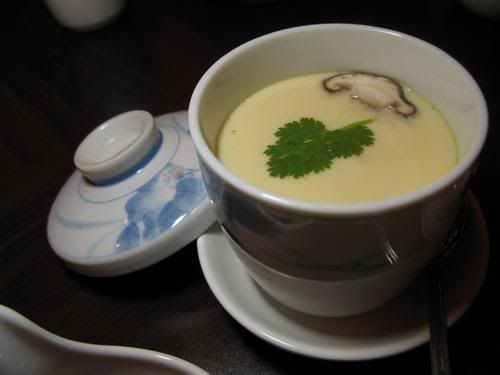 Next up is this
Chawan Mushi
which is
Steamed Egg Custard
with the price of
RM8 - 3/5
After that, we went straight to.....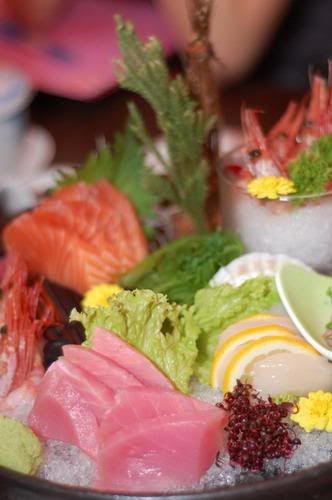 a whole lot of Assorted Sashimis....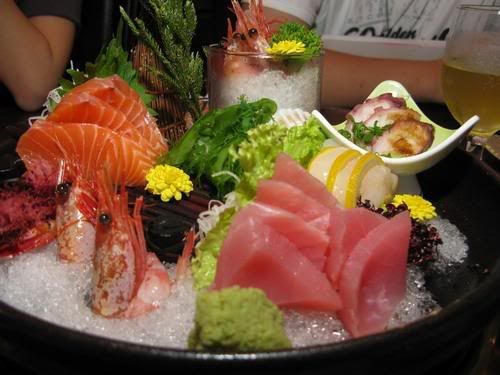 Assorted Sashimi - 4/5
and
ITS REALLY A WHOLE LOT OF IT
till we cant finish it wtf.....
i must say that the sashimis were pretty good and you cant compare them to other normal japanese restaurant, its just erm... i don't know how to describe it... hahahaha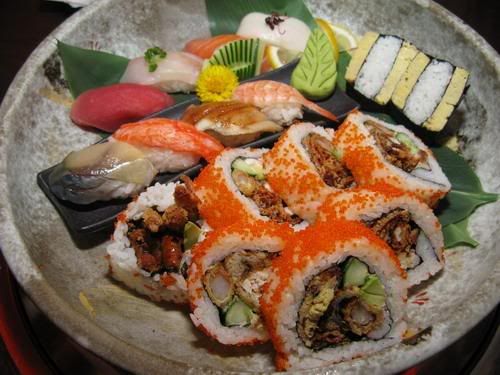 Assorted Nigri Sushi & Daidomon Special Roll - 4/5
and yea.... we had a whole lot of
Sushi
as well.. Unlike the sushi in those sushi chain restaurant which are loose where when you hold it up with the chopstick it will break and when you bite, everything will like come out, the sushi served here were pretty erm..
FIRM
. lmao... and of course,
they taste nice!!
the next items were all BBQ items where we can BBQ ourselves our ask for assistance.
The equipments there in this restaurant is rather "
high-tech
" as the BBQ equipment have a technology where when you BBQ the food,
there won't be smoke and thus it won't be oily for the people around the BBQ place
and the charcoal used is some
high quality charcoal
as well and that 2 part played an important role in how tasty the meat were!
This is something you cant really find in
Kuala Lumpur
, or even in
Malaysia
.
So, yea here comes the BBQ items!! Wheeeeeeee ~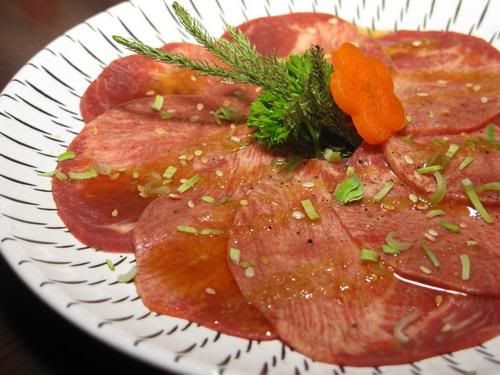 Jo Tan - 4/5
Guess what is this!!
its erm the tongue part of a cattle which where people can only get a small portion of of a cattle because its the tongue part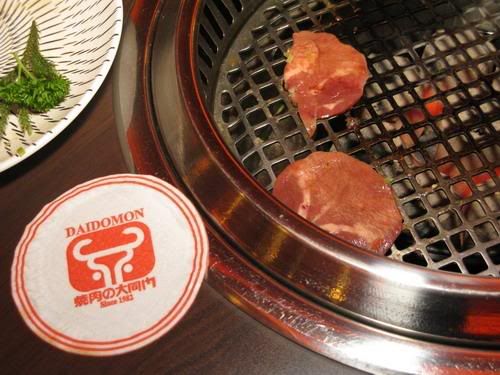 its pretty chewy and you can feel the texture where it actually taste good!!!
i've never taste cattle's tongue before this okay!! =D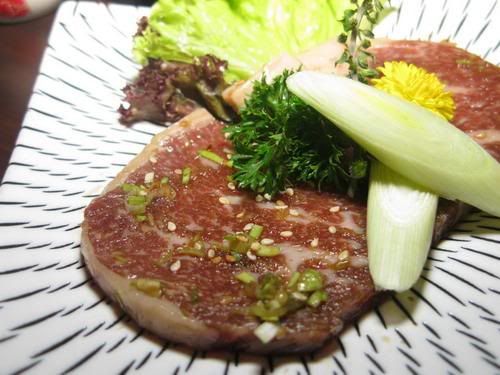 Wagyu Beef - 5/5
and this is the bomb!!!!!!
WAGYU BEEF!!!!!
which made me go OMG seriously... Its my first time eating these beefs and its totally
DIFFERENT
from
NORMAL
beef!!
and according to
Ken
, one bite equals to
RM20
..
Fuhhh..... i went
o.O
and it was damn nice!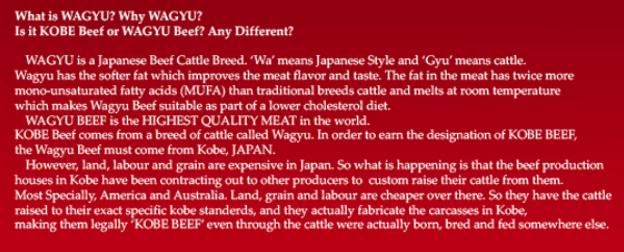 If you have no idea what is
Wagyu Beef
, you can refer the explanation above which i've stolen from the menu of
DAIDOMON
.
The carnivorous session didn't end there.....
=)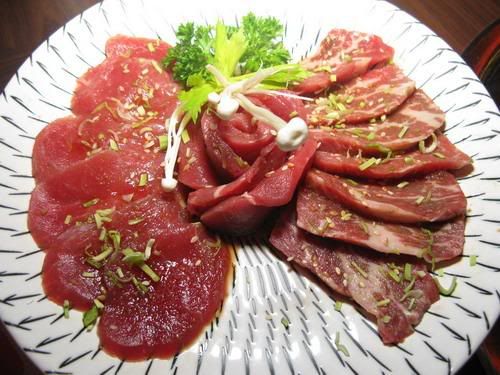 We had this up next!!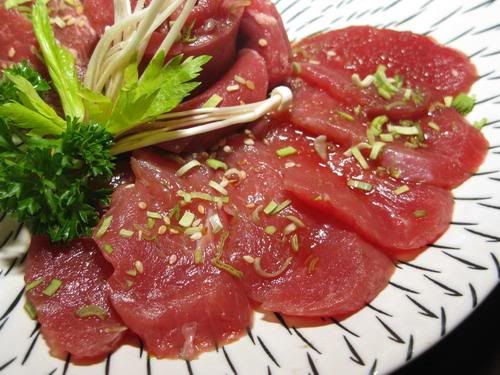 Grain Fed Beef 3.5/5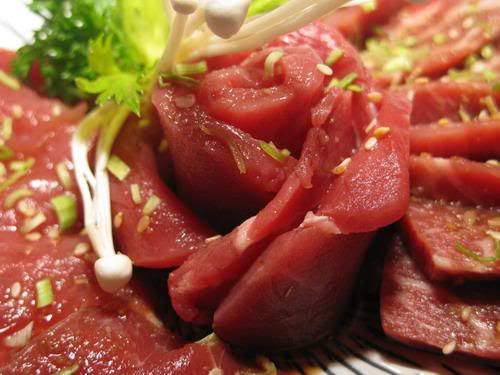 Rosu Striploin 4/5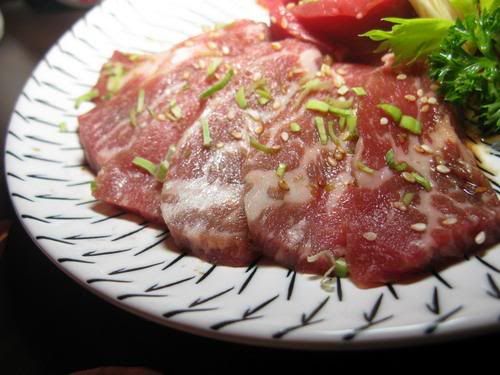 Jo Karubi - Ostrich Meat - 4/5
All three meat items were nice but not as nice as
Wagyu Beef
above HAHAHAHA... its like a direct comparison after having
Wagyu Beef
.... lmao..
so now you understand why i became a "
carnivore
" la
=D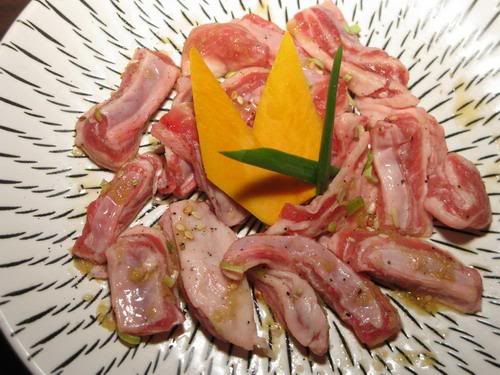 Lamb Nakaochi - 4/5
We had this as well, the
lamb intercostal meat
hahahahahahah which i love it so much!! i love lamb meat... hehehehe =D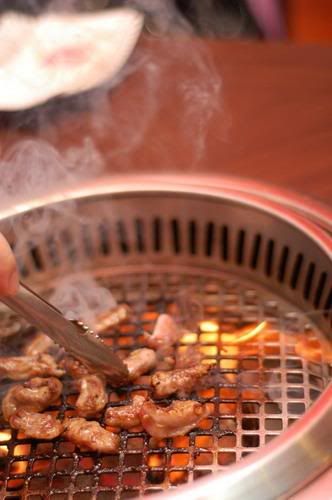 it was just awesome....
and yes i became fatter......
=(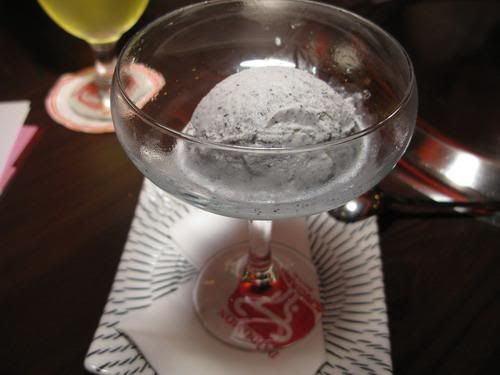 Kuro Goma Ice Cream - 3/5
The dessert we had was the
Black Sesame
Ice Cream which is nice. I think that the Goma ice cream @
Enju
is nicer though.
=X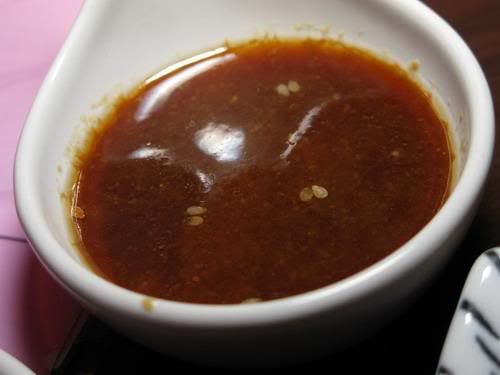 OH
and before i forget, every BBQ restaurant must have their unique BBQ sauce, just like
Bondi Beach @ The Curve
, the BBQ sauce in
Daidomon
is very very very
nice
=)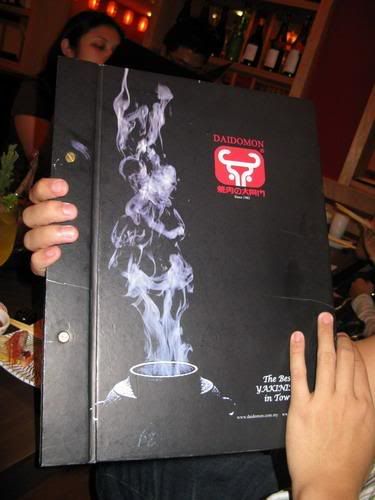 So yea, thats all the items during the session and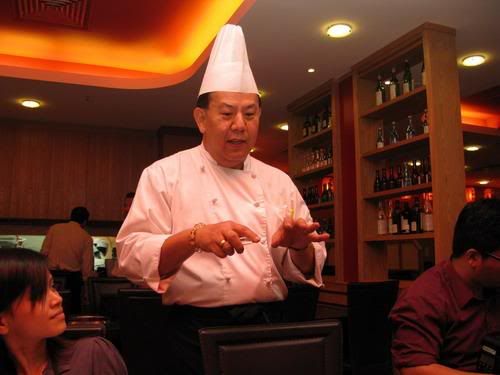 let me share a little bit more about this restaurant. Its a restaurant with an age of 26 years in
Singapore
and just
August
of 2007,
Daidomon
opened its flagship restaurant in
Great Eastern Mall, Ampang
.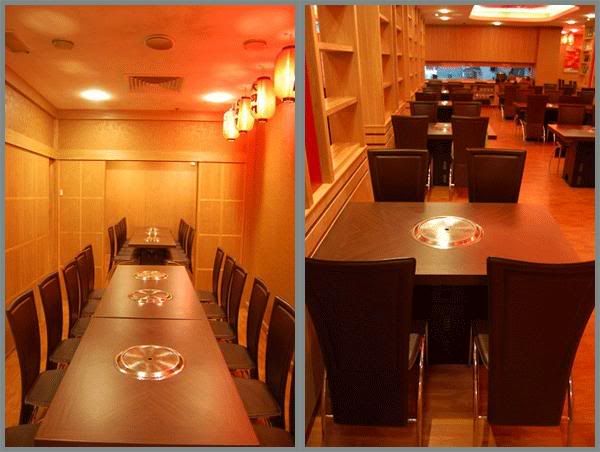 One of the biggest japanese
BBQ
Restaurant in
KL
with 7 VIP rooms and capacity seatings of 300 guests where there are people booking part of the place or the whole place occasionally for their private parties or company events and etc.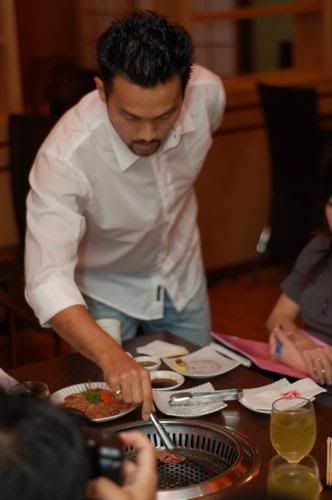 The Boss himself,
Stanley
serving us himself, a pretty friendly person who emphasize on customer service.
Awesome
.
I don't know about you, but to me its pretty impressive i would say.
and 1 thing i noticed which really made me really interested in this place are these bottles all around the place....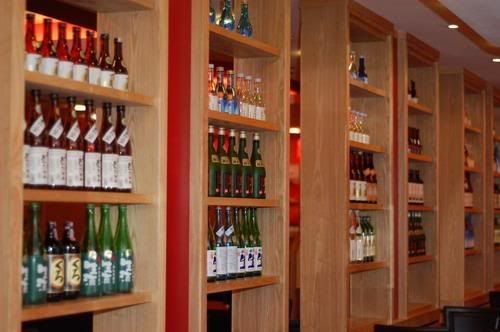 and i meant
ALL AROUND THE PLACE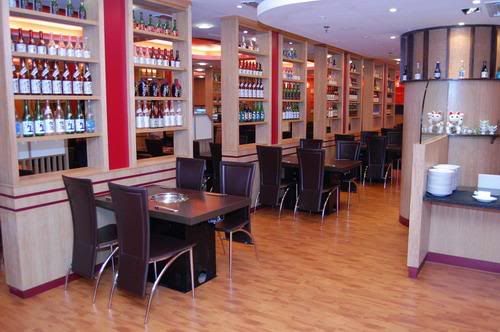 yes all around the place and its not only one row, there're 2 more rows behind and its empty Sake Bottles if i'm not mistaken....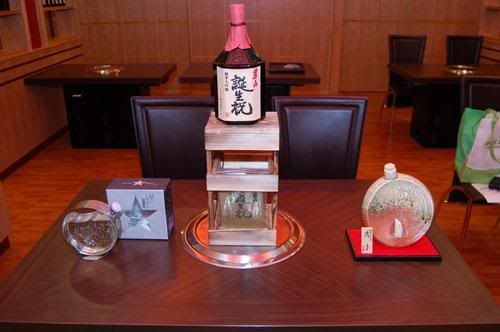 and the boss stanley even brought out his personal collection and showed it to us, its like the treasure of the restaurant that keeps customer from coming in increasing their business. He even explain how rare the
Sake
were and the stories behind it and you don't want to know how many years of dish washing i need to do if i were to break every single bottle in the above picture.
xD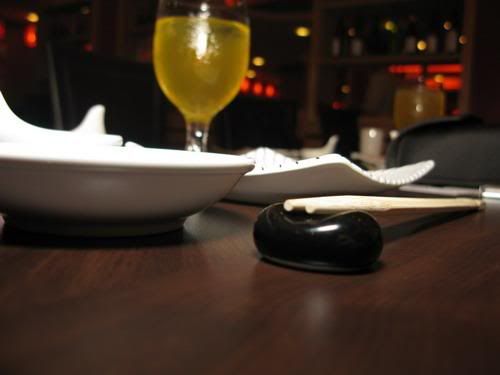 So yea, that's pretty about it. A totally awesome place for those
Japanese
Food Lovers and i meant it.
=D
I would like to go back to this place in the future. Hehe.
DAIDOMON
Charcoal Barbeque Japanese Restaurant
Lot 4, Level 3, Great Eastern Mall
No. 303, Jalan Ampang
50450 Kuala Lumpur
Malaysia
Tel : 03-42528155
Fax : 03-42528166
Operation Hours : 11.30am - 2.30pm; 6.00pm - 10.30pm
www.daidomon.com.my
*pictures credits to
Andrew
&
Ken