Do you know that recently there's this new hang out place @
The Curve
that serves pretty delicious food?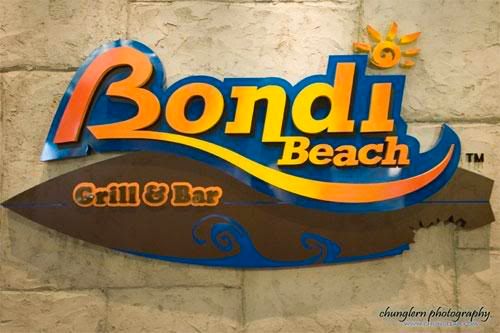 Bondi Beach Grill & Bar
just beside
BUBBA GUMP
, this place is located on the 2nd floor along the street @
The Curve
A pretty spacious place and you know what, they even have their own toilets which erm not many places along the street @
The Curve
have.
and just last
Wednesday
, i went to this place with a bunch of bloggers, yes for another food review session.
xD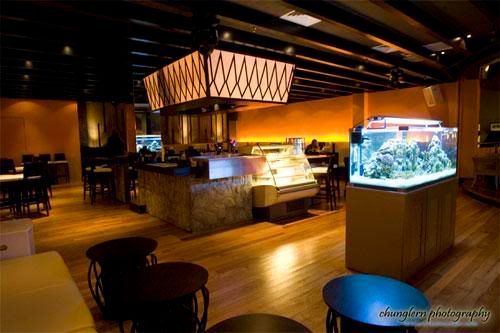 and let me get straight to the main point okay?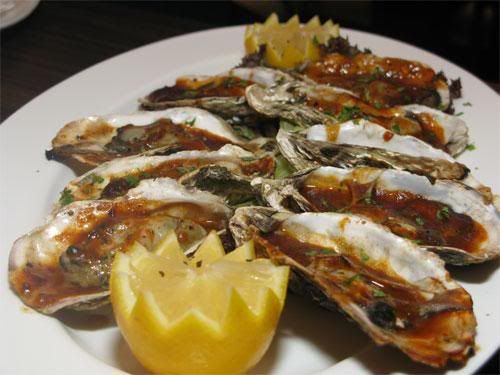 Grilled Oysters topped with Buttery BBQ Sauce
RM21/RM32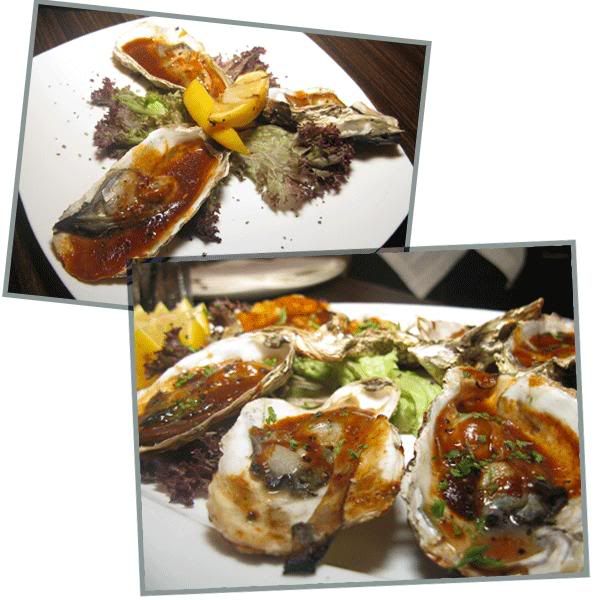 Picture above is
RM21
and the below one is
RM32
(
larger portion
)
This was what we had as our first dish!! and it was pure awesome-ness which i think is because of their specially made
BBQ sauce
that was added in the dish that made it taste like
WoW
.
I swear i love it and its true, definitely one recommended dish at this place if you ask me!
Prawn Pinwheels - Spiced Tiger Prawns grilled, on a bed of curle endives
RM16/RM21
Tiger Prawns
.... wheeeeee though i heard some saying that its not fresh enough, i was a happy man after that dish just because prawns are one of my favourite food no matter its cooked in what way. Gahahahaha. I'm so easy to please.
=)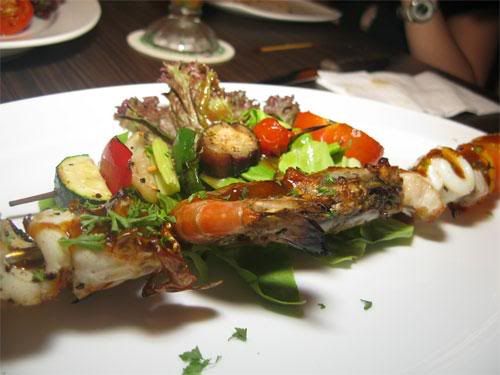 Seafood Kebab with Dill - Tiger Prawn, soft-shell crab, squid, tengiri, courgette, cherry tomato served with tartar sauce
RM38
Yet another dish which i think that it's nice, but just not as nice as both the dish above and a few of us actually think that the they shouldn't have the soft shell crab there.... hmmm
Salmon
RM28
We were served by 2 types of fish dish after that,
Salmon
and
Fillet of Dory
...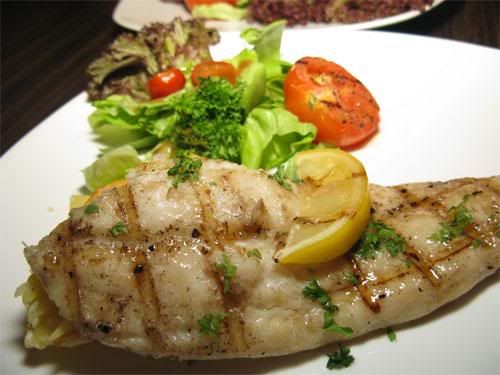 Fillet of Dory
RM21
and in my opinion, i prefer the later one. Not because of the price but because i prefer the taste of it compared to
Salmon
. You might have different views as different people have different taste. I just prefer
Fillet of Dory
.
=D
Then we have 2 different steaks after that... that explains why people are calling me fat lately.... well..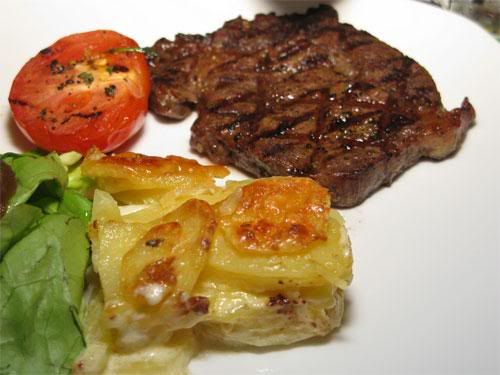 Rib Eye
RM32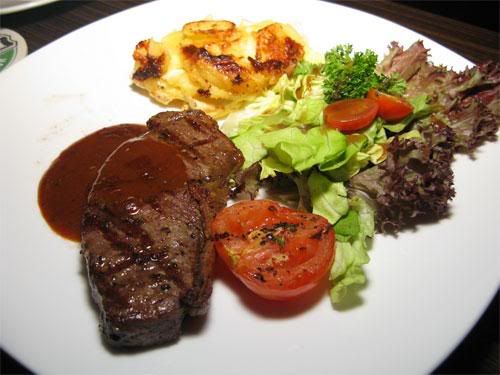 Sirloin
RM28
Okay, seriously, i don't know how to judge about the steaks as when different people order, they might demand differently, some 70% cooked, some 50% cooked.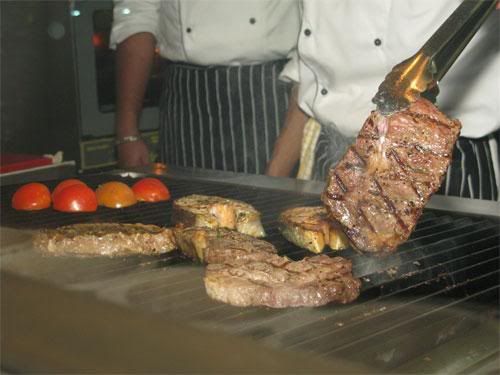 The thing that i can say is the steaks that day did made me smile and i was happily eating every bite i had.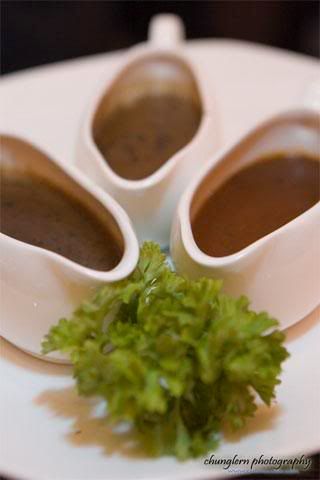 and seriously, i love most of the dishes served here. A pretty good impression for me on a new place in
The Curve
as i know many places in
The Curve
doesn't serve really good food.
Actually, this place
Bondi Beach
mainly concentrate on their food with barbeque cooking styles and when you talk about that, the most important thing of all is the
sauce
provided along with the food and i must say that
their Bondi BBQ sauce
really did wonders on some of the food above that made me
yum yum yum
most of the time.
Of course, there're other types of sauce provided on request with
RM3
.
Bondi BBQ
Mushroom
Black Pepper
Roasted Tomato Salsa
Lemon Herb Butter
Cajun Remoulade
Le De Paris

this is the list of sauce if you would like to try other sauce. If you wonder why they charge RM3 for the sauce itself, you could try the sauce yourself and you might find the answer then.
xD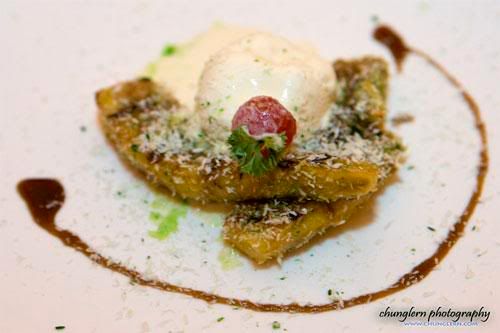 Honey Grilled Banana with Coconut Flakes
RM8
Oh and the review session didn't stop there, we had desserts as well, this
Honey Grilled Banana with Coconut Flakes
is just fine while...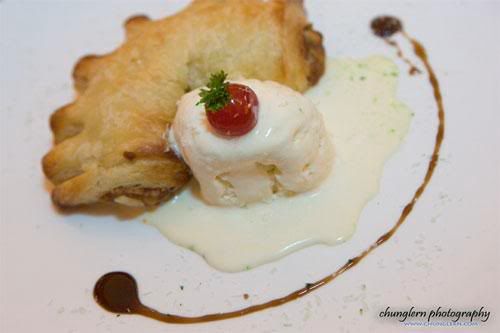 Apple Cinnamon Comb
RM12
this
Apple Cinnamon Comb
ROCKS!!!
I do not know how to describe it but it just rocks very much and i loved it
=D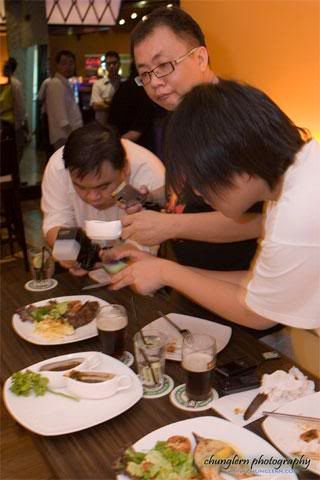 It was a pretty tasty and filling session not to mentioned fun as being with a bunch of bloggers is always fun!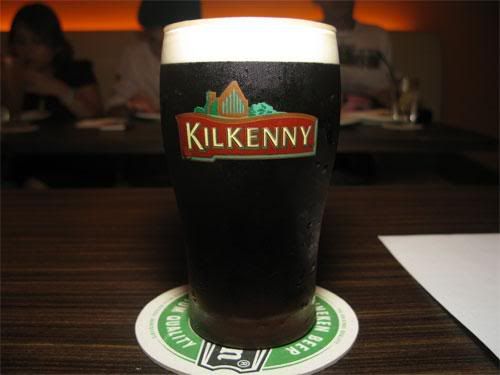 we enjoyed ourselves


and i'm definitely going to pay this place a visit another time!!! If you happen to be at
The Curve
, do try out this place.

Ken
,
Sidney
, Me,
Thomas
,
Aaron
, Celine,
Stephanie
,
Stanley
,
Chunglern
with the P.I.C in front
CS
.
and to end this post, these are the fun people i'm with that night. Its awesome!
*pictures credits to Chunglern and Ken.