It was on the 10th of
December
2008. The night where i met a few top bloggers in
Malaysia
. A pretty excited night where me, the stupid blogger of this lousy little blog meeting with some really
WOW
people of the blogosphere. A big thanks to
Nuffnang
and
Alliance Bank
for this very session i must say.
xD
We were at this place,
hQnine
@
TTDI
Plaza.
reached there and realized that i was like the very last person, bad me........
=(
and i spotted shy shy
simon
talking with
Hanis
!!
Ahhhhhh Interesting!
=D
Anyway, soon the session started and everyone was seated...
where there's a short introduction about the main topic of the night -
You:nique
.
Ken
and
Edmund
, the 2 interesting speakers shared about some really interesting stuffs about the whole project and it was the very first of its kind if i'm not mistaken.
In the past, many people have been wondering about this very similar concept but nobody have do it before here in
Malaysia
. At least none that i know of.
Some graphical reference were displayed for a better understanding and its pretty interesting i would say. The whole presentation did attracted our attention.
=D
other than giving attention, a few bloggers did voice out on the project itself and inquired here and there about it.
one of them is fellow
pam pam
.
=D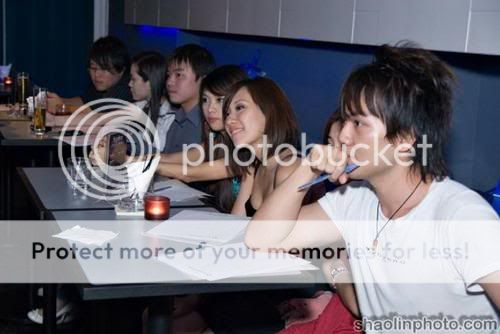 the session was pretty short and simple but its a rather informative session
just look at the notes pam wrote down..... crazy women... lolx
Anyway, after the presentation, we were having our sweet time chit-chatting and of course, within expectation, these came along...
camwhoring moments...
and
MASS CAMWHORING SESSIONS
. *
shakes head
*
Thanks to the parties involved, we were provided with food!!! Awesome!!
=D
So, some food and a few drinks...
and good fellowship moments...
Everyone had a good time there.... hehehehehe right
Huai Bin
??
=D
Oh and of course, for small time bloggers like me, i grabbed the chance to take pictures la, wait what!!
xD
Cindy
!
Ringo
!!
Nicholas
,
Huai Bin
and me!!
Ginny
=D
and
Hanis
(
please ignore my stupid face in this picture above...
)
So, and again, thanks to
Nuffnang
and
Alliance Bank,
that was the night....
the night of an introduction to an interesting project.
Project You:nique.
Stay Tuned!