If you do not know it yet, there's a Magazine in town which is quite new, well not exactly as this magazine have like eons of histories in other cities but anyway the
Kuala Lumpur
version of this magazine is still a few months old.
Yet, the team working on the magazine have been doing quite a good job i would say after reading a few issues of the magazine which i particularly like the way how they tell about the stuffs in
Kuala Lumpur
.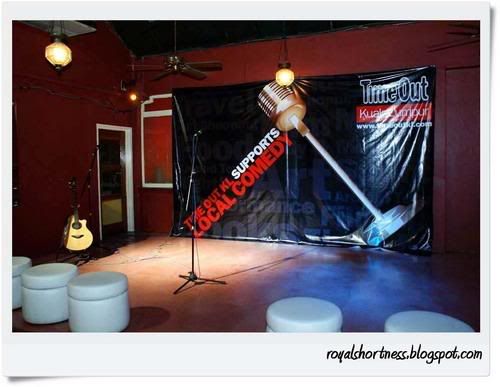 and for your information, they have been conducting 2 events each month for a few months already. The comedy night and the music night which features local comedians as well as local bands/musicians.
Talking about the response, you need to be there to feel it yourself. Though i just attended a handful of
TimeOut KL
events, i can already feel the support of the public towards these local talents and i'm pretty proud of it.
So yea, last week i attended this Comedy Night on
Thursday
and
Zac
, one of the local stand-up comedians was the first one to entertain the crowd and i think that because he's a last minute replacement for another comedian, he didn't really prepared so the flow of his jokes were like not so smooth. I still enjoy the jokes.
=D
This is the man!!
CHI HO!!
To me, he's like one of those people who will make me laugh instantly when i see them!! He's really good in what he's doing.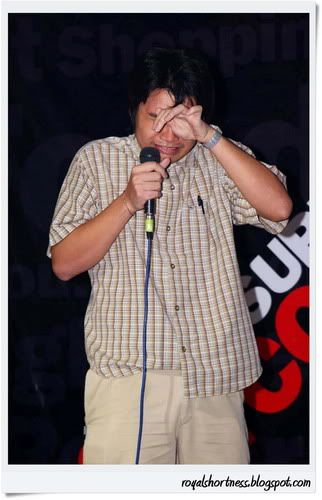 The facial expression..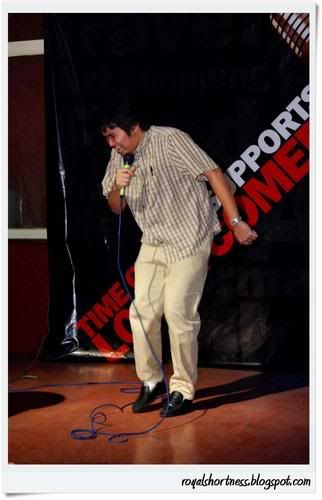 The hand gestures and movements and etc...
He did it like he's been doing stand-up comedies for a long time and i really enjoyed watchin and listening to his act. He's all natural and....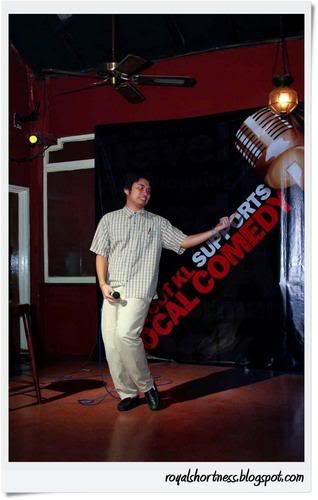 He even showed the crowd why
Michael Jackson
don't know how to dance.
HAHA
. I totally enjoyed while him being in front and i'm pretty sure that most people there felt the same way too!!
The next one,
Davina
was a total letdown. A certain level of screaming and being exaggerated that is just nice will be just fine, but when you scream too much and like being over-exaggerated...
It will make people go
WTF
.... i even heard some people saying that if she were to perform in the states, people would boo at her and ask her to go away and shooo.....
YES
she was that bad!
=(
But anyway, it was her birthday last
Tuesday
and the peeps that were from the same comedy group decided to throw a small little mini party for her which where the crowd sang a belated birthday song to her.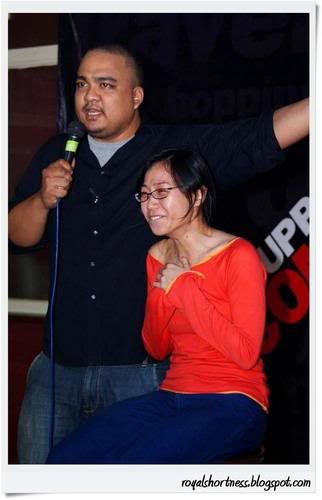 and i don't understand why, she have to make this expression...
well, if that makes her happy
=)
Anyway, after the disappointment,
Kavin
which was the up next performer did entertain the crowd which get many people laughing there. Maybe he's an
Indian
himself and
Indians
are just good at telling jokes? aha...
Jimmy
. He was the last comedian to entertain us that night. Someone who've been entertaining people in different cities in different countries and he's good at doing it as well. A rather different approach where he sings song in the middle.
=D
A rather nasty song towards the
Singaporeans
. Ha..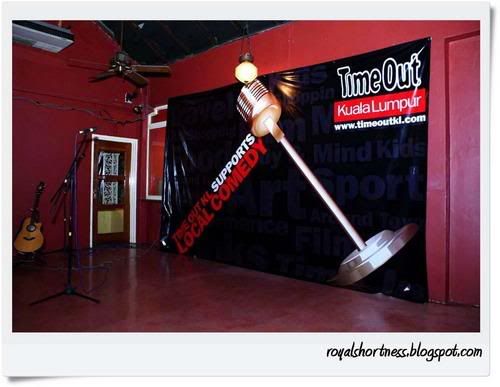 and so yea, i did enjoy myself once again on a
Time Out KL
comedy night. Despite the not-so-good performance by
Davina
,
Chi Ho
really did a very very good job and i really like his jokes. Lolx.
Yeap, so, that's the very last
Time Out KL
Comedy Night of year 2008 and i hope that in 2009 i'll see more and more interesting talents coming in and again, i need to say this...
A good job to the people at
TimeOut KL!
*pictures credits to
DavidCheong