Last
Sunday
, i went to this concert with a few course mates. Its a concert with a group of artists from
Universal Music Group
. Artists that are mainly from
Taiwan
.
Artists like
梁文音 Rachel Liang, 高以爱 Alisa Galper, 神木與瞳 Y2J, 魏如昀 Queen Wei
...
I like.
=D
It was around 6pm+ that i reached
Genting Klang
to fetch some of my friends there.
Reached there super on time which is at 7PM and i felt damn old all of a sudden seeing all 14-16 years old kids over there.
T_T
Good thing that there were some uncles and aunties there accompanying their kids attending this very concert.
Oh and its funny that they were still giving away tickets on that day itself just out of the hall. Gosh.
Anyways, one thing i want to attend this concert so much is because i followed a singing competition very closely, the 2nd season of
超级星光大道
which is from
Taiwan
where most of the performing singers were in the competition.
As usual, with the standard
Malaysian
timing, the concert started officially on 8PM after a few music video clips which is totally unrelated with the performing singers that night.
神木與瞳 Y2J
was the first to performed. Both of the people in the group
赖铭伟 Yuming
and
黄美珍 Jane
were superb and their voice were powerful.
赖铭伟 Yuming
黄美珍 Jane
Especially for a girl as small size as
Jane
, i was stunned with her voice when she sang at a high pitch.
An awesome start i thought.
=D
潘嘉丽 Kelly Poon
was up next performing some of her hit songs. Not much comments about her though, no offence to her fans but i still don't find what's so interesting about her.
=X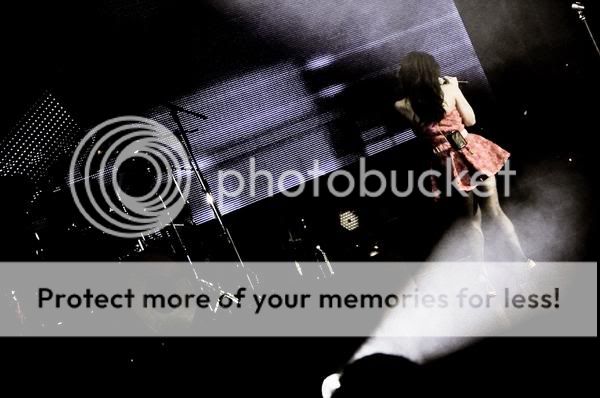 高以爱 Alisa Galper
was the 3rd performing artist, she's much thinner already compared to when i first saw her on the singing competition show mentioned above. One of the artist which is the reason i attended this very concert.
Undeniable, someone who can sing really well and could raise up the atmosphere in the hall with her singing performance.
I believed she somehow gained more
Malaysian
fans after appearing in the concert performing especially when she smiles.
xD
Oh and do you know she haven even release her first album and she's already famous in
Taiwan
.
Haha
. She'll be releasing it in
June
2009. Yes!!
The next singer. I don't really want to talk much about him. He was the biggest disappointment of the concert wasting my time,
i rather watch more of the other artist than having him standing up on the stage singing his song where it was obviously pre-recorded and not live
. Having different voice at the same time which is not sync properly and such. His name is
紀佳松
.
Duh!
魏如昀 Queen Wei
came out next to perform. A
Taiwan
artist that is being said to have talent who composes her own songs. One of the fastest contestant of
超级星光大道 Season 2
who have release an album already.
方炯镔 A Bin
, a
Malaysian
singer came out later on and performed a song with
魏如昀 Queen Wei
. A live acoustic performance which i think is just nice only. Not much surprise though.
魏如昀 Queen Wei
left the stage leaving
方炯镔 A Bin
performing his own song.
坏人
, a Chinese song which is quite a hit in the
Chinese
community here in
Malaysia
.
赖铭伟 Yuming of 神木與瞳 Y2J
came out and sang
Better Man
with
方炯镔 A Bin
. Other than a minor mistake at the start of the song, it was just nice.
=)
The next performance was a big one. A collaboration between the artists and the
DJs
of
MyFM
. A few songs were sang between different people in the group.
I don't have much to say about this round. All i can say is they managed to entertained the crowd, the people there in the hall. It was all nice and good. Not perfect but yea, nice and good.
xD
.
梁文音 Rachel Liang
was one of my favourite singer when i followed closely on the singing competition mentioned above. I was all excited when she came out.
Couldn't be more happier when i hear her singing live in front of me. I was just like 15 steps to her only.
Gah
. I was glad i attended the concert
Haha
. and yea, she was good!
高以爱 Alisa Galper
came back out after
梁文音 Rachel Liang
's performance and they both "PK" each other, just like how they met in the competition.
Sweet
.
Haha
. The whole hall were cheering and shouting for them when they were standing side by side.
xD
They actually performed a song together, a song that they were both familar with where they can performed it very very well. An awesome performance by the both of them!!
=D
xD
The last performing group was the best. The crowd shout at the top of their voice when
大嘴巴 Da mouth
came out with their dance and voice together bring the whole concert into its ending minutes.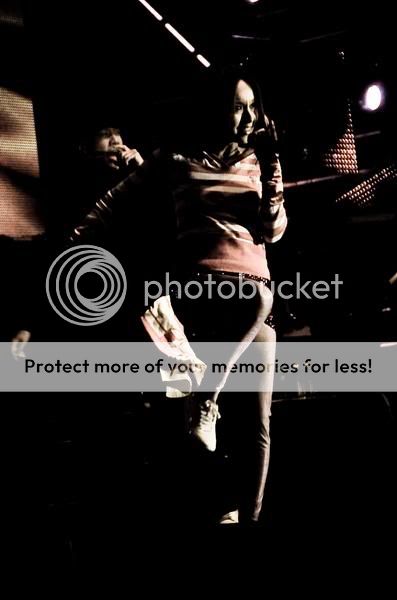 I could somehow feel the difference between this last performing group with the previous ones. This last one was confident and they were good at what they're doing, performing fast hiphop songs with rap and dance moves.
Somehow, the previous ones were a bit nervous i felt.
Among the 4 members of
大嘴巴 Da mouth
, i only know the
Japanese
girl -
Aisa
爱纱.
xD
No wonder they made quite a name back in
Taiwan
with their songs, fast paced and very energetic and will make you feel like moving, the type of songs that will be playing in your mind. A group that consist of the 3 person above with 1 DJ which i didn't manage to take a picture of because he was behind them doing his job.
Haha
.
Yea i'm biased where i took more pictures of
Aisa
爱纱.
=X
The concert ended with everyone coming out and singing "
Rasa Sayang
".
T_T
I should've know it!!
LOL
. Pretty funny hearing them singing a
Malay
song. They are definitely better at singing
Chinese
songs.
Haha
.
Despite the stupid singer
紀佳松
, i was happy that i went all the way to
Cheras(as if cheras is very far for me hahahahaha)
to attend this concert watching some of my favourite
Taiwan
singers performing live and it only cost me
RM5
for 2 tickets where i get to be at the
VIP
zone sumore.


Magnum
is surely a very rich company.
O.O