13 March 2009
After bidding good bye with
HweiMing
, i started walking back to the
Premier Inn
all by myself. Took loads of pictures on the way and paying attention on the surroundings, the people, the buildings, the happenings. View the pictures yea.
Bicycle lane.
The roads there were pretty well structured and is pretty wide compared to the ones in KL.

On the way back to my accommodation place, i passed by lots of buildings where most of it are buildings of different field of studies, all under the
University of Manchester
.
Yes, the buildings were located on the whole stretch of the road there.
and there were lots of gardens spotted in between every few buildings, places to hang out or study i guess.
thanks to my shaky hands, i took some of these slow shutter pictures which i'm pretty in to recently and the results are pretty blur
xD
. There are more of such shots below.
=)
i don't know why but i like this picture above.
this is the
Manchester Aquatics Center
where they have swimming pools inside plus some aquatics facilities.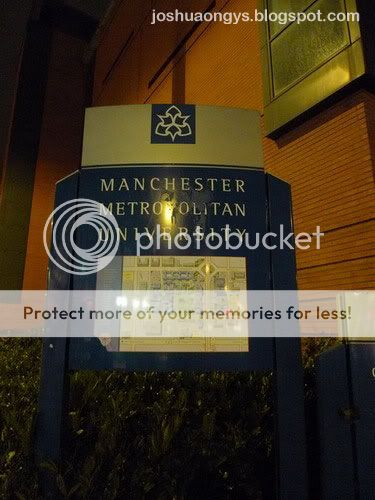 Oh and yes, there's this
Manchester Metropolitan University
situated along the road as well, just after the
University of Manchester
. A whole street of university buildings that is.
still taking slow shutter pictures
=P
i like the feeling of this building taken above, some restaurant if i'm not mistaken
and that night, there was some ongoing
Spanish & Latin American
Film Festival thingy.
Leaving the roads filled with University buildings, i came across a street filled of restaurants and entertainment venues.


some theater center.
reminds me of a street/lorong @
Jalan Ipoh
where there's a river there.
building under construction/renovation.
The Temple, an eating place i assume which is located underground and is in between 2 roads. Gah.
Finally i reached this very junction where its pretty near to my staying place and i stayed there for quite some time taking lots of slow shutter pictures as there are many vehicles passing by the junction.
My favourite picture of the night.
=)