Its the
Mid Valley Megamall Fashion Week 2009
, All the Girls say
AWESOME!!
and so, just Yesterday,
Quiksilver & Roxy
had their own fashion showcase, a
Spring Summer Collection Showcase
which marks the very starting of this whole
Mid Valley Megamall Fashion Week 2009.
Thanks to
Quiksilver & Roxy
, and of course
Nigel
, a bunch of bloggers got invited to attend this very fashion showcase which
yourstrulymemyselfhee
is included.
Well it was just yesterday and i was there early, yes surprisingly to those who knows me very well with my "
Sorry I'm Late
" norm.
Anyways, since i was there early, i tagged along with
Kel Li
and headed to New Zealand Natural to grab the chance to
enjoy a 50% on the ice cream there
.
Lolx Yum Yum.
Back to the main event, most of us peeps arrived before 7PM and headed to the registration counter proceeding to the main area, chatting, camwhoring and etc.
By 7.30PM, The crowd appeared all of a sudden on all floors, waiting for the showcase to start.
and erm i've made a 5minutes video covering the whole fashion showcase in short.
Quiksilver Roxy Spring Summer Collection Showcase 2009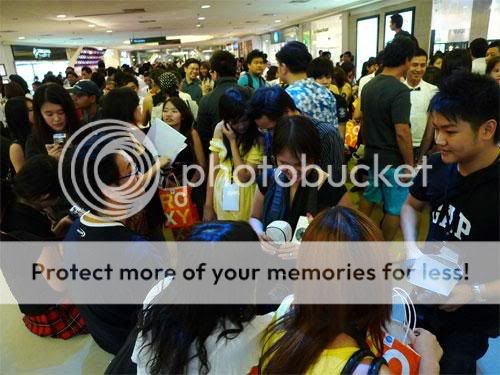 picture taken after the fashion show.
I hope you enjoy viewing the video above as much as i enjoyed viewing the models at the fashion show yesterday.
xD
picture by
Jessica
and oh, If you're looking forward for such pictures above, do stalk the blogs below as they are the bloggers who attended this event with big ass cams -
DSLR
. I took videos nia...
=X
Nigel
Aaron
David
Sandra
Chung Lern
Howard
Hitomi
Jessica
and erm, i might post up some of the pictures of the models here if i got my hands on the pictures taken by the bloggers mentioned above. So, till then...
This is the schedule of
Mid Valley Megamall Fashion Week 2009
-
We Love Fashion
.