It was the day we witnessed
Firefall
. You know about waterfall right? Just substitute water with fire and there you go, firewall....
picture by
HsuJen
It was the 18th of
April
2009. Thanks to the people at
Groove Junction
, we attended a food review over there during the night.
A place which is quite comfy and cozy and upon entering the area, you'll see a bar situated in the middle with the whole place built in such a way that makes you want to stay longer and enjoy yourself there even if you're all by yourself. At least that's what i felt when i first step in. After all, it is a place with a music theme and i love music!
Those who're involved in the jazz scenes in
Malaysia
would probably know this very place, a place which offers some quality performances by some local bands from time to time providing entertainments. Relaxing ones that is.
=)
while we're getting some brief information about the place, we got ourselves a glass of
Mango Mint Ice Tea
each. My favourite drink of the night if you ask me as i love the combination where its pretty refreshing, not to mention where when the taste of mango comes in with a bit of mint flava.
Soon enough, we have some
Tapas
.
Salsa Berenjenas - RM11
They name this the
Salsa Berenjenas
. Eggplant with olive oil, chili herbs and sliced
Baguette
. It was pretty good i thought and believe me, it's not as spicy as it looks in the picture and for those eggplant haters, you should try this because even
Yatz
who don't fancy eggplant thought that this is nice!
Salsa Berenjenas - RM11
This is the sliced
Baguette
that comes with the eggplant above and when you take them both together, you'll just know it's something that you'll want the next time you visit the place again. The first one was already so nice already! Gosh.
Crispy Oyster Mushrooms - RM13
Next up was this
Kentucky Fried Chicken
Crispy Oyster Mushrooms
. Yes!! we were told that some of the regulars over there actually thought that it is
KFC
where it tasted a bit like chicken. With the crisp and such, it became my favourite dish that night. Something i would order the next time i visit this place.
Grilled Asparagus - RM12
Grilled Asparagus
with
Hollandaise
sauce. It was a green dish where i enjoyed it pretty much seeing that i'm a vegetable lover, but look at what
Yatz
say about this dish -
I just love it especially with the Hollandaise sauce!
Nuff said!!
Lemon Fish Fritos - RM16
The
Lemon Fish Fritos
is a dish with deep fried fish nuggets served with tartar sauce, just like the
Crispy Oyster Mushrooms
mentioned above and according to the people at
Groove Junction
this is one of the regulars favourite during those music nights and people could enjoy taking a few bites on this while enjoying the music of live jazz bands. Awesome?
Chicken Waldorf Salad
was the next dish. Served with apples, celery, sour cream and nuts, it is one of those salads where i enjoyed because i don't really fancy salad very much, but this specific one appears to be fine with me. Definitely a great one for those who're in diet as well as the salad lovers!
then right before the main course, we were served with this special drink with the name of
Lemon Grass Caviar
. A really soothing drink and i could imagine myself enjoying more if there were a live band there in front of me and that specific moment i had my first sip.
It seems like i'm praising all the stuffs that have been served thus far huh? Well you better go there to try it yourself and you'll agree with me.
=)
Right after the drink was served, we have this. It is quite similar with the
Lemon Fish Fritos
mentioned above where this time, it is served with tomato salsa and some chili padi. Its
Nigel
's favourite tapas that night.
Penne Arabiatta (Vegetarian) - RM18
The Penne Arrabiata was up next. With eggplants eggplants, black olives, basil and sun dried tomatoes in spicy pomodoro sauce, this one would be the favourite for pasta lovers especially those who love specifically pennes! The taste was just right and i loved it!
Seafood Spaghetti (Olio Style) - RM28
At the same time, we had this as well. Cooked in Olio style with lots of seafood if you ask me. With the recession going around, i don't see much places serve this amount of seafood already especially in a dish like this, the spaghetti ones. and when you talk about the taste, i can tell you that the seafood have no weird smell at all, and i thought that it was all nice.
Pan Fried Seabass - RM28
This is one heck of a dish i must say. I'm pretty sure you have lots to say about this very dish if you've tried it before yourself. The seabass was absolutely awesome with the lemon butter sauce! and underneath it, the mashed green peas was one of the hightlight that night, i didn't know that green peas could taste that nice all these while!
Lamb Shank - RM38
One dish that you could see at various places. Served with mashed potatoes, fresh salad & rosemary sauce. Dishes like this always made my day especially when the sauce goes along so well with the meat. I was all satisfied after this.
Warm Chocolate Lava - RM14
With some vanilla ice cream above, the base of chocolate cake filled with warm chocolate lava within would make you go yummy the moment you have it in your mouth.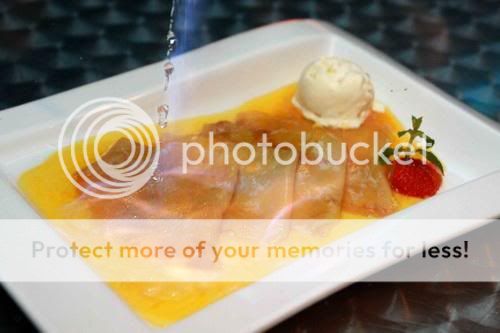 Crepe' Suzette with flaming Contreau - RM22
This, was the blast. A type of French dessert, with caramelized sugar and orange juice and this was when we witness
Firefall
. Ha. I couldn't really describe this very dessert but I', definitely loving it very much and for sure, i'll order it the next time i go!!
This was the very last of the session.
Mocha Martini
.
A well blend of coffee and alcohol i would say.
=)
In short, i enjoyed myself despite being a little bit fatter and gaining a few more Kg. Gah.

Definitely a good place to head to for those working slave who wants to get some air to breathe. You could call a few friends and make a few dates and head over to this place at
Desa Sri Hartamas
, especially on the nights where they have live performances.
Groove Junction
1-1, Jalan 22A/70A
Desa Sri Hartamas
Kuala Lumpur
Tel: 03-6201 8990
*closed on Sundays.
For updates on the performances, visit
www.groove-junctionKL.com
*pictures by Nigel