Do you know that actually, for every event you attend for free as blogger, you are expected to blog about it?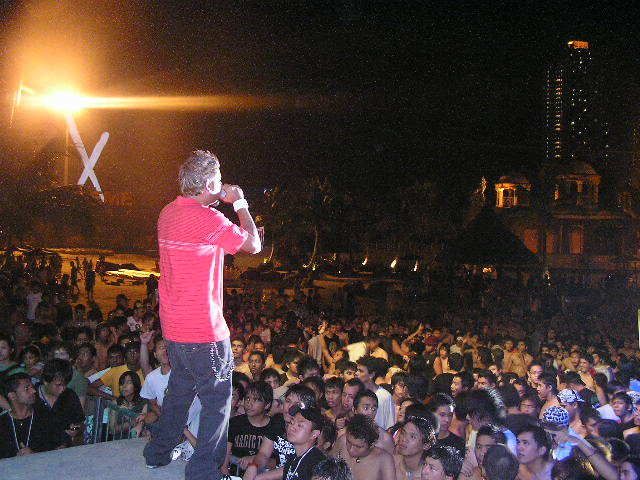 Be it either a
music event
,
media event
, or even some
bloggers party
. For sure, there'll be sponsors sponsoring all these events.
Say for instance, the Nuffnang Wild 'Live' party that happened just last weekend, it was sponsored by
Maxis
and
Modestos
.
How many bloggers attended that party? Minimum
120
bloggers....
but how many bloggers actually blogged about the event??
20
??
30
?? i have no idea.. maybe less....
Why did i state this out?
This is because i realize that actually,
Malaysian
bloggers are really lucky
.
Malaysia
blogosphere have became quite active and "happening" recently and many parties/sources are observing us bloggers especially after the general election in
March
early this year.
Thus, you can see that
bloggers in
Malaysia
actually get free passes to attend more and more events
in recent months. All these happen because
people realize that blogs can be a medium to promote their products, their events, their services and etc
. They want those bloggers to blog about it and promote it "indirectly".
Just last month, i went to
Nokia
IAC
Event
@ Zouk with a bunch of blogger friends -
DGMBians
, some of us got the passes through
Nuffnang
, others through other source.
Anyway, after posting about
the event
itself,
i was approached by an editor of a magazine in Hong Kong to use the pictures
i've added in the post.
We exchanged a few words and
i sent him a couple of pictures on the event itself and a few blog links
. I didn't think much on it that time. Since the magazine is coming up with an article on independant music and i can help, why not?
At last, the magazine came out and i downloaded the
online pdf version
of it. Well, you know.. i'm excited, i've submitted a few blogs links and a couple of pictures to them, so you could pretty predict how i look like when i downloaded the magazine.
i was going from page to page finding the "article" and i did read some other stuffs on the magazine as well. It appears that the content of the magazine is really interesting and i actually did read a couple of articles before i reached
the page on the article of independant music
.
I had a big smile on my face when i reached this page. The links i submitted was there, not only that, they even placed quite many pictures along with the article. In my mind, i was already jumping up and down. I didn't know i would get so HAPPY
being credited by other people
.
Alright, come back to the point above, bloggers blog about an event after attending it.
I do think that we bloggers have the responsibilities to do so. Of course, nobody order us and give us command that
WE MUST BLOG ABOUT IT
, the sponsors didnt ask us to do so, but you need to know the reason behind on why you get free passes/tickets.
You may think so :- "
I AM A BLOGGER, I DO WHAT I LIKE AND I BLOG WHAT I WANT TO BLOG
" or "
AIYA, THERE'll BE OTHER BLOGGERS BLOGGING ABOUT IT!!
"
Yes, no one can force you to do what you don't want to do, but bare in mind...
THERE IS NO FREE LUNCH IN THIS WORLD!
if every single blogger have that mindset in them, they don't blog about the events/movies they go for free, then whats the point of them(
the sponsors
) giving free passes?
Then sooner or later,
we bloggers in Malaysia won't get chance to go to events and movies for free already
.
There might still be, but those bloggers will be
BIG SHOT/BIG TIME
bloggers who probably have
1k visitors
per day going into their blogs.
NOT
other bloggers.
If you think that there'll be other bloggers who will blog about it,
cut that off your mind now!
Sponsors or those who send out invites will
need all the credits, testimonial, opinion, thoughts and etc they can get from us bloggers
. Be it negative or positive, they'll still need it.
I have no idea how much this post will make u think about stuffs on blogging, but i do hope that this post can help you understand the mindset of the sponsors and do something in return if you really get to go to events/movies for free as a blogger in the future.
About the
Charged Magazine
in
Hong Kong
, i have not much details about it and i'm still new to it but it is an interesting magazine to me. Will download the next issue when it comes out.
You might find it interesting as well, after all its free, so no harm downloading it.
=)
Website of the magazine.
*fellow Malaysian bloggers, do think about what i say.....