Nuffnang
have always come out with stuffs for us Nuffnang-ers to "play" with, the last one was the
Nuffnang
Poll, now??
THE HAPPY - O - METER!!!!

happy-o-meter by
Nuffnang
just started today and its quite interesting i would say.
Just like the poll, it is a widget for you to put on your blog to show your readers your current mood and what are you currently doing.
and they provide you with
a wide rage of color scheme
as well to suits the theme color of your blog.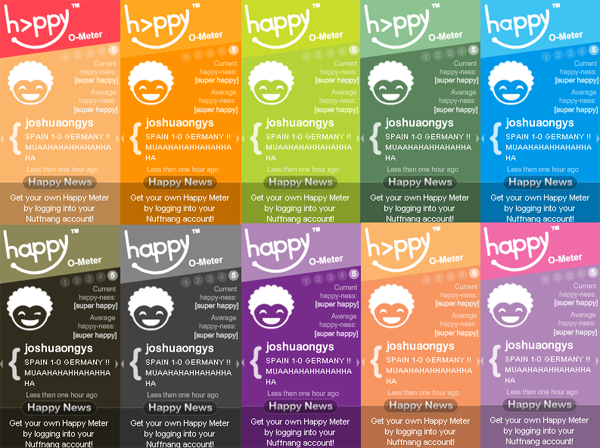 as usual, you will be provided with a code for you to paste in your blog in order the widget to appear on your blog.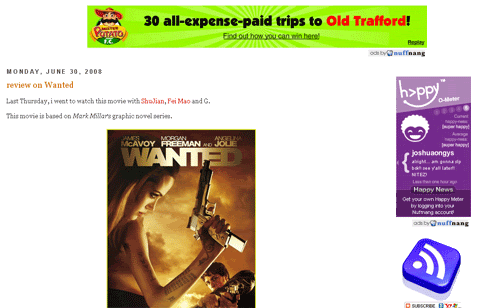 Well
..
some of you might think that this "
HAPPY
" thingy sounds/looks familiar and YES it is related with the happy mobile by
DiGi
.
this whole happy meter thing is something similar to
twitter
and
plurk
and since
DiGi
is behind this, i wonder that in the future, do they
allow mobile phone users in
Malaysia
to update their current status
to the happy meter widget through handphone and if Yes, is it limited to
DiGi
user only?
*for your info, i'm a maxis user and a

LOYAL

one... i have too much contacts on Maxis and i DO NOT want to change to Digi
.
So, is this the start of something big from DiGi after the YELLOW MAN project??
* i'm not paid to write this post...
---
Speaking about twitter, have you follow me?? If you happen to be my personal friend and you have twitter, do follow me yea!!
=)