and so, in the first post of
NYE + Aaron's Bday Bash
during the 31st of
December
2008, i mentioned about
Aaron's 13 inch big black thing
the 1st quarter of the party.
Yeaps and so we played the game. It was all fun but it didn't last long lolx because we were gonna do something for the birthday boy.
The old usual thing you do during birthdays, the birthday song with claps and everyone smiling especially the birthday boy himself. Happily smiling all the way.

and of course, in such happy happy laugh laugh mood we'll make the birthday boy do something and
Thomas
attempted to push the head down. Lolx but he failed miserably
Muahahahahahahaha
The photo taking process never really stop since the party started and by the time everyone was singing the birthday song, it became more and more.....
No the left picture was not taken on purpose
where they were requested to take picture together like that, i just happen to notice them in that 2 position and i just snap.
Lolx
So, we had a few group photo session.

After a lot of fun involved with a few of us disturbing the whole group photo taking session, we took some really proper pictures. Like class photo like that
hahahaha
.
1st, Uni Friends
2nd, BLOGGERS!!! wheeeeeeee
and 3rd the ever awesome bunch gah...
a bit serious take
smile big big take
and went insane mode....
NO
we're not crazy, we just love each other very much thats all
=)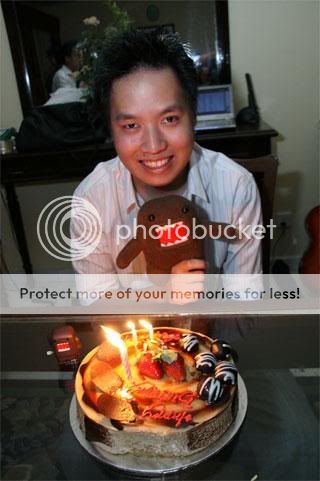 So, yea
Aaron
had a good time celebrating his birthday with a bunch of us which i hope he was happy with it hahahaha.
*thinking about it, i don't think i had a birthday party myself before, got la, but i think i was below 10 that time... =(
Aaron and his domokun....
o.O
and i shall end this post with this picture above which i find it pretty interesting. Yes as interesting as the last 2nd picture of the first post of
NYE + Aaron's Bday Bash
.
Its like a Ninja spying on us from above while we're singing song for Aaron
.
*pictures by Andrew & Aaron & David