Credit cards.
Whether you need it, or you want it, or you already have one.
Many people now own 1 credit card
OR MORE
. Even those who are schooling, their parents will sub them one. Unlike people like me who don't own one *sad*
So, for those who owns 1….
Are you like one of a person who will say"
Hey!! Why the design of my card is sooooo UGLY!!?
"
And every time when you need to use your card, you take your card out from your wallet/purse reluctantly......
you see a young dude(
obviously
a dude who's still schooling
) standing at the next counter who's using the same exact credit card and you feel like your card is like so normal and common that everyone have it.
You have that insulting feeling secretly complaining wanting to be as unique as possible.
I've attended a survey conducted by a bank before in the past and I did voice out that if we can have our own unique design on a card its so much cooler but so far there's no such move by the banks in
Malaysia
. Serious!
I actually hope that there's a bank which will consider about the customers and give them the freedom to actually design their own cards.
and now God has "considered my thoughts and fulfilled my wishes!! "
He gave His wisdom to
some people
, where now i can personalize my own credit card! Yes! Meaning I can put whatever picture of whatever design on my own credit card!
No more ugly designs! Yay!!
I can put my dog, cat, ants, hamster, pillow, key chain, gadget, pet society pet whatever picture on it…Cool right???
Alright of course, by default, you can choose any image from the photo library itself. There are a few pictures to choose from, well, at least if that makes you happy. *
smiles
*
and of course this is what I'm talking about where when you wan to be more "
younique
", you can actually upload your own pictures! Any pictures that makes you happy!! Hurray?
*
you wouldn't want to put your gf/bf picture on it, you know, like a tattoo of your gf's name, what happens when you break up? (of course, you can make a new card but you need to pay an extra fee to have it...)
Imagine this,
Nuffnang
Co-founder
Timothy Tiah
flashing out his credit card at a counter with a big big
Nuffnang
Logo on it!
Awesome? Lolx

but *
AHEM
*, no copyrighted imagery, provocative, lewd or sexual content - that means no nude or semi nude people of any age!, no celebrities, no violence or violent acts, no socially unacceptable or discriminatory behavior, activities or signs (drug/alcohol abuse).
If all these makes you happy, then so sorry I can't help you. ;P

Alright, so then, you personalize your pictures, choosing which part of the picture you want it to be on the credit card.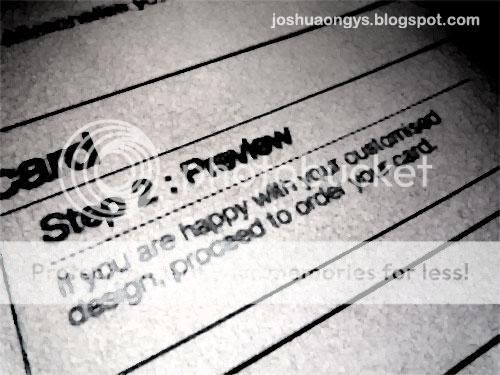 So yeah, if you're happy enough with what you've done already, you can then order your card! It's just that easy!!
Of course, it won't end there just like that.
Alliance Bank
wants to know more about
YOU
so that they are able to contact you on the process of your new personalize card!
Just your name, IC, Mobile number and Email address only... not that complicated right?
I guess it's pretty easy to do so... and if you want to spend your time doing all the personalizing stuffs. You can go and download the application form.
But waiitttt!!!! Don't go away.
YET
. You might think that by just having an own chosen picture as the design, it is not
THAT
interested.
Let met tell you the 3 Rs of this whole new
You:nique
thing by
Alliance Bank
.(
No not Ronaldo, Rivaldo & Ronaldinho of Brazil……
)
Great Rebates
- Cash rebate up to 2% for ALL retail purchases
Great
Rates
- Flat finance charge of ONLY 9% p.a
Great
Rewards
- 2X reward points for all local and overseas purchases
you can head to the
you:nique site
to see for yourself the details of the
Great Rs
they are giving out!
I guessed I made the points pretty clear right? The advantages with 3Rs with a totally uniquely designed card and you can flash it with confidence every time you use it and tell yourself that you're a smart credit card holder!!
Hehe
.
All with
You:nique!
brought to you by Alliance Bank
Banking made personal!
Some other related information :
-
Requirements : Over 21 yrs old with Rm1500 monthly salary (sub card is allowed and can be personalize as well)

Annual Fee : Waived in the 1st 3 years (on following years, if the card is swiped 12 times per year then it will automatically waive that year)
- Card will be available in 2 weeks time (if not rejected)