Not long ago, i had lots of fun in this very party at
Duta Vista
. Some pretty nice & comfy place rented by
Aaron
where the whole party was planned by
Thomas
&
Aaron
. It was the last day of 2008. 31st of
December
2008 which is
ALSO
the birthday of
Aaron
.
NYE Party + Aaron Birthday Bash!!
I shall not talk about the planning and other stuffs and waste any time already as
i've wasted 1 whole week
waiting for the pictures. *stares* lolx
So, let me go straight to that day itself aite?
xD
Earlier that day, i was at
Sunway
with my girl and later in the evening, i headed to the party with
David
&
HsuJen
. We reached the venue around 7pm+ if i'm not mistaken.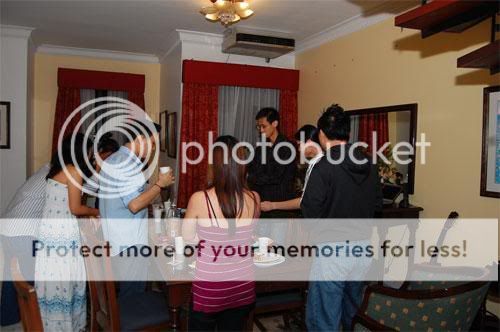 There were a handful of people there already when we reached. Some were busy having their food like nobody's business while some were busy socialising already. Most socialising with the people they know personally and not making new friends. o.O Every was shy that night wtf.
Haha
.
There aren't any proper program or planning that will be happening that night, so everyone was really chilling and relaxing with each other on the very last evening/night of 2008, we were really spoilt with the selection of food provided there, not to mention the drinks as well. Oh and one thing, there were several house rules for everyone there but in my opinion,
NO ONE REALLY READS THEM
. Haha.
and yes, this picture above, a laptop and 2 speakers with a subwoofer below the table is the source of entertainment that night. There were songs played throughout the night.
=)
After some biting and chewing, some of us decided to head to the "
penguins place
" @
Duta Vista
. Yes, they have penguins there @
Duta Vista
.
REAL ONES LA OF COURSE!!
there you go for those who still look like this --->
O.O
but well the penguin viewing session isn't as interesting as it is because the whole place was dark and we cant really see the penguins. We even have to flash at the penguins to have a clearer view. Swt. Sad Case.

Sorry no example picture of flashing at penguins, so i hope this picture above will help u understand more on what i said above. Flashing on Aaron and
ShengMae
.
=D
So, we got back to the room and got bored eventually just with food food and more food.

Thanks to
Kelli
, we started playing a game that involves cards, liquor, mixer and etc. Hee.
Its call the
ring of Domo
wtf. Its an edited version of erm dunowhat. PS. Its a game where you have to randomly select a card from the circle then with the different cards, there're different instructions for the group where most of the punishment/instruction is to
DRINK
. I'm lazy to describe about it so skip that yea.
=D
In short, a lot of people drank alot, but the ones that drink most liquor is
Aaron
&
Kelli
. There's a percentage of liquor poured into the cup and of course a higher percentage of mixer as well. Both of them went red after the whole game and on the other hand,
Chung Lern
who drank not much got quite blur already in the middle of the game hahahaha.
and
Nigel
kept drinking eventhough he was not punish.
xD
Everyone who played the game had fun together... Meanwhile, the others who did not join us on the table playing the game was entertaining themselves in other ways.

There are people playing NeedForSpeed.
Err,
EATING AGAIN!!
(
actually they came a bit late so yea..
)
and a few people conquering the kitchen turning the whole place upside down.
Alright i'm gonna end this post soon and leave the rest to the next few related post with more pictures and more stories. So for the 1st quarter of the party...

there were some drama haha..... and
i was happy to see a few faces that i've not seen in ages!!
i laughed and enjoyed alot being with the peeps heee...
So, do come back yea??
Hope that the next picture can entertain you till the next
NYE + Aaron Birthday post
. Lmao
kekekekekkekekeke
The Whole Series
Last Day of 2008 Part 1
In-to Da Vista
Last Day of 2008 Part 2
Sing sing song Take take pictures
Last Day of 2008 Part 3
Bing Bang Countdown
Last Day of 2008 Part 4
The Aftermath
*prays hard that aaron wont come in and read this post*
*pictures by Andrew & Aaron