Just came back from a YumYum session of
IndoMee
at
Williams
and was at
Tropicana City Mall
before that for the movie
His Majesty's Secret Service 大内密探灵灵狗.
A movie starring
Louis Koo (古天乐)
and
Barbie Hsu (徐熙媛)
where the story runs in
China
when they were still emperors ruling with the story going around in the forbidden city. It was a typical Chinese movie storyline with some of the ministers planning to overthrow the current emperor and the good guys come out to save the day.
There was this 12 Royal Guards including
Royal Dog
the main character in this movie and of course the head of Eunuchs,
Unicorn
starred by
Louis Fan
(樊少皇)
Though there's actors/actress from
Taiwan/China
, this Hong Kong production is one of the many lousy movie made since the days of
Young and dangerous 古惑仔
,
Gamble
赌
series
and
Infernal Affairs 无间道
. The storyline is just fine and the ones in the movie were good in acting and such but there isn't a single point where you would go
Wow
, i didn't expect that!! This is good stuffs!!
There were lotsa parts that have the comedy factor in it but it was either too stupid or too lame and i don't really feel the
HAHA
in it.
Nor i feel WAHH!
The peeps in
Hong Kong
really need to do something with it i think. Make more films like
Ip Man 叶问
or
Look for a Star 游龙戏凤
. Well the movie is still much watchable la, just for spending your time and relaxing that is.
=)
I do hope that
风云 Storm Riders 2
that will be coming out end of this year is good.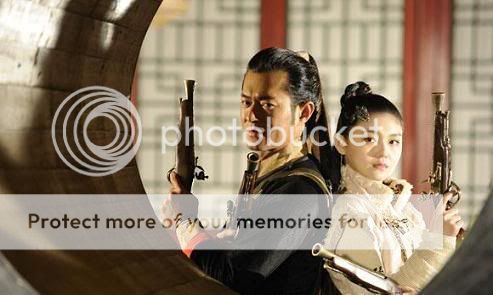 My Rating for this movie is 6/10