All these years, i've been celebrating my birthday with only some closer peeps around
with just some simple come-out-and-gather sessions, blowing the candle and cutting the cake
and if i get lucky i'll get a present and that's the end of the story.
Never have i celebrated my birthday as in making it massively big inviting every single earthling i know getting everyone together to sing song for me and everyone must join in playing games that involves both sexes.
Booking a place and such with a space of our own, perhaps a pool party or a club and so never really went through my mind before.
All because i am not in a position to even think of making it happen with the fact being that i'm a poor dude.
The noisiest birthday i had was most probably a few years back. It was noisy because a few of my close friends planned to have it at
RedBox
,
Karaoke that is.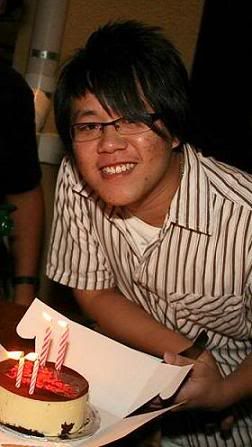 However,
i'm glad enough
having the bunch of close people willing to get out from their comfy homes celebrating my birthday with me along the years and before this post gets sadder i must share that there's this
ultimate birthday bash
coming up.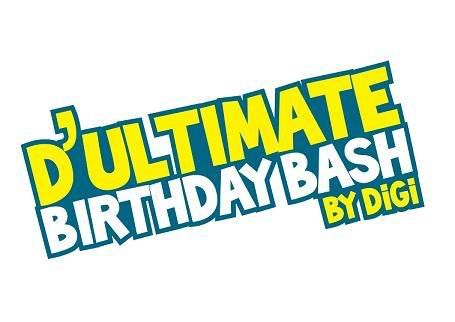 Some wicked idea that
Digi
came out with to bring together all the people whose birthday falls between
1 October to 31 December 09
.
Click here
to find out how you can
win VIP invitations and an exclusive Birthday experience worth RM3,000.00 at the D'Ultimate Birthday Bash, happening on 3 October @ Bar Celona, Sunway Pyramid!.
and with that, i just got tagged. By
Xaviera
. Arhhhhhhhhhhhh.... Seronoknya!!
okay Here it is :
1) My date of birthday is:
18th DEC
2) My most 'glamorous, fun & 'memorable' Birthday celebration was when:
Okay, glamorous and fun not very la but memorable one was like 6 years back where on that date itself something special happen.
3) My wildest dream destination to have my Birthday celebration is:
This must have to be somewhere in The Middle Earth. I think that Rivendell is a good place.
4) The five persons I would like invite to my Birthday celebration held at the above location are:
Son Goku, Naruto, Ichigo, Doraemon and BOA. First 3 will entertain the crowd by fighting each other where BOA will sing on stage and Doraemon will provide every other stuffs needed. I know, its a brilliant idea. xD
5) My top 5 ultimate birthday playlist are:
Happy Birthday Classic version, Happy Birthday Rock version, Happy Birthday Jazz version, Happy Birthday Pop Version, Happy Birthday Zzz version.
6) If a Genie were to promise me 3 Birthday wishes right now, my Birthday wishes would be:
I want to have Doraemon's "Hundred Treasure Pocket"
I want to travel around the world.
I want to make friend with Genie. Shhh.
7) My sexiest birthday photo :
Refer to the picture above xD haha Sudah buka satu butang wan OKAY!
Rules:
• Once you've been tagged, answer the following questions as creatively as you can.
• Once completed, tag 6 blog friends to have them do this birthday Meme.
So i have to tag 6 blog friends to do this same thing. Ah. I shall tag...
Joanna
,
Yat
,
Ren
,
HsuJen
,
Linda
,
Jolyn
.
Go do this birthday Meme okay, because you stand to win some mystery weekly prizes just by SMS-ing your full name, IC/Passport Number, E-mail and Blog URL to +6016-281 3867 where
the 3rd, 8th, 38th, 88th and 138th entries of the week will receive a mystery gift!!
E.G: Tan Yi Ren 800302015566 yirentan@email.com yiren.blogspot.com SEND TO 0162813867
Till then.
*you're very gengchau if you read this whole post!! So many words o.O