Nearly one month back(
gosh
), i attended the reopening of this very
Siam
&
Burmese
restaurant. One of the first of its kind in
Malaysia
dining scene,
Tamarind Hill Restaurant
has made a come-back after 2 years time of relocation plan.
With a history of 10 years, the restaurant is now ready to serve back the public who are into contemporary
Siam
and
Burmese
food.
Of course, being someone who have not such a heavy wallet, i know nuts about
Siam
nor
Burmese
food, so i was pretty new to the food served that night.
Before i touch on the food, let me start with the place itself. This very restaurant is actually stated in the heart of
Kuala Lumpur
where it is
REALLY
on a hilltop. No kidding, just that the hill is not as
BIG
as i expected because i was wondering where in
KL
got such a hill and have a restaurant some more.
However, the place itself is pretty big and spacious that can accommodate quite an amount of people. They have both indoor and outdoor sections where you can choose to be under the skies of
Kuala Lumpur
or be indoor spending your time enjoying your food.
A pretty awesome restaurant if you ask me about the settings, lightings and all. Alright lets go to the food then. These food were served that night.
Spicy Grilled Wagyu Beef Salad
Salmon and Ginger Soup
Lime cured Tiger Prawns rolled in Salmon Sashimi
Clear Tom Yam soup with Snakehead Fish Fillet
Steam Fish Cake
Prawn and Chicken Stick
Chicken Basil Leaves with Century egg
Squid Ink Fried Rice
As you can see, the food were served in small portions where we can have an idea of how is the food from this very restaurant.
The food will not be served in such a small portion of course if you visit this place.
Of course, we took a few more same small dish of food as they have already made extra earlier for us.
and if you want to know, i loved the
Tom Yam soup with Snakehead Fish Fillet, Prawn and Chicken Stick as well as the Squid Ink Fried Rice
where else the others are just nice for me. I am still pretty new to
siam/burmese
food haha. but it's all good.
Apart from the food served, we had a short performance that the host have for us.

as well as a demonstration to us on how to cook one of the dish.
Red and White wine.
We had these the whole night.
xD
and so,
Tamarind Hill Restaurant
offers a wide choice of food which is of course in the category of
Siam & Burmese
cuisine and from time to time they have a fusion of some other types of food as well and that is for you to find out.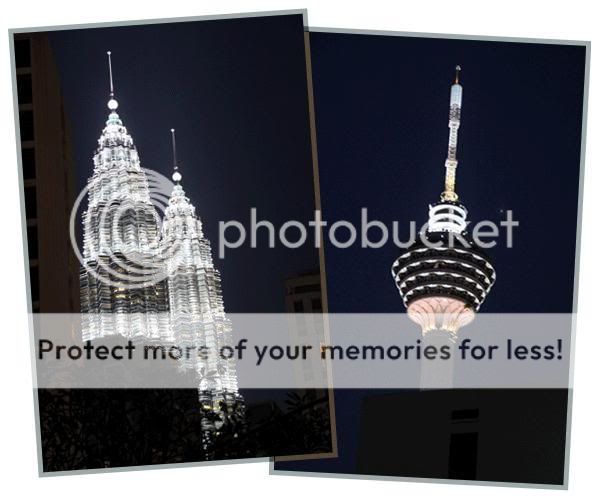 Oh yea, did i mentioned that that specific place can view both
KL Tower
and
KLCC Towers
?
Of all Awesome-ness.

and so, that's the night i caught
this interesting camwhoring scene
. I think.
=D
That's all for now.
*pictures by
Andrew
&
Ken
Tamarind Hill
Contemporary Siam and Burmese Restaurant
Lunch : LUNCH ESCAPE multi-course menu at RM35 nett or a la carte menu
Dinner : a la carte menu
Bar Menus : Extensive wine list + creative cocktails & mocktails, imported sodas, flower & herb teas, gourmet cofee.
Other details : WIFI available and Closed on Sundays.
Address : 19, Jalan Sultan Ismail, Kuala Lumpur.
Tel : +60321483200
Email : maple@tamarindrestaurants.com
www.tamarindrestaurants.com