Along these years, since primary school days,
i've spent quite a lot
i must say on comic books. Not buying them, but loaning/borrowing them from comic book stores and bringing back to read.
Though not as hardcore as the old days where
i'll get like 20-40 books at once
and finish all in one shot in a day, i still visit the nearby comic book shop from time to time.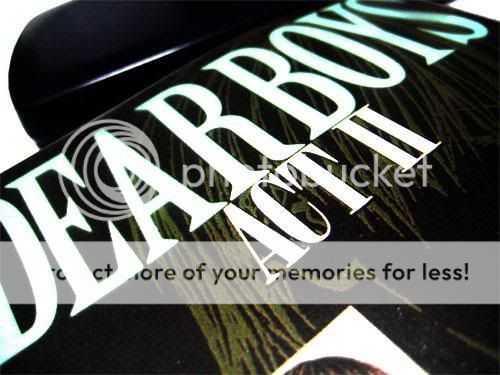 and well, the time to time i meant when from a few times per week to maybe a few times per month, so i was like outdated in reading and knowing some of the latest episodes of the comics.
Anyways, a couple of days ago i was in a nearby comic book store finding comics to bring back to accompany me during my days doing my current final year project.
as i was finding and hunting for the comics i want, i
was reminded all of a sudden of this very basketball comic
i've not read in ages already. No not Slam Dunk which was ended by the author ages ago.
*slamdunk is still the best basketball comic/anime to many of the people out there even up till now.
and so, i quickly searched through and found out that the comic i was thinking have already ended. Oh darn. So fast wan, that was the first thing that came to my mind.
Shucks
.
The comic i talk about is
DEARBOYS
and no it's not a gay comic or a gay basketball comic get your mind straight! I have no idea why the author got the name
dear.boys
.
Anyway, this very comic DEARBOYS have been around for ages already and i've followed it from time to time since
ACT I
. As you can see, in the picture above,
DEARBOYS
have reached
ACT II
already. and now its
FINISH
.
I find it pretty nice following the story of the main team of basketball players in this comic, playing their way going through winning matches in zone/district/state and up to national level in the last episode of
ACT II
.
then
habis
already....
brought the last few episodes of
DEARBOYS
back home and started reading them.
and i must say...
I was extremely happy and excited when i reached the last page stating that this is the end of
ACT II
and there'll be more in
ACT III
wtf.
Neverending wan hahaha endless but i
likey
, hahaha which reminds me of
Dragonball
last time where when
Dragonball Z
finishes comes
Dragonball GT
. Lolx
and now,
WHO KNOW THAT WHEN WILL ACT III COME OUT??
or is it actually out already arh...
=X
oh and btw, if you've read about the
COMIC FIESTA
posts i've posted last year, the people who organized the event have a gallery site set up already. Do go visit if you're interested.
=)