Are you actually aware of a local contest where you could stand a chance to win a custom designed
Perodua MyVi
?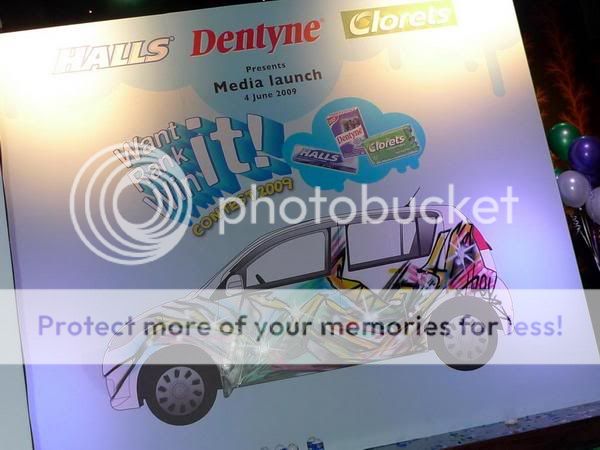 and if your luck isn't that good, you might still win either one of these below :

a custom designed Mini Acer Aspire One Notebook
a custom designed Sony Cybershot Digital Camera
a custom designed Mobile Phone
Early this month, i attended the media launch of the contest at
Mist Club
which happens to be the 2nd phase of a whole campaign of
Cadbury Malaysia
to promote the brands under them which includes
Halls, Dentyne and Clorets.
The first phase ended already with 9 designing students from 6 different design schools were chosen for their designs on the exterior of the
Perodua MyVi
that inteprets "
Cool, Confidence and Charm
".
and now the 2nd phase of the whole campaign, all you people need to do is just
1. Purchase any 2 products from Halls, Dentyne or Clorets.
2. Go
here
to join the contest
.
3. Rank the 9 car designs.
4. Submit the form and keep your receipt as prove of purchase.
If your ranking matches the popular vote then you could win yourself some fabulous custom designed prizes as mentioned above.
Pretty easy right? Buy 2 products and join the contest that's it. Of course, you can try thousand of times and the more times you buy their products, the higher your chance is to win the prizes.
=)
I shall repeat again on the prizes.
First Prize X 1 Custom Designed Perodua MyVi
Second Prize X 2 Custom Designed Mini Acer Aspire One Notebook
Third Prize X 3 Custom Designed Sony Cybershot Digital Camera & Leather Casing
1 Weekly Prize X 9 Custom Designed Mobile Phones
and before i forget, the contest started officially on the
15th of June 2009
and ends on
16 August 2009
where it is open to all
Malaysians
above the age of 18 yrs.
*terms and conditions apply.