Yesterday was the
Stand Out Party
by
Nuffnang
&
Tiger
and i think that it was awesome. Though i didn't win anything
Haha
but the party was very very entertaining
xD
.
Before you proceed in scrolling down, do view the video i compiled & edited alright?

Standout Party by Nuffnang & Tiger
How was the video? Hope that i didn't bore you out with it... =X

Alright so, back to the post, on the day itself, i reached around 7.10PM and i could already see lots of bloggers doing their best attending the event in some wicked costumes. One of them was
PPC
, who is the winner of the
COACH
hand bag and she was already the attraction since the start of the party.
I think that though most girls envy her, they will think that she totally deserve the hand bag as she really put lots of effort into her costumes.
But this bunch of bloggers were totally
O.O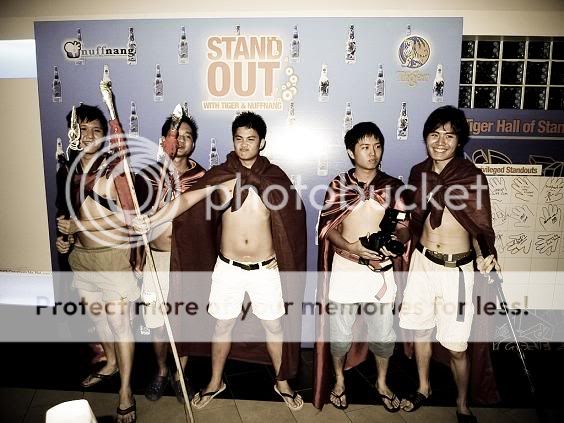 They called themselves the
Spartans
,
Malaysian
Version of course don't complaint that they don't have muscles please and 2 of them bagged 2 of the biggest prize of the night. One got a
laptop
and the other one got a
Nintendo DS Lite
. Reminds me of the
DGMB-ians
back in
Nuffnang Halloween Party
.
Haha.
The event was all good and the food was delicious as well!! and this time round, we have an extra emcee which differs from the past
Nuffnang Parties
in
Malaysia
.
Jojo Struys
joined
Liang
in the emcee lineup!! Nice.
=D
It was quite a scene throughout the whole night with lots of standout bloggers and i think i blinked less last night. and if you've view the video above, it was
TimothyTiah
's birthday yesterday and so the
Nuffies
had a small surprise for him and he was smiling all the way, one of the highlight of the night that was!!
Congrats to
Joseph
for winning the
Xbox 360
.
and of course obviously the most outstanding blogger of the night,
PPC
who won the
COACH
handbag, too bad for the other girls last night
=X
Good Job
Nuffnang
!!
To the many people i met yesterday, nice meeting you!! One of the reason i enjoyed going to these events are because of this. Its hard to get so many people together and these events are one of the time you'll get to see them all together in one place.
xD
and the remaining of the night was
spent @ Murni with 50++ other bloggers
!!
Crazy
. Of course, i don't know all of them hahahaha. It was all random and we joined tables.
Standout? Definitely!
Standout Party Pictures A
Standout Party Pictures B