The recent
Hennessy Artistry
event at
Bukit Kiara
was really crazy. Being able to attend it
last year
, i knew that this time round would be big and fun as well. All thanks to
Nuffnang
, and of course
Nicholas
&
Yatz
..
xD
It was already 11pm when i reach the place as i have some personal matters to attend to, and again, thanks to
Nuffnang
, i get to park inside the area which means i don't have to be like the people who park their car faraway from the venue. Some parked as far as across the road like 15 minutes walk from the place. Crazy party animals.
=X
Upon entering the place, i realize that the placement of areas were completely different compared to
last year
's one which i think it was much better. There were more place to walk.
Lolx
and of course, the crowd was
massive
. There was even a crazy long line of people out of the venue waiting to get into the place when i reached around 11PM.
The amount of people who were there, i bet you can get to know lots of new friends if you were to go a few rounds randomly talking to people. and because it is a
Hennessy Artistry
event, you can go ahead and get unlimited glass of free drinks for the girls.
Haha
.
Dominique Tsai
was performing when i just got there and she is good. Then i started seeing familiar faces here and there.
Nicholas
had 7 cups already i think and he's still obviously awake but
Horng
's face is like super red already. I wonder how many cups he down.
Lolx
*ok la so from the comments, Horng said that's his first glass.
then shortly after that, someone tap my shoulder and there goes another random meeting.
It was my first time meeting
Joanna
.
xD
then i saw both
ShuJian
and
Ren
who had a few cups already and they were chilling aside.
One turn behind and i saw a bunch of bloggers having fun dancing, touching, flirting, making out and etc. Uh oh did i just said something wrong? I mean they were having fun themselves, probably had excessive alcohol from the free flow that night already then.
It was then i bumped into
Jolyn
, the
Penang
blogger who traveled all the way to
KL
to attend this happening event she heard since last year.
then
Su Ann
was seen just arriving at the scene with a few of her friends. So many people already. No chance to talk with every single one of them.
T_T
Jamie Bunny
was there as well!!
=D
I was busy keeping in touch with some certain people where i totally ignored who was performing and such till this dude came up.
Fat Man Scoop.
Many people claimed that
he sucked
because when he was up there, they kept playing the music for a short period of time and then stop and played another different music and stop again and this process was repeated. Some say that it was because he is fat. I don't really care anyways but that repeating process was how i stopped a while and wonder who was the one on stage
haha
. Good way to attract attention.
Met
Cracz
And
Shanz
. The family with their name added with a Z behind, just like
Yatz
.
Haha
. and i'm pretty sure both of them had fun cause i've read
what shanz said
.
LOL
.
Miss Yap
was there as well working as an official photographer. If any of you do frequent
Hypertune Magazine
then i'm sure you've seen her pictures there before.
*and uh oh she's single. =X
The night went on with more people having more glasses of
Hennessy
enjoying the music and of course the company. Most of the invited artists have already performed by 12AM and it was all up to
Mr SAM
to entertain the crowd for the rest of the night.
There were these dancers on stage when
Mr SAM
was doing his thing but everyone else was not paying attention at the stage. Lol. At least that was what i saw, people were drinking like there's no tomorrow
Fat Man Scoop
was seen in the crowd taking pictures with his fans.
and here are more pictures of the people i met there.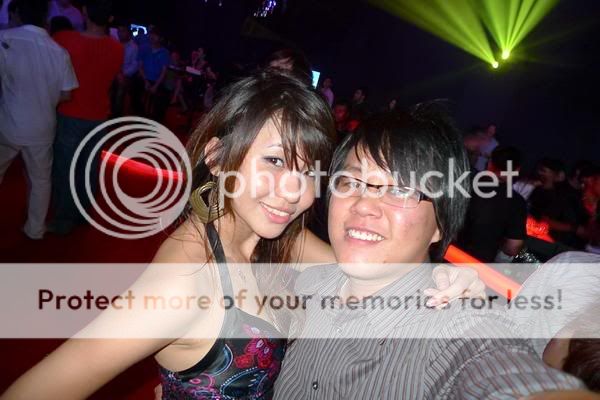 PeiMan
Natalie Fong
Jane
Sin Yee
=D
At the end of the night, some were bored like
JoleneLai
and her friends...
but some people were amazingly energetic and hyped up!!
like
HsuJen
the queen of
Hennessy
.
and
DavidCheong
the king of
Hennessy
.
Go visit their royal blogsite yah
Roflmao
.
Had a quick picture with the royalties and the almighty
Yatz
. There were loads more of people there which i've heard and seen but didn't really talk much with and that alone i left for the next occasion to do so bah.
However, it was still fun capturing some random rare people where i won't really meet daily as well as some of the usual people i meet quite frequently.
Random rare people like
XueZane
, ex-
National Service
mate. A few years ago that is.
xD
Usual people like
Zoe
. Nuff said.
=)
and so yea, that's the night. A night that have not much difference to me compared to other nights with such similar events. Such events that serve a main purpose for me meeting people and keeping in touch with them because there are certain people that is so hard to ask to hang out together even if its as simple as a
YumCha
session.
About the event itself, i somehow think that the lineup this year is not as good as last year's one, i was more interested in the lineup last year including
Flo Rida
and
Machi
where i have not much clue about the ones this year. Maybe its just me myself and of course i don't mean that the ones this year sucks, just not as good as i've expected.
=)
However, the
Party Zone Plan
was awesome.
Lol
. I would still say that it is a good event bah.
Despite the
car crash
after the event and the departure with someone important, the event was one of the small thing that had me holding my smile at the end of day. It was great meeting every one of you who was there that night.
Till then. *
smile
*
Facebook Album on Hennessy Artistry 25 July 2009 @ Bukit Kiara