Its all about
Malaysia
. 3 main parties, one wicked idea and here comes a colorful day filled with sweats plus lots of walking. It was the
Merdeka Train Party
that i was talking about. On the
31st of August 2009
, a bunch of 200+ future leaders of
Malaysia
gathered together and did something to show the world or at least the whole
Malaysia
that we can still be united achieving a same objective.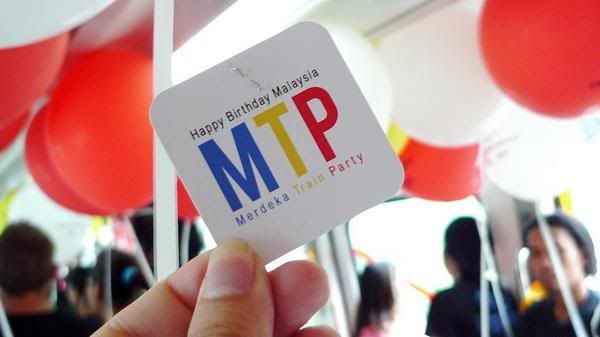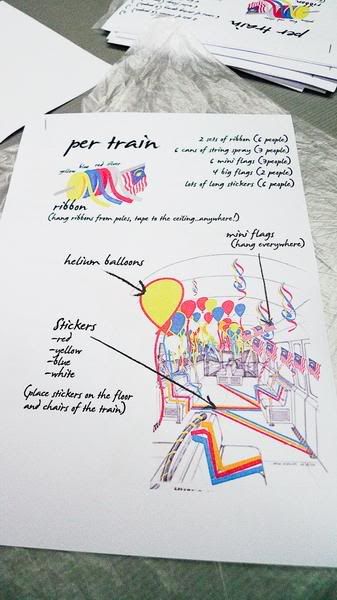 The plan was to fully or more specifically partially decorate the interior of a train with the props provided to celebrate this very significant date for us Malaysians. The independence day that is.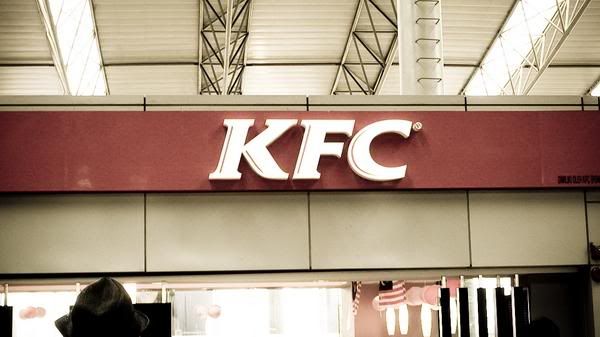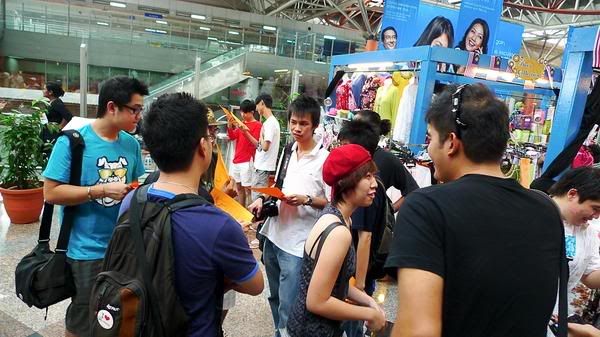 Though the exact meeting time is at 2pm, the usual 30 minutes late magic that happens all the time was clearly not working on the day itself. Instead, people started gathering since 1.30pm.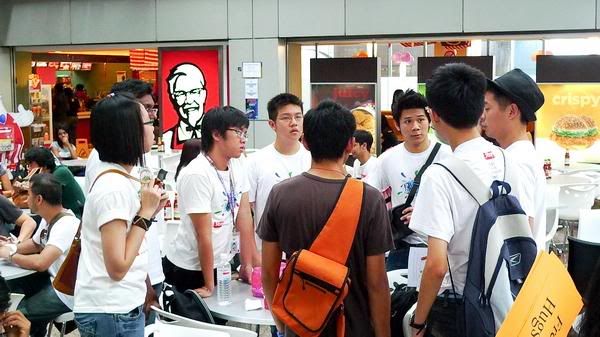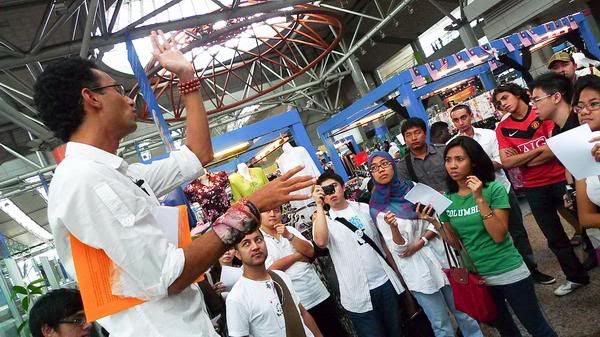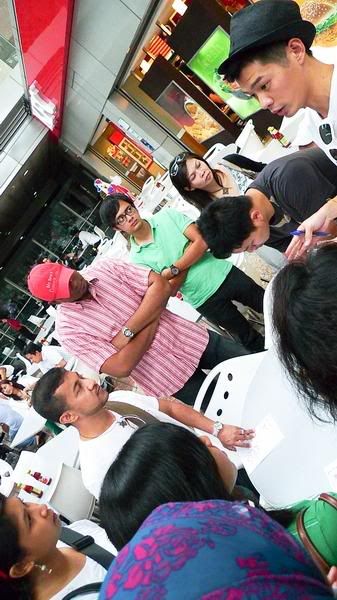 Soon enough, there were short briefing sessions where everyone gets a set of instructions. 7 teams in total where
ZaidHD
&
NikiCheong
leading the crews with 14 leaders leading every other people in the teams.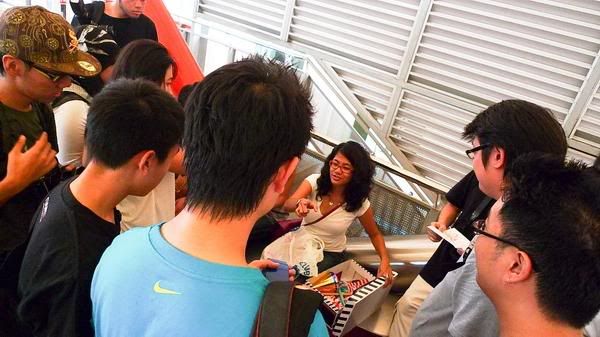 For me myself i was leading team 2 with
Diyana
, someone i knew back in the trip to
Manchester
early this year. All of the teams were given instructions to do some serious business in 7 monorail trains. Each trains with 2 compartments. One team One Train.
In no time, we transformed the interior of the train from this...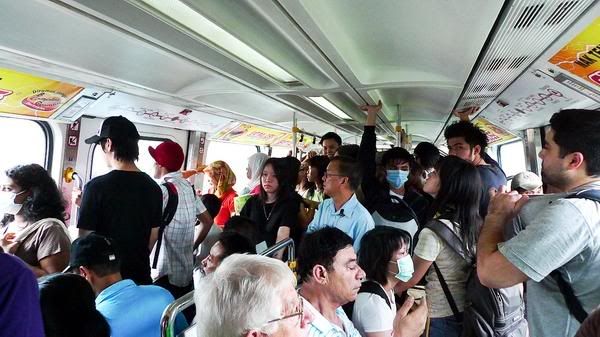 to this!!!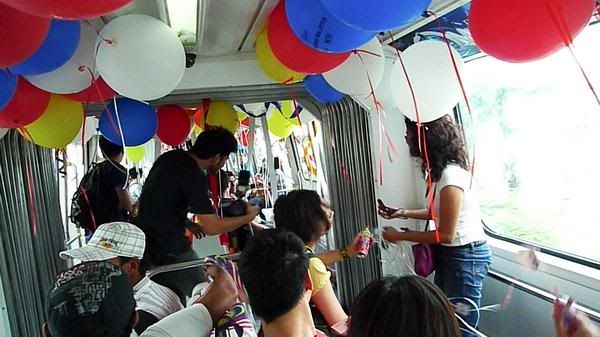 It was at
Titiwangsa Monorail station
that the train was fully decorated into what you won't normally see daily. Though there were lots of
Malaysians
who got lost having no idea on what are they getting in the whole journey, many of them did smile, cheered and even sang with us!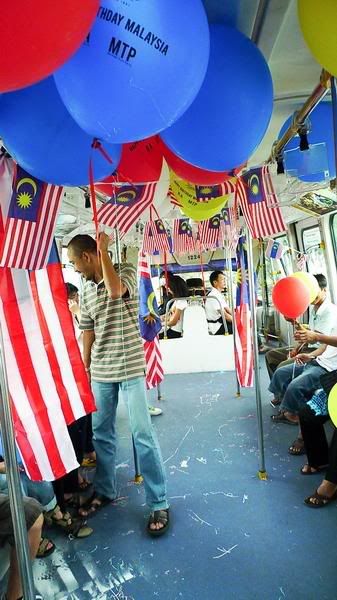 We shouted
Merdeka
from time to time and sang
Happy Birthday
Song a couple of times. It was crazy but it is all these little things that unite us all together.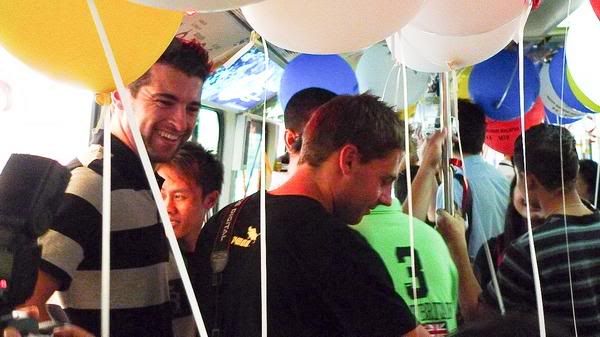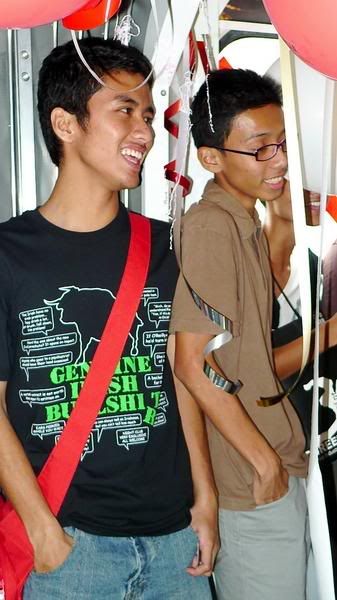 There were lots of people saying that there's no more hope for
Malaysia
, pointing at the various negative headlines reported every single day by the mainstream media but from what i see, there's still people having lots of faith in the future of
Malaysia
keeping the words
Malaysia Boleh
by their mouths.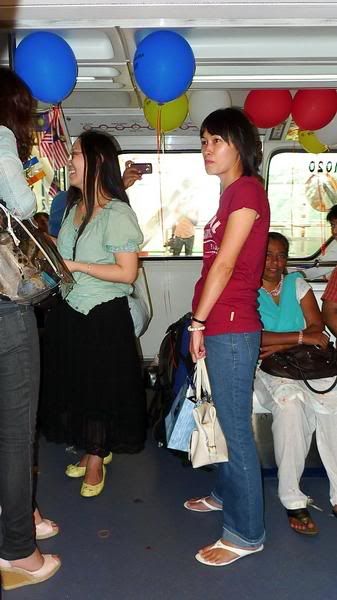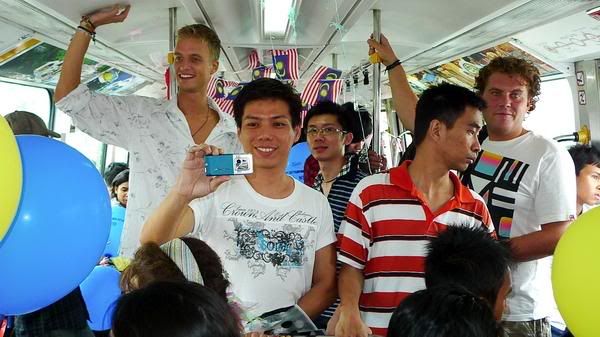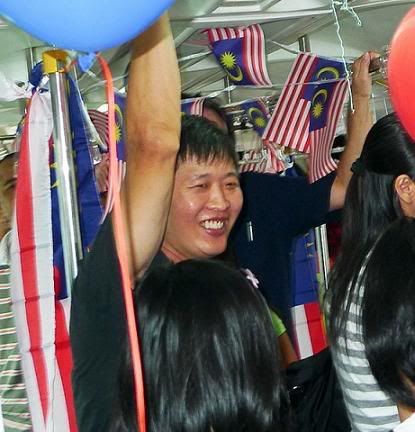 Through out the different stops where passengers getting in and out the train, i observed that there were the elder ones who smiled happily looking at the decorations, some even playing with the balloons and such singing along with us shouting
Merdeka
. Young ones were clapping delightfully.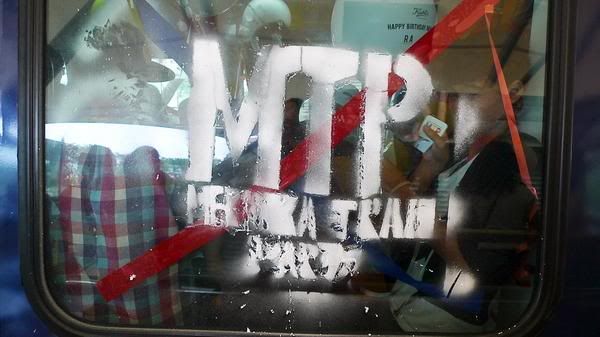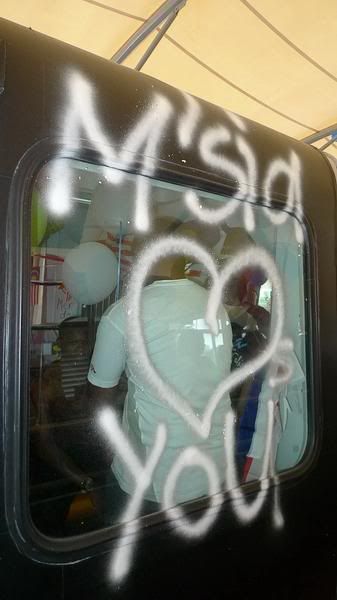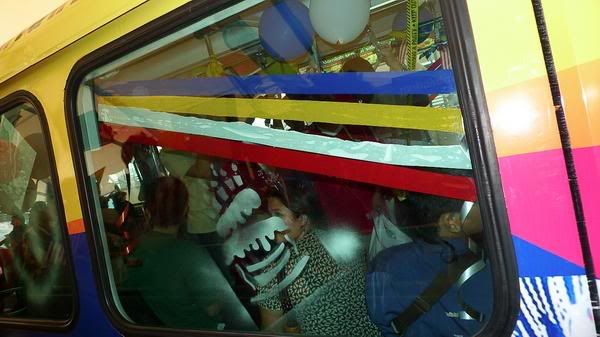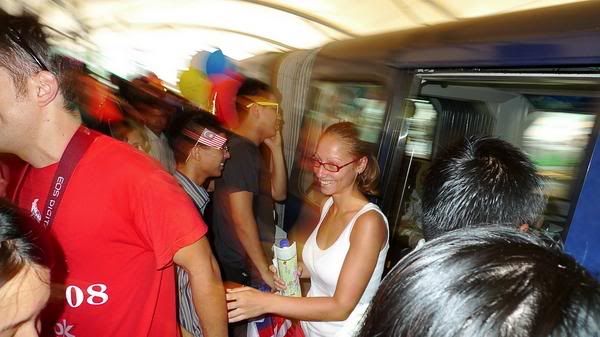 Quite an encouraging scene i must say being able to participate in this project. At least i am still on a more brighter side thinking more positively at the end of the day.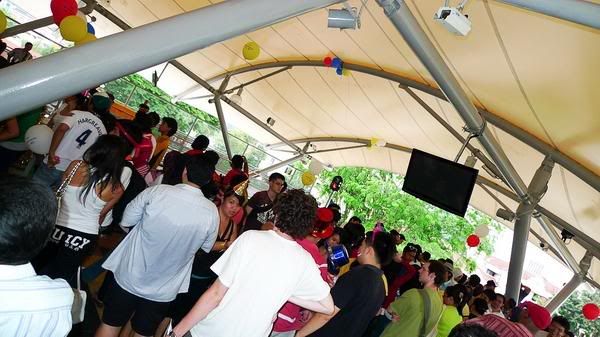 After everything, everyone gathered at
Tun Sambanthan
station to get a big group picture.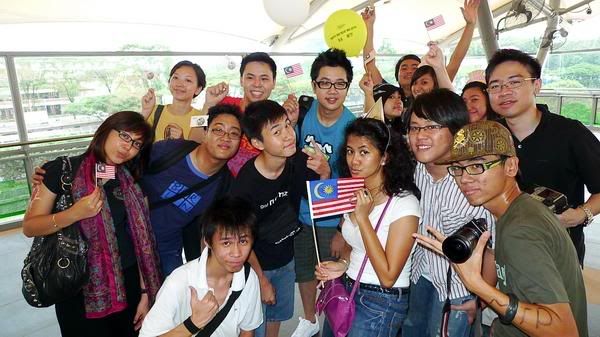 Team 2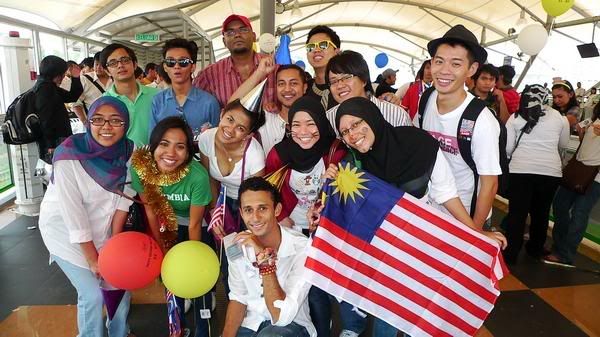 Part of The Crew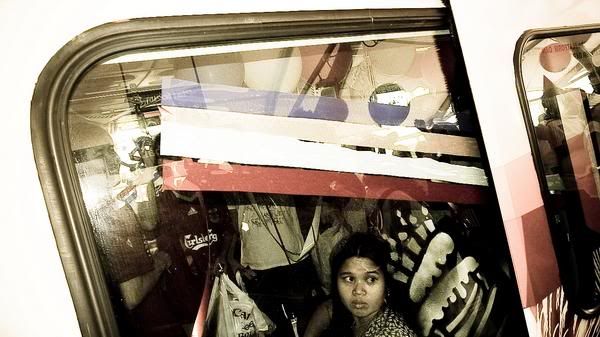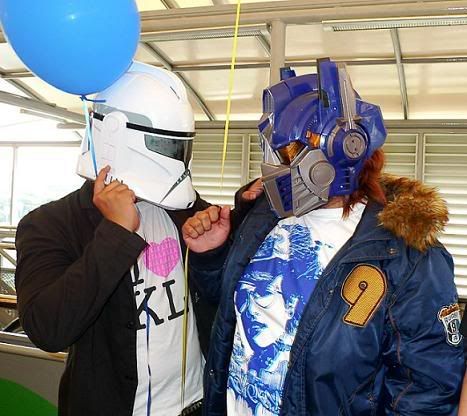 Seriously, it doesn't matters if you're
Blue
or
White
,
Optimus Prime
or
Startroopers
the most important thing is you and me, we've got a role to play and by walking down the road together, i believe there's still a bright future for us.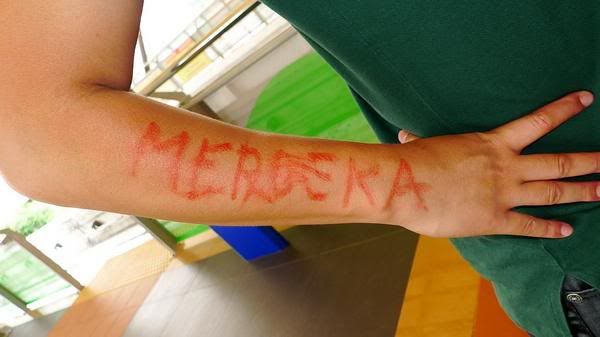 Good job to
Random Alphabets
.